Why Russia needs North Korea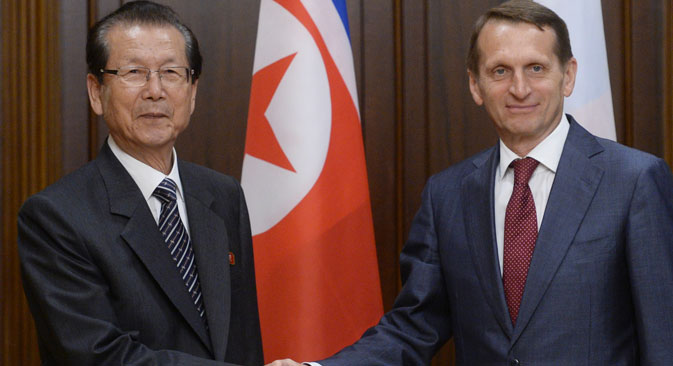 From right: State Duma Speaker Sergei Naryshkin meets with Choe Thae-bok, Chairman of the DPRK (Democratic People's Republic of Korea) Supreme People's Assembly, in Moscow. Source: RIA Novosti/Vladimir Fedorenko
Moscow and Pyongyang are planning to sign an agreement on preventing dangerous military activities. Experts consider this agreement as a reaffirmation of the special nature of relations between the two countries. They also talk about the prospects of further rapprochement between Russia and North Korea.
Russia may sign an agreement with North Korea on preventing dangerous military activities, Sergei Naryshkin, Speaker of the Russian lower house of parliament said on June 23. The agreement calls for the countries to undertake extreme caution to prevent armed conflicts near their border.
Experts have no consensus on why this document was needed. "This is a standard agreement that is signed between friendly countries to increase the level of trust," Director of the Center for Asian Strategy at the Institute of Economics at the Russian Academy of Sciences, Georgy Toloraya, told RBTH.
Other experts say off the record that the agreement tackles the issue of poaching, or could be a response to U.S.-South Korean military exercises.
There is also speculation that the agreement could have been drafted in response to attempts by some South Korean organizations to destabilize the situation in the North, using Russian territory. "There are forces that are eager to create the impression that there is a Protestant Christian resistance movement in North Korea, which must be saved with the help of a U.S. bombing," an expert, who wished to remain anonymous, told RBTH. He added that the present South Korean government has distanced itself from such groups that were backed by previous President Lee Myung-bak.
North Korea is also considered an important part of Russia's 'pivot' to Asia. "One reasons for the rapprochement between Moscow and Pyongyang is Russia's general turn to the east," head of the Department of Korea and Mongolia of the Institute of Oriental Studies, Alexander Vorontsov, told RBTH. "And the Korean Peninsula is regarded as one of the most important elements of Russian integration in East Asia, a sort of springboard."
North Korean Stream
Moscow is also keen to develop economic cooperation with Pyongyang.
Russian businesses would like to get access to North Korean mineral resources. In addition, Russia is implementing long-term infrastructure projects in North Korea.
Vorontsov said important projects include the construction of the Hasan-Rajin railway, which connects the Russian Primorye Territory with the North Korean port of Rajin.
"Russian Railways leased one of the piers of the port for 49 years, upgraded it and uses it to send goods to other countries," Vorontsov added. "In the future, the plan is to build a rail corridor from South Korea's Busan to Western Europe via the Trans-Siberian Railway."
Other projects include the construction of a gas pipeline and the installation of power lines from Russia to South Korea via North Korea.
Impact on Sino-Russian ties
Moscow is unmoved by calls from the West to sideline the North Korean regime.
"When Russia moved away from North Korea in the past, the vacuum was immediately filled by other players, and the interests of Russia suffered," Toloraya said. He added that Russia had partly agreed to an American and South Korean request to downgrade relations with North Korea. "But later, when Moscow tried to participate in solving the North Korean nuclear issue, Washington and Seoul made it clear that since Moscow did not have enough influence over Pyongyang, they would do without Russian involvement. It was a good lesson for the Kremlin," Toloraya said.
North Korea is interested in better relations, since it wants to use Russia as a counterbalance to China. Some analysts believe that the rapprochement between Russia and North Korea will have a negative impact on Sino-Russian ties. However, experts say there is no reason for concern yet.
"China is closely watching, but we do not see active efforts to prevent the development of Russian-North Korean relations," senior researcher of the Center for Korean Studies of the Institute of Far Eastern Studies at the Russian Academy of Sciences, Konstantin Asmolov, told RBTH.
"Perhaps it's because Beijing understands the absence of any threat to its positions."
"Russian and Chinese opportunities are simply not comparable," Vorontsov said. "For example, the annual volume of Sino-North Korean trade reaches $6 billion. But Russian-North Korean trade turnover amounted last year to just $100 million," he said.
All rights reserved by Rossiyskaya Gazeta.