Press Digest: Resurgent Iran has no need to honor previous deals with Russia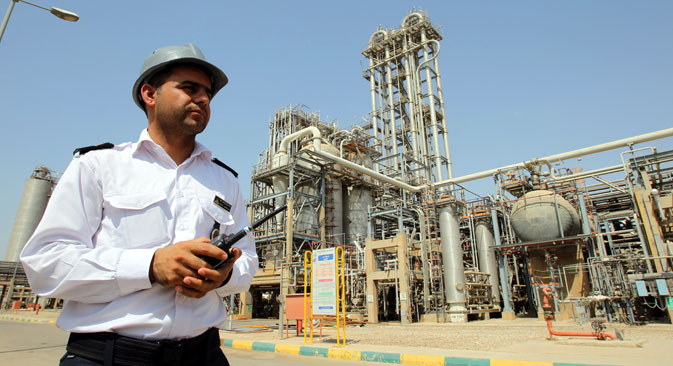 The Mahshahr petrochemical complex in Khuzestan province south western Iran. Source: EPA
RBTH presents a selection of views from leading Russian media on international events, featuring analysis of post-sanctions relations between Russia and Iran, as well as a report on how the crisis is affecting salaries in different parts of Russia and an interview given by Vladimir Putin to Swiss media.
Oil-for-goods deal between Tehran and Moscow never got off ground
The Kommersant business daily reports that after signing the deal on Iran's nuclear program, the rapprochement between Tehran and the West is gaining momentum. The process, however, leaves Russia in a complicated position: Moscow finds itself in the role of a side that has to catch up.
Last fall Russia and Iran signed a memorandum paving the way for a raft of mutually advantageous business projects worth $70 billion. The deal was called "oil in exchange for goods": Iran was to supply Russia with oil for re-export and spend the money on Russian products.
However, as Kommersant has discovered, there still has not been one single supply of oil from Iran as part of the deal. A Kommersant source in the Russian government believes that there are no future prospects for the oil part of the deal: After the removal of the sanctions Iran can sell its oil by itself.
An Iranian source told the newspaper that Tehran would not feel bound by previous agreements with Russia. However, Lana Ravandi-Fadei, senior scientific collaborator from the Russian Academy of Sciences' Institute of Middle East Studies, believes that the cancelation of the sanctions also opens new opportunities for Russian business, while "the political elite in Iran will not forget what Moscow did for Tehran."
Russia's crisis-proof zones: Where is disposable income highest?
The quality of life in Russia is decreasing swiftly due to the ongoing economic crisis, writes the Gazeta.ru online newspaper. According to the Russian State Statistics Service, in six months the population's real disposable earnings (adjusted for inflation) have declined by 3.1 percent and real salaries have fallen by 8.5 percent.
But the country still has regions where salaries are sufficient not only to buy food and necessary items. Residents of the Nenets Autonomous Area were the ones who were left with the most disposable income in April (about 55,000 rubles, or $920), followed by the Yamalo-Nenets and Chukhotsky Autonomous Areas (54,000 rubles), then Moscow (53,000 rubles). In Sakhalin one could also have a reasonable sum left over after essential expenses (about 38,000 rubles), as well as in the Khanty-Mansi Autonomous Area and in the Khabarovsk Territory and St. Petersburg (31,000 rubles). Today these are the most favorable places to live in Russia in terms of salary.
In comparison, the difference between the cost of living and earnings for residents from other regions is about 6,000-7,000 rubles ($100-120). Chechnya also made it onto the list of regions with advantaged incomes and cost of living. But this is due to Chechnya having a large share of public workers and being one of the biggest federally funded regions in Russia.
Putin: Blatter deserves Nobel prize, Russians like U.S. and its people
The centrist newspaper Nezavisimaya Gazeta writes that the Kremlin press office has published the text of an interview that Russian President Vladimir Putin gave to the Swiss mass media, recorded on July 25. Putin said that he does not believe in the corruption accusations against FIFA President Joseph Blatter and thinks that such people deserve the Nobel Peace Prize. He also stated that the United States is continuing its imperial policy and is thus doing damage to itself.
"This position is not related to any kind of anti-Americanism. We respect and love the United States, and more so the people of the U.S.," he said, adding that the extension of one country's jurisdiction beyond its territory is unacceptable and destructive for international relations.
Concerning Russia's announcements on the modernization of its nuclear potential, Putin responded that Russia is acting in accordance with agreements made with the U.S. When the latter withdrew from the Anti-Ballistic Missile Treaty, Russia said that it would take retaliatory measures.
Putin also expressed the hope that there would be no war in Europe, but added: "You have to agree that if we must discuss internal European affairs with our European partners in Washington, it is not very interesting."
The interview ended with what the newspaper describes as a rather tactless question for a head of state, an enquiry about Putin's psychological health. "You will think that I am mad after our interview, no?" the Russian leader asked the Swiss media, noting that such rumors "are also part of the political fight."
All rights reserved by Rossiyskaya Gazeta.