Lavrov to discuss economic cooperation with ASEAN FMs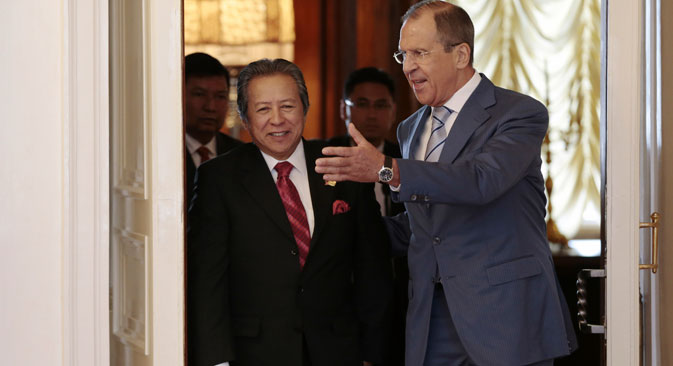 Russian Foreign Minister Sergey Lavrov, right, and his Malaysian counterpart Anifah Aman enter a hall for their talks in Moscow on Thursday, July 11, 2013. Source: AP
The Russian Foreign Minister will meet his counterparts from the Association of Southeast Asian Nations in Kuala Lumpur. He will also participate in the ASEAN Regional Forum.
Russian Foreign Minister Sergey Lavrov will discuss economic cooperation and global security with his counterparts from the Association of Southeast Asian Nations (ASEAN) on August 5-6. Lavrov will participate in the ASEAN-Russia Ministerial Meeting and the ASEAN Regional Forum.

"An emphasis will be put on developing the economic component of the dialogue partnership," Sputnik News quoted the Russian Foreign Ministry as saying in a statement.
The ministers are also expected to discuss the dangers posed by the Islamic State and the denuclearization of the Korean peninsula, according to the report. An Integrated Action Plan on Russia-ASEAN cooperation for 2016-2020 will be drafted in Kuala Lumpur, Sputnik News added.
Sources close to the situation tell RBTH that Lavrov will also hold separate talks with Malaysian Foreign Minister Anifah Aman. The talks will focus on the investigations into the shooting down of Malaysia Airlines MH17.
Last week, Russia vetoed a UN Security Council draft resolution on the establishment of an international criminal tribunal in connection with the July 2014 incident. Moscow has maintained that the idea of the tribunal was premature, ill-defined and unfounded.
AEC- EAEU integration
At the meetings in Kuala Lumpur, Russia is expected to renew its call for greater engagement between the Eurasian Economic Union (EAEU) and the ASEAN Economic Community (AEC).
Russian Deputy Foreign Minister Igor Morgulov told RIA Novosti in an interview that there were promising prospects for economic integration between the EAEU and the AEC. "In this regard, a pilot project was the signing in May of a free trade agreement between the EAEU and Vietnam," Morgulov said in the interview.
The ASEAN Economic Community will be established by the end of this year.
Morgulov also told RIA Novosti that economic cooperation between Russia and ASEAN would be beneficial for Siberia and the Russian Far East.
ASEAN investors have already been invited to participate in special economic zones in the Russian Far East. Russia is also keen on ASEAN countries using the Vladivostok free port zone as a transcontinental hub.
All rights reserved by Rossiyskaya Gazeta.