Russian ambassador in London accuses Britain of failing to fulfil visa obligations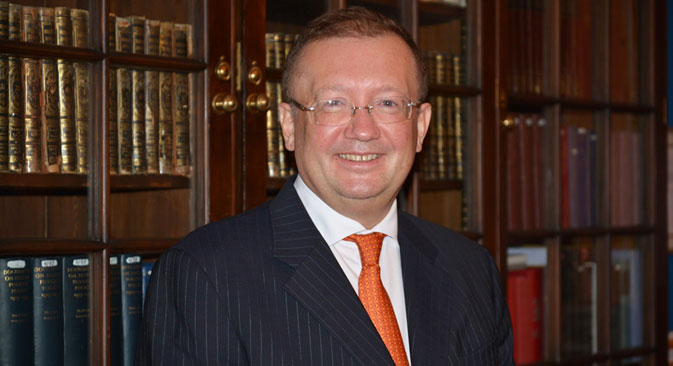 Russian Ambassador to the UK Alexander Yakovenko. Source: RIA Novosti
Russian diplomats and tourists are experiencing increasing difficulties obtaining UK visas, the Russian Foreign Ministry claims. In an interview with Kommersant newspaper, Russian Ambassador to the UK Alexander Yakovenko talks about the problems Russians have visiting UK, as well as about the reasons that have complicated visa relations between the two countries.
Kommersant: What difficulties are Russians experiencing obtaining a British visa?
Alexander Yakovenko: It was never easy to obtain a British visa. It was more difficult than in other countries, for example, the Schengen states, which have an agreement with Russia on the facilitation of the visa regime. Representatives of the tourist business believe that due to the complications of obtaining a visa, the UK loses quite a few potential tourists annually.
Of course the UK, like any country, has the right to decide independently according to which criteria it should issue visas and let foreigners cross its borders. That is why first and foremost we are concerned not by the UK's immigration regulations in themselves but how they are implemented in relation to our citizens. And it appears there is bias in the way they are being implemented. Thus, the period of receiving a British visa in Russia is two weeks, sometimes more. In comparison, Russian visas are issued at most in five working days.
Kommersant: Are Russians who already have visas also experiencing problems?

Alexander Yakovenko: The case described in our press release is not the only one. Russian citizens inform us of many similar situations. They occurred in the past, it's just that now they've become more frequent and we cannot but perceive this as a general trend in the overall context of our bilateral relations with the UK. The victims are Russians from various social groups, who had different objectives for their visits. What they have in common is their Russian passports and the discriminatory attitudes of the British. By far not everyone reports such cases: many fear that if they complain it will make obtaining a visa more complicated in the future.
In response to our statement, today the British Home Office clarified on the BBC that, "border officials must be convinced that nothing has changed in the person's life or travel objectives and this includes checking the information that was provided when applying for the visa." Such questions, biased in relation to Russians, raise many concerns. By the way, due to the large number of complaints about the UK's immigration authorities, our embassy's site has established a section today inviting Russian citizens to comment and evaluate the actions of British border services. I think this will be useful for everyone.
In general, it must be said that officially London speaks of "sanctions against Russian officials," but in practice it is ordinary citizens who are suffering from the deterioration in relations. Moreover, whoever is travelling to Britain does not at all bear any hostility towards the country. This is just illogical.
Kommersant: Can you details problems Russian embassy officials have experienced when obtaining visas? How does this reflect on the embassy's mission?
Alexander Yakovenko: Speaking bluntly, without any diplomatic tricks, the British side is not fulfilling its obligations. In accordance with a 1989 agreement, the sides have to issue visas to diplomats or report their rejection within a month. The British side started postponing the issuance of visas by six months. Visas are issued but only after many months. Add that to the fact that the English have arbitrarily limited the maximum duration of a diplomatic visa to five years and it all results in embassy staff leaving the country without first being replaced. The workload of those who remain therefore increases. With such an artificially reduced staff, work for our representative offices becomes more difficult.
On many occasions we presented this problem to the British side but never received an answer. Furthermore, London's policy regarding the situation has only become tougher.
Kommersant: Are the complications related to the current political confrontation between the two countries?

Alexander Yakovenko:Of course, and you should have first posed this question to our British colleagues. We believe that a part of the British elite has made a strategic choice of worsening relations with Russia. They think - wrongly, I am convinced - that Britain is not interested in good relations with Russia. It is difficult to make any other conclusion when you hear that the British government views your country as the main threat to the kingdom, on the level of the Islamic State. We do not even have a common border, not to mention the absurdity of Russia having plans to invade the British Isles.
Political contacts between our countries are extremely limited and interaction in solving global foreign policy problems is rare. With the U.S., for example, we have a serious agenda and both countries understand it, even though our views often diverge. But with London we don't have this. Our mutual economy and cultural ties suffer from it. And it was obvious that sooner or later this would have an impact on our visa relations.
Kommersant: Will the Russian side respond to the measures that the British have adopted?

Alexander Yakovenko:Bad is the diplomat who relishes speaking about confrontation - with no offense to our British colleagues. The Russian side has always promoted the normalization of relations with our neighbors in the West and in the East. This, by the way, is clearly ingrained in Russia's foreign policy. Relations between countries are founded on the principle of reciprocity. It comes by default for any diplomat. We were not the initiators of the worsening relations and we will gladly return to collaborating with the English on a whole range of issues. But we will be able to do this only after they themselves are prepared for it.
First published in Russian by Kommersant.
All rights reserved by Rossiyskaya Gazeta.