Press Digest: Russia preparing law on seizure of foreign assets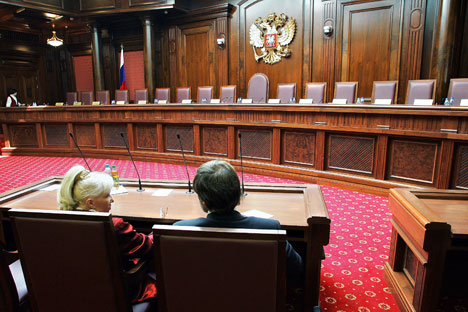 Russian courts will have the right to review legal disputes with other countries. Source: Vitaly Belousov / TASS
RBTH presents a selection of views from leading Russian media on international events, featuring reports on a bill allowing Russia to seize foreign state assets in the country, plans to reduce taxes with Hong Kong to attract capital from Asia; and a proposal by human rights activists to reform tests for migrants in Russia.
New bill on confiscation of foreign state assets is 'political signal'
The Kommersant business daily reports that Russian courts will have the right to review legal disputes with foreign countries if they involve businesses or property related to that country, extending to the confiscation of state assets. The government has sent the bill to the State Duma, the lower house of the Russian parliament.
The Foreign Ministry remarked that the bill's purpose is not to "create countermeasures," but rather have Russia fulfill its international obligations in giving foreign countries and their property immunity. The ministry also explains that Russia will take into consideration "how and to what extent the given foreign country respects Russia's immunity, its property and assets used for sovereign purposes."
Alexei Panich, partner at Herbert Smith Freehills, believes that the bill can be interpreted as a "political signal."
"This single norm, which can be described as radical, establishes the principle of reciprocity, yet this principle is widely used in international law," he said.
In Panich's view, the bill was brought about by the "hostile acts" towards Russia and the "arrest" of its assets abroad.
Double taxation with Hong Kong to be avoided under new agreement
The business daily Vedomosti, citing the Finance Ministry's website dedicated to norms and legal acts, reports that the ministry is preparing an agreement to avoid double taxation with Hong Kong. Russia already has such an agreement with China, but Hong Kong has its own fiscal system, which is why separate agreements must be made with the city.
Hong Kong is currently regarded by the Finance Ministry as an offshore territory and is included on a blacklist. A Russian company that pays Hong Kong investors dividends or percentages withholds 15 and 20 percent taxes, respectively. In Cyprus, for example, thanks to an similar agreement, the rate is 5 and 0 percent.
"The main thing is to zero the tax rate by percentage, making fiscal financing cheaper," said an official from the Finance Ministry, who added that an understanding with China has already been reached, now the agreement just has to be ratified.
Vedomosti is convinced that the Finance Ministry's measures are part of the Russian government's policy for cheapening Asian credit. According to Alexander Zakharov, partner at Paragon Advice Group, the agreement with Hong Kong, along with others, is one of the most effective measures and many have been eagerly expecting it.
"In essence, this is a window onto China," said Zakharov. It will be more advantageous for Russian companies to enter the Hong Kong stock exchange. Hong Kong doesn't have any currency controls and its dollar is tied to the American dollar, which opens lots of interesting possibilities."
Human rights activists call for reform of migrant tests
The centrist newspaper Nezavisimaya Gazeta reports that the Human Rights Council wants to abolish the mandatory testing of migrants' knowledge of Russian history and legislation. According to the newspaper, human rights activists are proposing replacing them with "The Basics of Migration Policy."
Head of the Human Rights Council Committee on Migration Policy Yevgeny Bobrov, who is participating in the development of the amendments, says that regardless of test results, the knowledge that migrants have of Russian history and legislation is next to zero. The test, according to Bobrov, should be replaced with "The Basics of Migration Policy," "so that foreigners will understand which regulations they must abide by in the country and what awaits them if they don't."
All rights reserved by Rossiyskaya Gazeta.