Press Digest: Russian oil exports up 10 percent for first half of 2015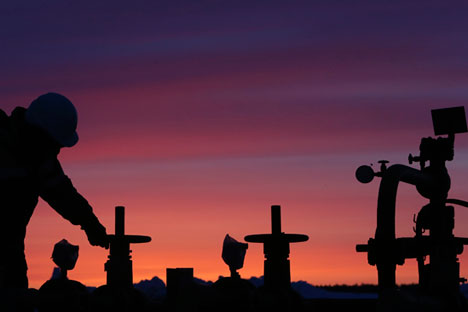 Russian crude exports have increased by nearly 10 percent in 2015 as companies look to influence global supply and demand. Source: Reuters
RBTH presents a selection of views from leading Russian media on international events, featuring reports on an increase in oil exports, collaboration between the authorities and Russian youth in improving conditions for NGOs, and an increase in foreign investment on the Russian market.
Foreign debts prompt Russia to boost oil exports
The Nezavisimaya Gazeta daily reports, citing the Federal Customs Service, that against falling oil prices, Russian crude exports have increased by nearly 10 percent (compared with the same period last year). Between January and June 2015, Russia exported 120,512 million tons of oil, the paper adds.
Thus, Nezavisimaya Gazeta continues, Russia has found itself among those who are pushing oil prices down. According to the customs statistics, revenues generated from Russian oil exports amounted to just $48.102 billion in the first six months of 2015, nearly 1.7 times less than last year, the paper points out.
However, the newspaper writes, it is not only the state that appears to be interested in boosting oil exports against the falling prices – oil companies are, too.
"At the time of high oil prices, companies took out external loans to develop new oilfields," a leading economist from Moscow's Higher School of Economics, Valery Mironov, told Nezavisimaya Gazeta, explaining market players' motivation.
"Now, when oil prices have plummeted, they are finding it far more difficult to find money to repay those loans. That is why they are trying to boost production and export, which in the end increases supply and demand imbalances on the world market."
Government to support young heads of NGOs
The Gazeta.ru news website has published an account of presidential administration deputy head Vyacheslav Volodin's meeting with delegates to the Territory of Ideas youth education forum.
During the meeting, Volodin said that President Vladimir Putin had directed his attention to the NGO sector and asked his administration to come up with some systemic proposals. The first deputy head of the Kremlin administration asked youth activists to draw up proposals as to what needs to be done to create comfortable working conditions for non-commercial organizations. Volodin also said that the most active delegates to the forum would continue working with the presidential administration, experts and the government in order to ensure state support to the NGO sector.
The head of the Russian Federal Agency for Youth Affairs (Rosmolodezh), Sergei Pospelov, told Gazeta.ru that one of the proposals voiced at the forum was to set up a service center that would provide various forms of assistance to young heads of non-commercial organizations.
"We are still finalizing forms of support but it appears sensible to provide NGOs with overall guidance and legal assistance as well as with support in ensuring communication with the authorities," Pospelov told Gazeta.ru. He went on to add that a specific timeframe for the project had not yet been set but the idea was being actively developed.
Russian stock market seeing increase in investment
The Kommersant business daily reports, citing Emerging Portfolio Fund Research (EPFR), that last week foreign investors increased their presence on the Russian stock market, having invested $44.2 million in Russia-focused investment funds.
According to the paper, investors' enthusiasm for Russian assets is being prompted by the fact that Russian equities are fundamentally undervalued. A senior portfolio manager with the Kapital management company, Vadim Bit-Avragim, told Kommersant that in terms of multipliers, the Russian market is half as cheap as other emerging markets.
"Compared with other expensive emerging markets, Russian assets appear attractive. Therefore, it is quite possible that foreign investors may have shown an interest in Russian equities," he said.
However, most experts polled by the paper conclude that it is too early to say that the Russian market is becoming more popular with Western investors. The bulk of the investment ($29.4 million) made in Russian stocks last week came from the most speculative type of funds, ETF, writes Kommersant.
Dmitry Sadovoi, head of Simargl Capital, told the paper that this investment should not be counted on in the long term since any further deterioration on the world oil market or any rise of tensions over the Ukraine crisis could "scare that short-term money off."
All rights reserved by Rossiyskaya Gazeta.