Sergey Lavrov pushes for greater Russia-ASEAN ties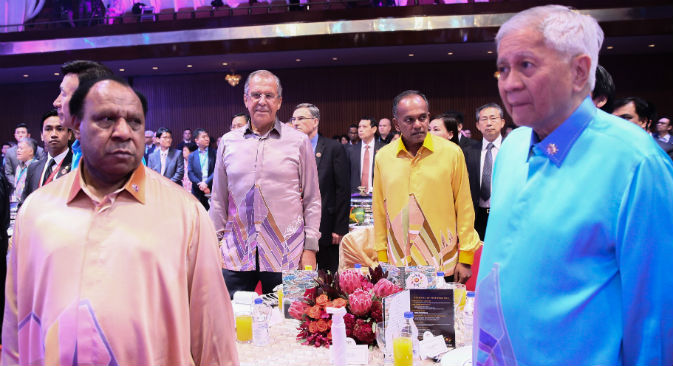 Sergey Lavrov at a dinner for delegates of the ASEAN Ministerial Meetings in Kuala Lumpur, August 5, 2015. Source: Russian Foreign Ministy
Russian Foreign Minister Sergey Lavrov visited Kuala Lumpur last week for ASEAN's ministerial meetings. He also had an opportunity to hold standalone talks with several of his counterparts from the Southeast Asian grouping. Experts believe ASEAN countries look at Russia not just for energy security, but also as a source of high technology.
Russian Foreign Minister Sergey Lavrov participated in the ASEAN-Russia Ministerial Meetings and the ASEAN Regional Forum in Kuala Lumpur on August 5-6. The meetings, which gathered leaders from the Association of Southeast Asian Nations (ASEAN) and the grouping's dialogue and regional partners, were a good opportunity for Lavrov to hold standalone talks with his Asian counterparts.
Security-related matters, such as the dangers posed by ISIS and tensions in the Korean peninsula, featured prominently in the ASEAN-Russia Ministerial Meetings. Lavrov also called for greater economic ties between Russia and Southeast Asia.
There is "huge potential" when it comes to economic ties between Russia and ASEAN, Sergei Luzyanin, acting head of the Institute of Far Eastern Studies, Russian Academy of Sciences, told RBTH.
"An agreement on a free trade zone between the Eurasian Economic Community (EAEU) and Vietnam was signed in May," Lavrov said at the ASEAN-Russia Ministerial Meetings. "We're ready to make it a pilot project for a general liberalization (of trade and investment) between the EAEU and ASEAN."
Luzyanin said Russia needed to frame a concrete and clear policy when it comes to ASEAN.
At the Kuala Lumpur meetings, Russia and ASEAN agreed to draft a five-year strategic document that identifies key areas of cooperation.
According to Luzyanin, Russia's current economic ties with ASEAN are small, but growing. He adds that countries from the grouping not only look at Russia as a source of oil and gas, but are interested in Russian high technologies, especially in the civil nuclear, aviation and space industries.
Countries like Indonesia and Vietnam, which have a long track record of doing business with Russia, can see a breakthrough in the upcoming years, Luzyanin said.
According to some experts, Russia needs to take the initiative to develop ties with ASEAN countries. "Russia's pivot to Asia will only be a success if the Russian Far East has a strong economic base and the depopulation of the region stops," Valery Chudesov, a professor at the Far Eastern Institute for International Relations told RBTH.
Chudesov added that the Russian Far East's small and medium-sized businesses needed investments from Southeast Asia.
Luzyanin said Russia and ASEAN should strengthen security ties. A security dialogue involving Russia and the grouping could help ease tensions in the South China Sea, Taiwan Strait and the Korean peninsula, he added.
All rights reserved by Rossiyskaya Gazeta.