OSCE: Number of Russian 'volunteers' crossing Ukrainian border falling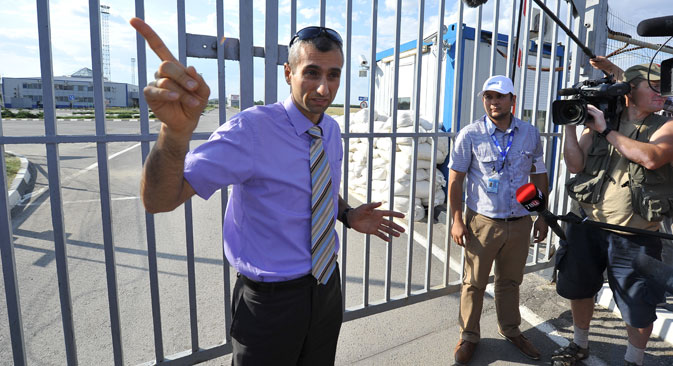 Head of the Permanent Mission of the Organization for Security and Cooperation in Europe (OSCE) Paul Picard (left) during a visit to the Gukovo border crossing between Russia and Ukraine. Source: TASS
21,309 individuals in military uniform have entered Ukraine from Russia's Rostov Region in the last 12 months, but the flow has decreased since April 2015, according to reports by OSCE observers.
The number of people in military uniform crossing the Rostov Region section of the Russian-Ukrainian border has decreased recently but there has been a significant rise in civilian traffic, according to data for the past 12 months released by representatives of the OSCE (Organization for Security and Cooperation in Europe).
At a news conference on Aug. 6, the head of the OSCE mission in Rostov, Paul Picard, announced that over 2.8 million people crossed the Rostov section of the Russian-Ukrainian border between July 29, 2014, and August 1, 2015.
The figure includes 21,309 individuals in "military-style clothes" who crossed the border between September 2014 and August 2015 and identified themselves as "volunteers" on their way to fight in the Donbass region of eastern Ukraine, where a year-long conflict between Ukrainian government troops and pro-Russia militants remains unresolved.
"The biggest number of 'volunteers' crossing the border in one day was 167, the smallest 17," Picard told Russian media. He said that the flow of "volunteers" has been decreasing since April 2015, and said that an increasing number of refugees were returning from Russia to the Donbass.
Picard also told journalists that 21 vehicles marked "Cargo-200" had been sighted crossing the border since August 2014, moving in both directions. "Cargo-200" is a code used by the Russian military to refer to the bodies of those killed in action.
Picard said he could not be sure what the vehicles contained since they were closed.
Russia denies the involvement of any of its armed forces in the conflict in Ukraine.
All rights reserved by Rossiyskaya Gazeta.