Sept. 1 ceasefire in Donbass agreed at meeting in Minsk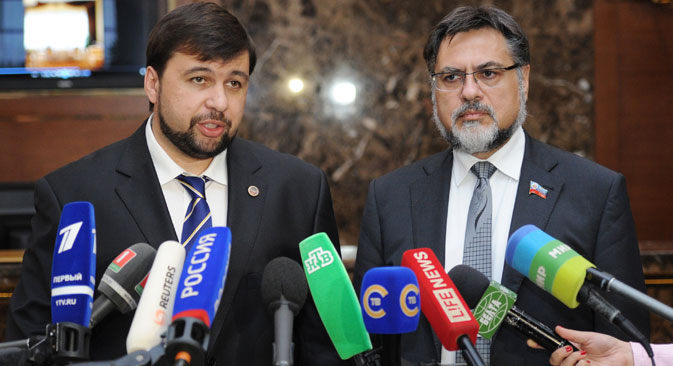 Deputy Chairman of the DNR Denis Pushilin and Representative of the LNR Vladislav Deinego are interviewed by journalists after a meeting of the Contact Group on settlement of the situation in the east of Ukraine held in Minsk, Aug. 26. Source: RIA Novosti / Vitaly Zalessky
A meeting of the Contact Group in Minsk with representatives from the Donetsk and Lugansk "people's republics" has ended with the parties agreeing to a ceasefire effective from Sept. 1. However, experts are not convinced this a breakthrough on the path to peace.
The participants of the Contact Group on Ukraine - Ukraine, Russia, OSCE and representatives from the unrecognized Donetsk and Lugansk "peoples' republics" - have agreed to implement a fresh ceasefire in eastern Ukraine from Sept. 1.
The group, which made the agreement at a meeting in Minsk on Aug. 26, is also preparing an agreement to withdraw weapons of a caliber greater than 100 mm (anti-aircraft weapon systems, machine guns and anti-tank weapons) from the frontlines.
However, the current dialogue would be hard to describe as a breakthrough, says Andrei Kortunov, general director of the Russian International Affairs Council, since "all the prevailing problems, the interpretation of the Minsk agreements, the radicalization of elements within the militias in Eastern Ukraine, remain."
"So far, the chances are that we can only expect that there will be no escalation at the beginning of the fall, which many are talking about," Kortunov told RBTH, adding that a complete ceasefire should not be expected on Sept. 1.
"Both sides, as before, have forces that are not interested in a ceasefire. Besides this, it seems that all participants really can't see alternatives to the Minsk agreements," he said. "Without a doubt by the end of the year Minsk 2 [the Russian term for the previous ceasefire agreement signed on Feb. 12 - RBTH] will be called a failure and they will decide to start over again, extending the timeline for its implementation," says Kortunov.
Nonetheless, the resumption of work by the Contact Group and the ceasefire agreement is some small progress, said RBTH political scientist and director of Global Strategies (Kiev) Vadim Karasev.
"But that is all it is so far," he said.
The likelihood of a high-level meeting during the United Nations General Assembly at the end of September has already been announced by Russia's presidential aide Yury Ushakov and Ukrainian President Petro Poroshenko.
All rights reserved by Rossiyskaya Gazeta.