Tensions on the Korean peninsula literally resonate in Russia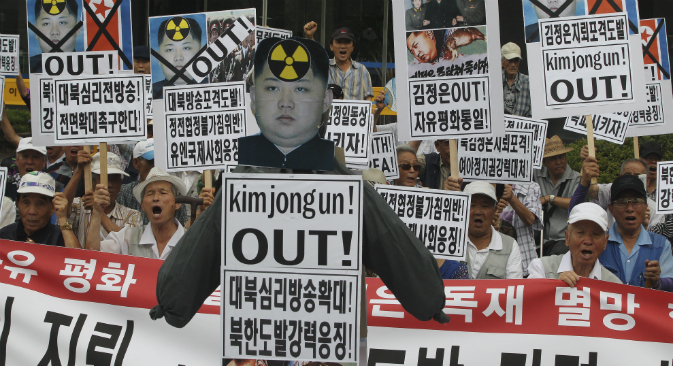 South Korean protesters with defaced portraits of North Korean leader Kim Jong Un and North Korean flags shout slogans during an anti-North Korean rally in Seoul, South Korea, Friday, Aug. 21, 2015. Photo: AP
Increasing tensions between North and South Korea have the greatest implications for Russia's efforts to engage its East Asian trading partners and develop the Russian Far East.
Last week's mutual shelling on the border between North and South Korea was the most serious development in the inter-Korean standoff in recent days. A new phase of confrontation on the Korean peninsula would have implications for all regional and extra-regional actors, including Russia. For now, the crisis appears to have been defused, but tensions continue to simmer.
The recent statements by the North Korean ambassador to Moscow that "the United States wants a conflict on the Korean peninsula" are nothing more than a propaganda stunt. The Obama administration has repeatedly shown willingness to compromise with Pyongyang, and Washington's rapprochement with Tehran and Havana demonstrate that this line of policy is not a mythical beast.
As for Beijing, North Korea's main external and economic partner (according to Korea expert Andrei Lankov, China accounts for three-quarters of North Korea's total foreign trade), Pyongyang's erratic behavior is becoming increasingly irritating. Beijing has repeatedly urged its neighbor to abandon its nuclear weapons and become more moderate. Yet in the complex geopolitics of East Asia, China remains a strategic partner for Pyongyang and still fears South Korea's intimate military and political ties with the United States.
Russia's role in preventing a Korean confrontation
For Moscow, the unresolved Korean conflict has been a severe headache for more than half a century. The Soviet Union itself had a hand in the division of Korea and once helped prop up the regime in the North, which today is one of the world's most totalitarian. But in the last decades of its existence, the Soviet Union kept military-political cooperation with North Korea to a minimum.
After the collapse of the Soviet Union, it was clear that the Kremlin would pursue a differentiated policy on the Koreas. During the first presidential term of Vladimir Putin, Russian diplomacy was heavily involved in mediating what turned out to be an unexpected and successful rapprochement between Seoul and Pyongyang. Perhaps East Asia once again needs the mediation of Moscow (and Beijing)?
It turns out that the echoes of artillery fire on the Korean Peninsula are audible in Russia. The proximity of a fickle nuclear regime and the occasional skirmishes on the Korean peninsula are clearly not helping to develop the Russian Far East.
This is an abridged version of an article first published by Russia Direct (http://www.russia-direct.org/analysis/tensions-korean-peninsula-resonate-russia-literally)
All rights reserved by Rossiyskaya Gazeta.