Press Digest: U.S. will block Russia's geopolitical course, says Carter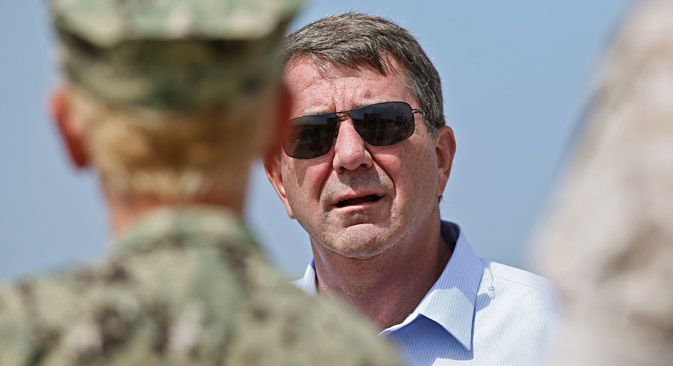 Secretary of Defense Ashton Carter is briefed about a Marine exercise by Marine Major Quint Harris at Red Beach Thursday, Aug. 27, 2015, at Camp Pendleton, Calif. Source: AP
RBTH presents a selection of views from leading Russian media on international events, featuring reports on a speech given by U.S. Defense Secretary Ashton Carter and the easing of rules on acquiring Russian citizenship for Ukrainian refugees, as well as analysis of a shooting rampage at a military base in the Kostroma Region.
Pentagon chief vows to impede Russia's geopolitical course
The Kommersant business daily cites U.S. Defense Secretary Ashton Carter as saying that the Islamic State terrorist group (ISIS) and Russia are the main threats to the United States.
The Pentagon chief made the announcement in front of servicemen at a U.S. Marine base in Pendleton, California. He describes Russia's current foreign policy as Russian President Vladimir Putin's "desire for respect for Russia's greatness" and "regret for the collapse of the Soviet Union."
"We have to impede this [Russia's foreign policy course – RBTH] from the perspective of our national security interests and also because we have important allies and partners in that part of the world, because we have important NATO obligations," said Carter.
Carter called Washington's approach to Russia "solid and balanced." "It is solid because we are developing opportunities in the military field aimed directly at restraining Russia's force. In the last 25 years we have not done this, but we are doing it now."
But at the same time, according to the Pentagon chief, the U.S. is trying to work with Russia on issues "where its geostrategic interests converge with ours." This includes terrorism, as well as interactivity with Iran and North Korea.
Russian citizenship to be fast-tracked for Ukrainian refugees
The centrist daily Nezavisimaya Gazeta reports that almost half a million Ukrainian refugees will soon be able to obtain Russian citizenship according to a simplified scheme.
The bill has already been developed by the Federal Migration Service (FMS). Nezavisimaya Gazeta writes that the FMS is suggesting to drastically ease access to Russian citizenship for refugees from southeast Ukraine and their family members. They will be relieved of such delaying bureaucratic procedures as the requirement to have resided in Russia for a certain period of time, the confirmation of a legal source of income, and the Russian language exam.
The head of the Russian government has the final decision on whether or not to given the refugees citizenship. According to Yevgeniya Bobrova, head of the migration committee at the Presidential Council on Human Rights, this was one of the conditions introduced by the presidential administration, which for a long time had refused to support the initiative.
Nezavisimaya Gazeta writes that with a relatively small financial outlay the government could obtain a propaganda coup, which could then be used in the information war with Ukraine and the West.
Kostroma soldier's friends baffled by killing spree in military camp
Journalists from the Gazeta.ru online newspaper analyze an incident at a military base in central Russia and try to understand what drove a young Russian serviceman to kill his comrades-in-arms before shooting himself.
The incident took place in the 71211 military unit at Kostroma (200 miles northeast of Moscow), where conscript Pavel Bakhtin killed four people and wounded two others. Bakhtin's acquaintances say that he was profoundly religious and had never come into conflict with his fellow servicemen. Now, after the incident, all the units at Kostroma are being subjected to a general exam to test the psychological stability of the servicemen.
"He was a great guy, very communicative," said one of Bakhtin's friends, who wished to remain anonymous because he is still serving. "I can't believe that he would start such a thing. Surely he was provoked."
One of the "personal" theories to the murder is a conflict with other servicemen or bullying, since Bakhtin was the youngest of the soldiers who died. However, one of his friends from his native city of Yoshkar-Ola (470 miles east of Moscow) said that he had spoken with Bakhtin on the eve of the incident and that Bakhtin had not complained about anything.
However, although Bakhtin's acquaintances do not all share the theory of his psychological problems, the military units in Kostroma will all undergo a mass test. Gazeta.ru obtained this information from a serviceman from one of the units. "They said that everyone would have to take the exam," said the soldier, who also wished to remain anonymous.
All rights reserved by Rossiyskaya Gazeta.