Press Digest: Production costs now lower in Russia than in China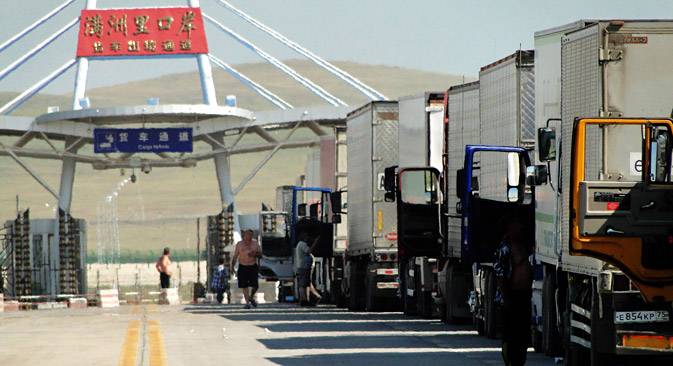 Trucks wait to pass a national border in Manzhouli City, the biggest land port of China bordering Russia. Source: Imago / Legion Media
RBTH presents a selection of views from leading Russian media on international events, featuring reports on falling labor costs in Russia and a proposed crusade against Facebook by Russian parliamentarians, as well as analysis of the current situation in the North Caucasus.
Plummeting ruble pushes labor costs in Russia below those of China
Because of the depreciation of the ruble, production costs in Russia have become lower not only than those in Europe but in China too, the Vedomosti business daily reports. In July, the average monthly wage in Russia was $591, the paper continues, compared with $775 in China (last year's data).
Given the Russian government's policy towards developing economic ties with Asia, this has boosted demand for Russian products in China. Consumers in China developed a taste for Russian foodstuffs last year, when the falling ruble pushed the prices down by at least 30 percent, Vedomosti cites a businessman from Blagoveshchensk in the Russian Far East as saying.
"Starting last winter, convoys of trucks crossed over the frozen river Amur into China's Heihe carrying Russian sweets, ice-cream, honey, dairy products, and sunflower oil. Previously, we used to bring goods from there, now they are taking goods from here," he said.
For car manufacturers, Russia is becoming a more attractive assembly platform than any other country in Europe, including Romania and Turkey, says AvtoVAZ representative Sergei Ilyinsky. Labor costs per vehicle in Russia are 230 euros ($258). According to J. D. Power & Associates marketing information agency, in Romania, the figure is about 400 euros and in Turkey, some 300 euros.
State Duma takes on social networks
The centrist daily Nezavisimaya Gazeta reports on a new initiative by State Duma deputies to introduce stricter controls over Facebook.
According to Russian parliamentarians, users in Russia are being subjected to a promotion of European values via the social network. In particular, this concerns the distribution of stickers depicting same-sex couples and other symbols associated with the gay movement. Some Duma deputies insist that Facebook should be banned in Russia altogether for its failure to comply with Russian laws.
The chairman of the State Duma committee on information policy, IT and communications, Leonid Levin, has promised to look into the situation with the alleged propaganda of non-traditional sexual relations on Facebook. If the foreign company is indeed found in breach of Russian law, Levin has promised to take adequate measures.
Internet users, for their part, met the State Duma's position with criticism. "Lately, our deputies' initiatives have less to do with common sense and more to do with populism," said prominent blogger Oleg Kozyrev.
"In this instance, they have become obsessed with the issue of combating sexual minorities. I think initiatives like these are harmful. They hinder the development of the Internet and divert attention from more important problems," he said.
Calm in North Caucasus may only be temporary
The situation in the North Caucasus may flare up again, warns political analyst Sergei Markedonov in an op-ed in the Moskovsky Komsomolets tabloid.
After the break-up of the Soviet Union, for many years the North Caucasus had the reputation of the country's most dangerous region. In the eyes of the general public, it was associated with terrorist attacks, conflicts, refugees, and instability.
Since 2012, the number of terrorist attacks in the North Caucasus has been steadily falling, writes Markedonov. If in the last quarter of 2014, the death toll was 168 people, in the first quarter of 2015 it went down to 51. However, this does not mean that the complex region has finally and fully become peaceful and free of conflict. There are supporters of the Islamic State (ISIS) radical militant group in the Russian North Caucasus and natives of that region are already fighting in the Middle East.
The human rights situation in the North Caucasus remains difficult too, Markedonov continues. Another fraught issue is the authorities' relations with Muslim communities that are not subordinated to the local religious bodies. There is a flipside to Chechen stability too. In effect, Moscow has delegated a considerable part of sovereignty to an individual pair of hands (Chechnya's strongman leader Ramzan Kadyrov – RBTH). And this pair of hands is far from always concerned with bringing its actions and practices in line with the norms that operate in the rest of Russia.
Thus, under certain circumstances, the North Caucasus may flare up again, Markedonov concludes.
All rights reserved by Rossiyskaya Gazeta.