Four scenarios for the development of the Russian Far East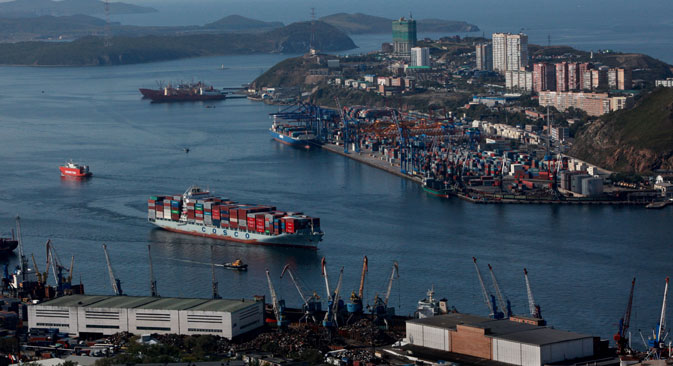 A view of the Zolotoi Rog Bay and the city of Vladivostok as seen from a pylon of the cable-stayed bridge. Source: RIA Novosti/ Vitaliy Ankov
At the Eastern Economic Forum, which was held in Vladivostok on September 3 to 5, Russian and Japanese officials, academicians and businessmen discussed the future of the Russian Far East. RBTH compiled the views of four participants of the forum.
Daisuke Kotegawa, Research Director of the Canon Institute for Global Studies:
"The Far East region and Asia-Pacific countries face a bright future. China is turning from a manufacturing center into the biggest consumer market, which is already six times larger than the Japanese market. The same trend is observed in other countries in the region. The total ASEAN market numbers 600 million people. By comparison, the population of the EU is 500 million. With the growing prosperity of the population, the potential for the sale of Russian goods will continue to grow."
Wang Mingfu, Founder and Chairman of the Hejun Consulting Group:
"The Far East could become a center of logistics and shopping, as well as a winter sports hub. Vladivostok could become a key city for tourism, migration and cultural activities. Singapore and Hong Kong could serve as an example. The authorities in Russia could develop this area in a similar manner."
Tadashi Maeda, Senior Managing Director of the Japan Bank for International Cooperation (JBIC):
"For the development of the Far East, it is important to promote infrastructure projects. The future of the region largely depends on trade. There are two problems faced by foreign investors – the low transport capacity of the Trans-Siberian Railway and the insufficient capacity of the existing port infrastructure. Together, this hinders the growth of freight traffic. Therefore, Japan is planning to increase investment in the infrastructure development of the Far East. JBIC is currently considering projects for the further development of the ports of Nakhodka and Vostochny."
Alexander Galushka, Minister for the Development of the Russian Far East:
"Russia's turn to the East is based on the evaluation of the rate of development of the Asia-Pacific region. Our task is to offer specific state policies that would provide an environment for investment in the Far East. In particular, laws on the free port, the territories of accelerated development, the development of transport corridors and the creation of a sovereign fund of the Far East have already been adopted. These instruments will contribute to the development of economic ties and help foreign investors to successfully develop business."
All rights reserved by Rossiyskaya Gazeta.