OSCE representative notes general progress in MInsk talks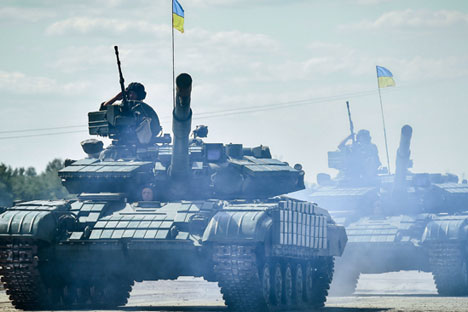 Participants were not able to agreed on withdrawing arms with a caliber of up to 100 mm from the line of contact. Source: TASS
Martin Sajdik hails plans on withdrawal of some types of weaponry.
Special Representative of the OSCE Chairperson-in-Office Martin Sajdik has welcomed the ceasefire regime that has been in force since late August in various parts of the Donetsk and Lugansk regions of eastern Ukraine, and praised progress made by the security subgroup on plans to withdraw weaponry.
"The contact group welcomes the progress that the subgroup on security reached concerning the plan to withdraw tanks, mortars of less than 120-mm-caliber and artillery of less than 100 mm," Sajdik said during a press conference in Minsk after a Sept. 8 meeting of the subgroup on security of the contact group working on the settlement of the conflict in Ukraine.
The OSCE Special Representative expressed a hope that this positive trend will help solve problems that the subgroups are discussing in the fields of politics, economy, security and humanitarian issues.
However, the participants of the meeting were not able to agree on the final version of the document on withdrawing arms with a caliber of up to 100 mm from the line of contact. It was decided to continue the meeting on Sept. 9.
First published in Russian in TASS
All rights reserved by Rossiyskaya Gazeta.