Putin's confidence is attractive, jokes Hillary Clinton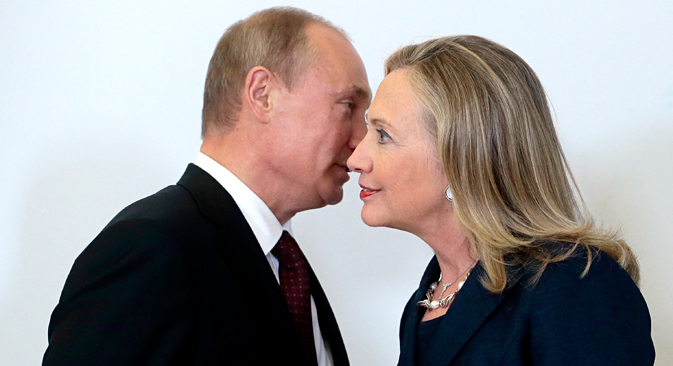 Vladimir Putin meets Hillary Clinton on her arrival at the APEC summit in Vladivostok, Sept. 8, 2012. Source: AP
AP
U.S. presidential hopeful makes comment during Q&A session in Washington.
U.S. presidential hopeful Hillary Clinton has joked that Russian President Vladimir Putin's ability to be confident in being re-elected is attractive, but at the same time made her feelings about the Russian leader clear in a critical remark about him.
"I don't admire very much about Mr. Putin, but the idea you can stand up and say 'I will be your next president'? That has a certain, you know, attraction to it," the former secretary of state joked during a question-and-answer session following her address on the Iran nuclear deal at the Brookings Institution in Washington on Sept. 9.
On a more serious note, Clinton said that she is "in the category of people who wanted to do more in reaction to the annexation of Crimea" last year.
"The fact that Hillary Clinton referred to Putin and Russia in her speech at the Brookings Institution says that Russia will become a hot topic in the upcoming presidential campaign, but not the only one," Russian political analyst Mikhail Troitsky told RBTH in his comments on Clinton's remarks.
He believes that Clinton's joke about Putin should not be considered as an insult to the Russian president.
"The joke refers rather to the political challenges facing Clinton herself," said Troitsky.
More U.S.-Russia stories in your box!
All rights reserved by Rossiyskaya Gazeta.