1. Engaging the West
Russia and the West: Do populist politicians offer a real alternative?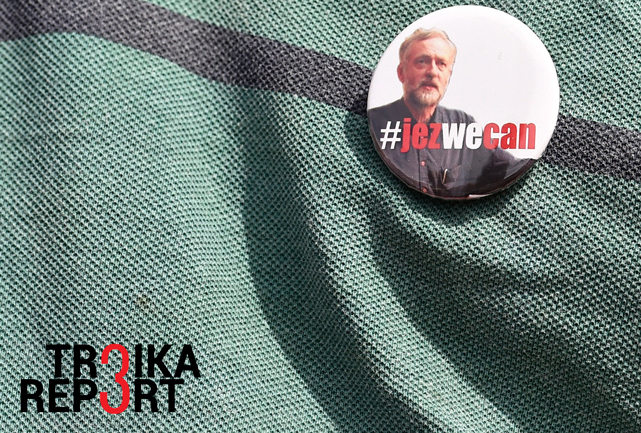 A supporter wears a campaign badge as British Labour Party politician Jeremy Corbyn arrives for a community meeting in north London August 9, 2015. Source: Reuters
The meteoric rise of left-wing iconoclast Jeremy Corbyn, the favorite in the leadership contest for Britain's Labor party, raised the question: Where is Labor, and Britain too, heading? Corbyn, if he ever wins the premiership, would be allegedly the most sympathetic British leader to Russia in history. This would be unprecedented, because Britain, as proclaimed by conservative Russian politician Vladimir Zhirinovsky, has been Russia's "most formidable enemy" since the 19th century.
In contrast, Corbyn is adamant in his foreign policy pronouncements, and he believes in what he says. He lambasts NATO and blames the West for instigating the Ukrainian crisis. But does he really epitomize a true alternative? And is he one of the new breed of politicians who are now making waves, or a throwback to the past?
A growing number of statements in the West favoring improved relations with Russia have accumulated in recent months, bolstered by acts of defiance of the common EU and U.S. stance in regard to Moscow's foreign policy. This was manifested by the visit of French parliamentarians to Crimea and a similar move planned by a group of their Italian counterparts. Moreover, the political debate in Europe and to a lesser extent in the United States, partly due to pre-election campaigns, has acquired a fair degree of criticism of governments' standpoint on dealing with Russia.
This no longer looks like "one-off" soundbites. The demand for a "reset" is coming from politicians of various political leanings, from both the right and the left. From frontrunner in the Republican nomination race Donald Trump in the U.S. to Jeremy Corbyn in the UK; from Marine le Pen, leader of France's National Front, with a strong bid for the presidency, to Matteo Salvini, leader of Italy's Northern League; from President of the Czech Republic Miloš Zeman to Prime minister of Greece Alexis Tsipras.
Yet, Jeremy Corbyn's opponents consider the British maverick a "dinosaur" of left-wing politics, having spent 33 years at Westminster. However, this has not deterred the support of the trade unions and the 10,000 volunteers who promoted his candidacy. It all points to a clear desire in certain sections of the public for change. Although Corbyn has warned not to take him for "an advocate" of Russian President Vladimir Putin, he calls for bettering relations with Russia.
Foreign policy has unexpectedly soared close to the top of the agenda of election campaigns, compelling politicians to define their views regarding the current global situation. It has also contributed to the ratings of those public figures that are suggesting an alternative, like Trump, who claims he could do a better "jaw-jaw" with Putin than Obama.
Approached by Troika Report, Nadezhda Arbatova, head of the Center of European Political Studies within the Institute of World Economy and International Relations at the Russian Academy of Sciences, offered her viewpoint on the mainstream parties losing ground to yesterday's outsiders:
"The Corbyn phenomenon is not new. Populists of all kinds are always in demand when ordinary citizens in EU countries are facing economic recession, uncontrolled immigration and an ensuing feeling of insecurity…"
"…international terrorism, and when they are dissatisfied with their own leaders and with Brussels. So, there is nothing new. Populists in the EU countries come up with criticism, which is often justified in many aspects. But their recipes and recommendations for how to cope with the enormous economic and security problems are unrealistic."

- What about the "Russian connection"?

"As for Russia's affiliations with the so-called Euroskeptics, it came as a result of Russia's alienation in international affairs due to the Ukrainian crisis. Therefore, Russia is looking for allies, and the Euroskeptics are regarded as such. However, the countries with euroskeptical leaders, like Hungary and the Czech Republic, cannot be viewed as Russia's strategic allies. As long as they remain members of the EU and NATO, there won't be any radical changes in relations with these countries."
- Why would politicians as different as Trump, Tsipras, Le Pen, Corbyn, etc. criticize the political establishment in their countries for conducting what they deem as an incorrect policy toward Russia?
"These forces are marginal and are looking for allies abroad. In this respect, Russia is a good choice for them. A big country with its own foreign policy, so they are playing the Russian card."
Among those who are allegedly "playing the Russian card," Marine Le Pen of the France's National Front is quite visible: She calls for tighter energy and military cooperation with Russia, and once invited Germany to jointly create a Paris-Berlin-Moscow axis. Then there is the UKIP leader Nigel Farage, who has called on the European Union to stop interfering with the Ukrainian crisis and engage Russia to form a united front against the Islamic State (ISIS) militant group, which is conducting a war of terror in the Middle East.
Earlier, back in December 2013, Matteo Salvini, leader of Italy's Northern League party, made a complimentary statement: "People in Italy still know little about Russia, although in my opinion Russia represents the future."
In Berlin, Alexander Gauland, the leader of the Alternative für Deutschland (AfD) Party, argues that 19th-century chancellor Otto von Bismarck was correct in insisting on close ties with Russia, because each time Germany abandoned Bismarck's paradigm it headed toward defeat, most notably after 1914 and 1941.
In Moscow, conservative political groupings held a forum in March, inviting 11 like-minded political parties from Europe. Among those present were senior figures from Greece's controversial Golden Dawn and the Austrian Freedom Party. The get-together marked attempts to establish a sort of "right-wing international" but the outcome was more style than substance, much like the hopes of staking much on marginal politicians like Jeremy Corbyn.
Nevertheless, the Corbyn phenomenon and similar offshoots of the counter-elites in Greece, Italy, France, Germany, and the Netherlands, not to forget the U.S., has revealed the latent demand among many of the public for a viable alternative to the mainstream politicians and policies which have ceased to meet the high expectations of the people.
The bottom line is: Never underestimate an anti-establishment maverick during the "lean years" of frustration and despondency. Even though it might boil down to nothing more than 15 minutes of glory and razzamatazz.
2. Globally speaking
Russia enters debate on European refugee crisis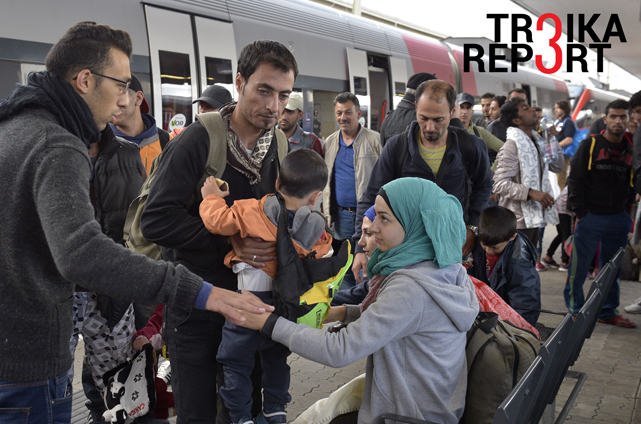 Refugee families on arrival at Vienna's Westbound Railway Station on their way to Germany, Sept.6. Source: EPA
Last week Moscow unexpectedly stepped into the debate over the European refugee crisis amid the deepening calamity that has pitted Eastern Europe against Western Europe, with Russian President Vladimir Putin suggesting resolving this conflict of interests by addressing its root causes. Meanwhile, his diplomats hinted at Russia getting involved in the efforts to diffuse the avalanche-like crisis.
The Russian leader spoke of the necessity to assist the countries turned into unwilling "donors" of migrants, and focus on rebuilding their economies and social spheres "to convince terrified people to move back." He emphasized that in the Middle East this would be possible only if, firstly, ISIS is defeated and, secondly, if outside sponsors act "with full respect for history, culture and local traditions."
In some way, Putin echoed the decision taken by the EU in July to tackle the core roots of the crisis. That decision was based on the premises that war-torn and hunger-stricken, destabilized nations serve as breeding grounds for extremism of all kinds, making way for the emergence of violent religious fundamentalists who preach by the sword and live by hatred. Nation-building and restoring the fractured societies of these countries is vital.
In late August, Russian Foreign Minister Sergei Lavrov suggested Russia and the EU could interact in handling the refugee crisis. Moscow is awaiting concrete proposals from Brussels, said Lavrov. Concurrently, diplomatic sources revealed that "informal" consultations on the subject with the EU have been going on for some time already.
Russia seems to be eager to share its experience, having had to accommodate those who fled from neighboring Ukraine in large numbers in a short time span. In 2014 alone, right after the outbreak of hostilities in eastern Ukraine, more than 950,000 Ukrainian citizens fled to Russia, more than a third of whom requested "refugee status."
Also for the record: Since the start of the civil war in Syria, some 5,000 refugees have fled to Russia, and many of them have applied for permanent residency status.
While pointing at the "reckless" politics pursued by Western powers in the Middle East and North Africa, which triggered off the exodus of refugees, Russian Foreign Ministry spokeswoman Maria Zakharova has proposed substantial cooperation with the EU in handling the crisis.
Could Russia really assist the European Union in handling the consequences of the migrant crisis? If so, could it become another focus point of positive interaction between Russia and the EU in dealing with a trans-border issue? The Moscow-based academics have slightly divergent views on whether Russia should "do its bit" and what are the limits to its good will and contribution.
Timofei Bordachev, head of the Center of European and International Studies at the Higher School of Economics, believes that everyone has to accept their own mistakes, and that there is no common responsibility for the EU and Russia. Here is what he had to say to Troika Report:
"First, from the perspective of international politics, Russia has no obligations to pay for the mistakes of the European leaders, namely France and Britain, as well as the United States, which they made in the Middle East and which is the core reason for the refugee crisis. Second, Russia is also suffering from an influx of refugees from Ukraine, [which is] going through a crisis to which the Europeans have contributed.

"However, if viewed from the humanitarian perspective, Russian bears a reasonable amount of responsibility for the plight of the refugees, namely from Syria. Moreover, Russia can provide military assistance to the forces in Syria fighting against Islamic State. As for the refugees who have already made their way to Europe, it is the duty and responsibility of the European Union to help them."
On the contrary, Alexander Rytov, an expert with the Institute of Europe of the Russian Academy of Sciences, opted for a more proactive policy and suggested a two-track approach for Russia's involvement in the pan-European refugee crisis. Here is his comment for Troika Report:
"I believe that Russia should be more active in this field because the flow of refugees is huge. It is evident that the 'buffer zones' in Libya, in the Maghreb countries, and in the Middle East, ceased to exist after the Arab Spring. There are conflicts going on in Iraq, Syria, and Libya. Russia is interested in a settlement in these countries. Henceforth, it must pursuit, in my opinion, a two-track policy.

"Firstly, assist the refugees, help them to settle down, permanently or temporarily if they choose one day to go back home — they would then be grateful to Russia. Secondly, make efforts to form a united front to fight in Syria and Iraq against ISIS, now the main opponent of the civilized world."
In any case, the goodwill gestures made by top Russian officials signal the desire of Moscow not just to keep channels of communication open but to cooperate with the European Union in a meaningful and effective way, and deal with a problem that spans across three continents and has not a regional but a global dimension.
3. Going Eastward
King Salman balancing between Obama and Putin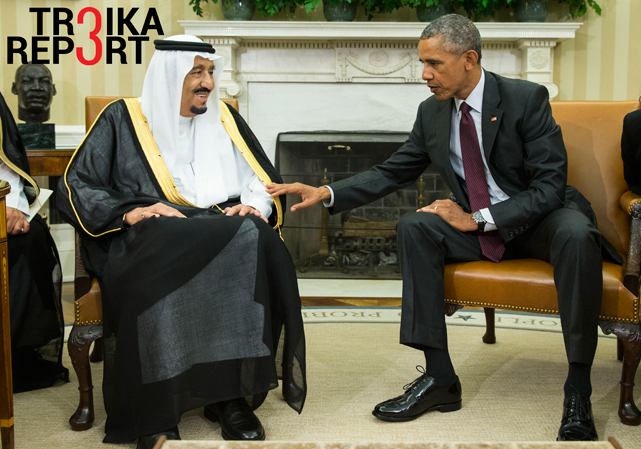 President Barack Obama meets with King Salman of Saudi Arabia in the Oval Office of the White House in Washington, Sept.4. Source: AP
Moscow missed the opportunity to welcome Saudi Arabia's new monarch, King Salman, in August prior to his first official visit to Washington this week. Nevertheless, it makes little difference since the new visible corrections in the foreign policy of the desert kingdom counterbalance Riyadh's former leaning toward the West.
There is no doubt that for decades Saudi Arabia has appreciated the "special relationship" with the former main provider of security in the region, the United States. The 9/11 drama was a watershed: The allegations of the close ties of the terrorists to Saudi Arabia derailed everything. These accusations in the American media led Saudi business and sovereign funds to withdraw some $200bn as portfolio investments from the U.S. stock markets.
Damage control was applied, and things returned to the way they were for a while – until the U.S. strategists, enthusiastic about becoming energy self-sufficient and less dependent on Middle Eastern oil, shifted their foreign policy emphasis and focused on engaging Iran. The Vienna deal on the country's nuclear program set the course of events toward lifting the sanctions from Tehran, seen by Riyadh as its arch-rival in regional affairs.
Feeling betrayed, the oil-rich kingdom has apparently opted for a "diversification" of its foreign policy partners and started the process of rapprochement with Russia. Are we witnessing a balancing act of Saudi diplomacy? Sergei Filatov, commentator with the Moscow-based International Affairs journal, made the following comment for Troika Report:
"Saudi Arabia is trying to find new ways of handling international politics. For decades Riyadh was a close friend of Washington. Now that the two sides share a serious 'misunderstanding,' the Saudis are looking for new international partners, including Russia.

"After his coronation, King Salman chose not to go to the United State,s since its policy toward Saudi Arabia has changed. Why? This is another question. Now King Salman has gone to see President Obama after receiving an invitation to come to Moscow. His visit is due in fall. Meeting with Obama will enable King Salman to assess what the U.S. has to offer. This is a preparation for the visit to Moscow."
"We are very different countries with contradictions, in particular, related to the past developments in the Caucasus region. Nevertheless, Moscow understands that Saudi Arabia could be if not a friend then a good partner."
"Russia can help resolve problems because Moscow can speak to anybody: to Israel, Palestine, Iran, Saudi Arabia, Qatar, etc. We are open to such a dialogue. In the region, there is plenty of animosity. That is why Russia can have a role to play."
"We can help them to resolve their problems and to find a new consensus in the Middle East."
Originally, King Salman was expected to attend MAKS, the international aviation and space show held annually near Moscow in the town of Zhukovsky. The monarch missed the occasion. Instead, he headed toward Washington. Is this some sort of a diplomatic chess game being played by Riyadh? Maxim Suchkov, an expert with the Russian International Affairs Council, shared his view on the intricacies of regional mentality and behavior with Troika Report:
"There is an element of a game in the Saudis' behaviour, in how they are balancing relations with Moscow and Washington. However, the context is that they are extremely concerned over the challenges that they face in the immediate neighborhood. It forces them to act more pragmatically than they did before.

"As for Washington, the two sides will cover five problem areas: Syria, Yemen, Egypt, the energy issue and, of course, the Iranian deal. On all of these issues Riyadh and Washington have serious disagreements. But the deal with Iran will dominate the agenda. Obama wants to ease the Saudis' concerns over the deal, and get, if not support for it, non-resistance to its implementation.
"The Saudis, in their turn, want more physical guarantees from the U.S. to secure their own regional standing and prevent Iran from gaining regional dominance. I would not expect any breakthrough, at least at this point in time. Both parties will most likely reaffirm their positions and ensure that they do not further fray the relationship."
— What is store for Russia if – or rather, when – King Salman finally pays his promised visit to Moscow?
"The Saudis are trying to diversify their contacts with Moscow and Washington. As we know, Prince Mohammed bin Salman attended the St. Petersburg International Economic Forum this summer, and the two parties allegedly clinched a very lucrative arms deal.
"This might be the reason why King Salman missed the MAKS event: the Saudis did not want to show that they are way too cooperative by having two visits in a row, one in June, another soon afterwards, in August. If King Salman showed up at the MAKS, it would have been too much: He did not want to antagonize Washington. Later this year, they will come to Moscow and talk over the same agenda, but most probably more over Syria than Iran."
It would be premature to expect a full-fledged cooperation between Moscow and Riyadh, given the multitude of divergent views and interests. The House of Saud is too careful and pragmatic enough not to rupture its close ties with Washington.
Yet, the current restructuring of the whole situation in the Middle East, driven by the gradual strengthening of Iran and the entrenchment of ISIS, which already controls 70 percent of Syria and a large chunk of Iraqi territory, forces Saudi Arabia to seek, if not new allies, then new partners of convenience to deal with the existential threats.
The opinion of the writers may not necessarily reflect the position of RBTH or its staff.
<
All rights reserved by Rossiyskaya Gazeta.