Press Digest: Russians now making parmesan and jamon in their own homes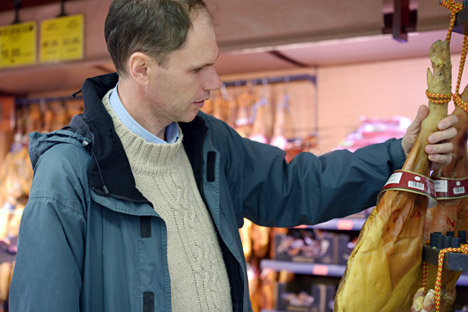 Growing numbers of Russians are attempting to make banned Western food products such as Spanish jamon at home. Source: Lori / Legion Media
Lori/Legion Media
RBTH presents a selection of views from leading Russian media on international events, featuring a report on Russians attempting to make banned Western food products in their own kitchens, as well as news of a lawsuit against Google in Russia for "reading correspondence" and an interview with former Polish President Lech Walesa about the possibilities for reconciliation between Russia and Europe.
Russians take up 'domestic' import substitution
The centrist broadsheet Izvestiya reports that thousands of Russian residents, after seeing that blacklisted products had disappeared from the stores, have started preparing them at home.
The number of queries submitted to the Yandex search engine about how to make parmesan, mozzarella and jamon in your kitchen have increased by 3-5 times. The Yandex press office also says that there has been an increased interest in making food at home in general. People have started searching online for ways to make bread, ketchup, salami, pizza and zucchini and eggplant caviar.
Director of the Executive Committee of the National Meat Association Sergei Yushin said that Russians' increased interest towards cooking and more so towards substituting import within the confines of one's kitchen is related to Moscow's embargo on Western food imports and the economic situation.
"The prices in the stores are very 'biting.'," he said. "Since last year prices on meat have gone up by 13 percent, on dairy products by more than 15 percent and on grocery products by more than 20 percent. Far from everyone can afford to treat himself to these dainties."
Russian sues Google for reading his letters and wins
The RBK business newspaper reports that the Moscow City Court has satisfied a claim against Google's Russian representative. The corporation has been found guilty of reading private correspondence and is obliged to pay Russian citizen Anton Burkov 50,000 rubles ($760).
Director of the Faculty of European Law at the Yekaterinburg Humanitarian University Anton Burkov filed a lawsuit against the company in November 2014. He had stated that Google reads his correspondence on the Gmail server and thus violates his right to privacy and private correspondence. Burkov argued that the contextual advertising that had appeared on Gmail corresponded in content to the subject matters of his letters.
In the beginning of 2015 he said that he had intended to travel on business to the European Human Rights Court and corresponded about this trip with his friends.
"I was immediately offered advertising on hotels in Strasbourg and visas. Then I understood that it was not just a coincidence and that my mail was being read," he explained.
Nevertheless, according to Google Russia representative Svetlana Anurova, not a single person reads the emails.
"Our automated systems scan the mail in order to prevent spam and identify harmful programs. Such systems are also used for showing relevant advertisement," Anurova said, commenting on the Moscow City Court's decision.
Former Polish leader ready to mediate between Russia and Europe
The Nezavisimaya Gazeta newspaper cites former Polish President Lech Walesa as saying that compromise between Russia and Europe will be possible only when the former readies itself for dialogue and the latter starts taking Russia's interests into consideration. Walesa also told the newspaper what should be done with Ukraine and Crimea, what democracy is made of and how useful are sanctions.
"I want to ask President Putin for a meeting and speak. I don't intend to change his convictions, just present arguments that will help see the problem in a different light," said Walesa.
"We need Russia. Without Russia we cannot take one step, in Europe or anywhere in the world. Let Russia have its interests, but things have to be done in a different way, through the intellect, not with tanks and occupying territory. Only then will everyone come to Russia on their knees, Crimea included."
Walesa said that Russia needs "to take an example from Europe," adding that "despite the sea of spilt blood, we are liquidating borders and levelling living standards. And Russia must do the same on its territory."
When speaking about sanctions, Walesa remarked that this issue "needs flexibility." "Today it is necessary to understand which sanctions are effective and are capable of returning Russia to European standards. Poland, Europe, the whole world needs Russia. But the Russia that acts in a generally accepted manner," he said.
All rights reserved by Rossiyskaya Gazeta.