Press digest: Moscow and Washington intensify contacts on Syria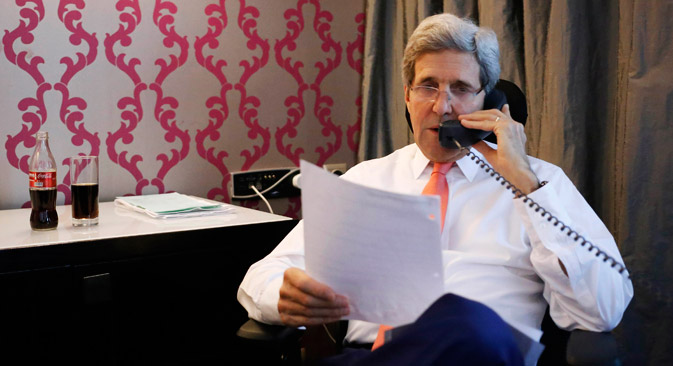 U.S. Secretary of State John Kerry has called his Russian counterpart Sergei Lavrov three times over the past several days. Source: Reuters
Reuters
RBTH presents a selection of views from leading Russian media on international events, featuring reports on the resumption of contacts between foreign ministers in the U.S. and Russia, the Israeli Prime Minister's surprise visit to Moscow and the arrival of asylum seekers in Russia from Syria.
Defense Ministers from U.S. and Russia talk
Russia and the U.S. have stepped up their contacts to discuss the fight against terrorism and the future of Syria, the business daily Kommersant reports.
On September 18, the two countries' defense ministers Ashton Carter and Sergei Shoygu spoke for the first time since the start of the Ukraine crisis, while John Kerry has called his Russian counterpart Sergei Lavrov three times over the past several days according to Kommersant. Furthermore, according to German media, a senior U.S. intelligence delegation visited Moscow last week to discuss Syria.
However, prospects for cooperation are hindered by differences as regards the future of the current Syrian leader. The U.S. wants Syrian President Bashar al-Assad to go, while the Russian authorities have not ruled out rendering military support to Syria should Assad ask for it.
Dmitry Trenin, head of the Moscow Carnegie Center, believes that there is potential for Russia and the U.S. to work together to handle the crisis in Syria. "While creating a broad anti-terrorist coalition as suggested by Vladimir Putin would be impossible as the Americans will never accept Assad as an ally – in the fight against the Islamic State cooperation between Russia and the U.S. is quite possible," Trenin says, "For example, (there could be cooperation) in terms of coordination so that Russian aircraft and aircraft from the U.S.-led coalition do not bomb each other, in addition to exchanging intelligence information – after all, they face the same enemy."
"Previously, the U.S. did not quite understand Russia's plans in Syria," Trenin continued. "They were concerned that Moscow might assist Bashar Assad in the struggle with the opposition, who they themselves support. However, once the Russian side has assured them that its actions in Syria are aimed at fighting terrorism, the Americans have become more understanding."
Israel concerned by possible armed clashes with Russia
Israeli Prime Minister Benyamin Netanyahu has made a surprise visit to Moscow. The main issue he will be discussing with President Vladimir Putin is Russia's possible involvement in resolving the conflict in Syria, says the pro-government news outlet Vzglyad.
The civil war in Syria, which began in 2011, has affected Israel too. It began with shelling of Israeli territory on the border, near the Golan Heights from the direction of Syria. Later, the Israeli Air Force began to carry out periodic strikes on Syrian territory in order to destroy armaments that they thought had the potential to end up in the hands of terrorist groups – Hezbollah in particular.
In the meantime, according to media reports, Russian and U.S. intelligence services came to an agreement regarding cooperation on the Syrian issue during a round of classified talks. It would be naïve to assume that Netanyahu is coming to Moscow to try and persuade Putin not to send troops to Syria, the news outlet says.
Netanyahu faces at least two tasks. Firstly, for him it is necessary to clarify the situation with further arms supplies, as Israel's main concern is that Russian weapons could end up in the wrong hands. Secondly, it is necessary to develop principles of interaction should Russian troops indeed be dispatched to Syria. If this were not taken care of in advance, a situation could emerge whereby Russian armed forces become a target for Israeli air strikes, which is undesirable for all sides.
Israel is convinced that Russian troops are already being sent to Syria. According to Vzglyad, a source from the Israeli Defense Force told the Israeli newspaper NRG that Russians are planning to set up an air base and carry out air strikes against ISIS positions. At the same time, the cited source added that, "we interact with our Russian partners, it is not the cold war after all."

More than 900 Syrian refugees seek asylum in Russia

This year, 912 Syrian nationals have applied for temporary asylum and refugee status in Russia, the Federal Migration Service (FMS) has told the Izvestia daily newspaper.
At the same time, FMS head Konstantin Romodanovsky said that refugees from Syria and Libya show limited interest in staying in Russia.
"If somebody files an application, their papers are considered," Romodanovsky said. "However, I think it is necessary to take into account the fact that for Syrians historically and from the point of few of a larger diaspora and better integration, European countries are more appropriate than the Russian Federation."
Vasily Likhachev, a member of the State Duma committee for the Commonwealth of Independent States affairs, Eurasian integration and ties with fellow nationals, predicts that the number of Syrian refugees coming into Russia will increase.
"Generally speaking, there are many of our compatriots living in Syria as well as people who graduated from Soviet universities," Likhachev said. "We should continue to pursue a balanced migration policy and each application for asylum should be considered from the point of view of national security."
All rights reserved by Rossiyskaya Gazeta.