Life getting brighter for Russia's LGBT community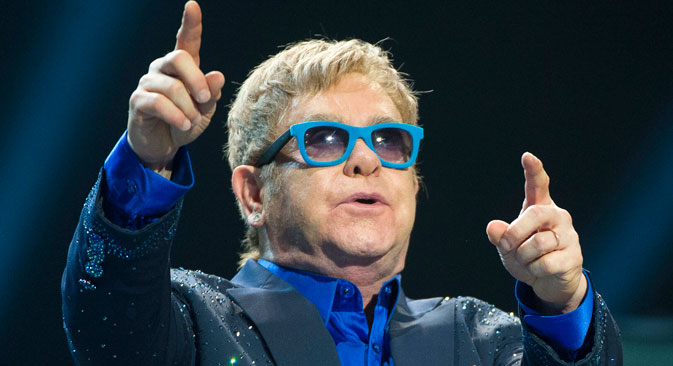 On Sept. 24 the Kremlin announced that Putin did call Elton John. Source: DPA / Vostock photo
Elton John falls victim to pranksters but Putin calls back in the end, says Aliya Sayakhova.
The British media were all over it like a rash: President Vladimir Putin had called singer and gay rights advocate Elton John to discuss the problems of the LGBT community in Russia.
News outlets fell for the story as much as John did, who later discovered he had been duped by two notorious Russian prankers Vladimir Krasnov and Alexei Stolyarov, known as "Vovan and Lexus".
Krasnov posed as the president and Stolyarov, who speaks good English, as his press secretary Dmitry Peskov. The spoof was revealed on a late night talk show on Russian state television - and is now available for everyone to enjoy.
During a conversation that stretched credulity to breaking point, John said he had loved Russia since 1979 and just wanted the world to be a better place, also joking that US president Obama was on another line. When the spoof was revealed, John took it well, saying in an Instagram post: "If this unfortunate incident has helped push this vital issue back into the spotlight, then I am happy to be pranked on this occasion."
You would think that the chances of such conversation were close to zero. The singer labeled Putin's stance on LGBT issues "isolating", "prejudiced" and "ridiculous" in a BBC interview over the weekend. Last week he criticized Russian policies towards gay and lesbian rights in a conversation with Ukrainian president Petro Poroshenko. Moreover Putin had just given a state honor to controversial St. Petersburg lawmaker Vladimir Milonov, who is well known for his efforts to ban "gay propaganda" and prosecute western pop stars that support LGBT rights. However the Russian President likes a good surprise: on Sept. 24 the Kremlin announced that Putin did call Elton John in the end: the president asked the singer to take no notice of silly pranks and suggested meeting to discuss human right issues in Russia.
The Russian president has already made friends with such Western celebrities as Stephen Seagal, Gerard Depardieu and Mickey Rourke - will John become the next to join the club?
Gay bars
In other gay news, police in Finland have received a complaint after another two pranksters, this time Swedish, erected a makeshift gay bar to protest against Russia's anti-gay policies. The bar based on the Blue Oyster from the 'Police Academy' films was built on a plot of land belonging to the Russian presidential administration on the remote Åland archipelago, a former Russian territory. The Russian consul to Åland, Mikhail Zubov called the incident "pure hooliganism", according to the Guardian.
The comedians, a Swedish comedy hip-hop duo called Far & Son, are unfazed: "We expected a bit more of a vigorous response from the Russians and that they would immediately send Scud missiles into the gay bar", they said.
Far & Son told local media they were protesting against Russia's crackdown on gay rights, including a law forbidding the propagation of 'non-traditional' sexual orientation to children. In Russia itself however, gays and lesbians are enjoying, if not total freedom, at least relative peace. Bars in Moscow and St Petersburg are flourishing, and Grindr is on the rise – even reaching within the Kremlin walls, the Guardian said earlier this year. While walking down the street holding hands or coming out in public like TV presenter Anton Krasovky did in 2013, might be not advisable, the LGBT community, at least in the two capital cities, seems to enjoy relative freedoms not usually recognized by Western media. In Stalin's words, "Life has become better, comrades, life has become gayer".
Street art
St. Petersburg welcomes (to a certain extent) all forms of sexual orientation, and equally – all forms of artistic expression. The northern capital that hosted the Manifesta Biennale last year has now become a home for Russia's first museum of Street Art. A contradiction in terms: "street art" and "museum" have nevertheless come together in this new project on the outskirts of Saint Petersburg, away from the cultural and tourist centre of the city, reports the Guardian.
The museum, hosted by a working factory, has playfully chosen a spray can, stylized as a classic architectural column as its logo. Situated far from the polished streets of the historical center, so familiar and pleasing to a European eye, it was the factory owner himself, Dmitry Zaitsev, who created the museum. A large fraction of the museum's "collection" is on display within the factory's workshops for all the workers to enjoy. That part can only be accessed on a guided tour twice a week. The rest of the museum is open to the public and hosts all sorts of cultural events and activities - from installation art workshops and media art festivals, to theater performances and International Coffee Day celebrations.
Street Art appears to be on the rise in Russia argues ELLE. Dozens of urban art festivals are taking place across the country every year, with Nizhny Novgorod and Yekaterinburg fiercely competing for the title of Russia's urban art capital. Nizhny's displays, in particular, are ubiquitous, says the magazine. Whereas in St. Petersburg street art might appear inappropriate on the Fontanka, it has now also found a safe haven in the city's industrial district.