Press Digest: Russia will take no part in Syrian combat operations – Putin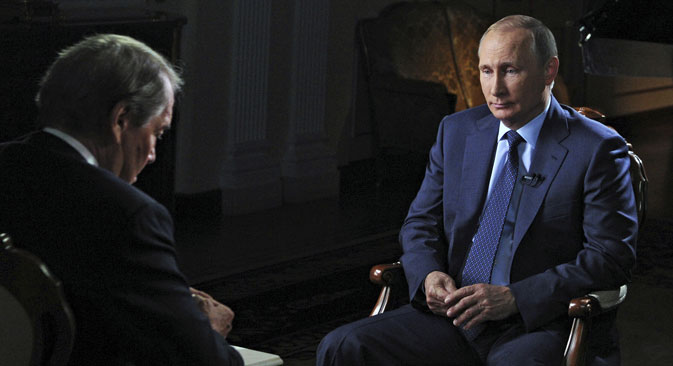 Putin and American journalist Charlie Rose. Source: Reuters
RBTH presents a selection of views from leading Russian media on international events, featuring an interview given by Russian President Vladimir Putin to U.S. TV channels CBS and PBS, as well as reports on the ban on Russian airlines using Ukrainian airspace and the continuing anti-government protests in Moldova.
Putin gives interview to U.S. TV channels
One of top stories for the Russian media is the interview that Russian President Vladimir Putin gave to Charlie Rose for the U.S. TV channels CBS and PBS ahead of his participation in the 70th session of the UN General Assembly on Sept 28.
The official daily Rossiyskaya Gazeta says that in that interview Putin:
1) outlined how the Syrian problem can be resolved: "There is no other solution to the Syrian crisis than strengthening the existing lawful government structures and rendering them help in fighting terrorism," he said, at the same time urging them to engage in a positive dialogue with the "rational opposition."
2) gave assurances that Russia has no intention of taking part in combat operations on Syrian territory or in any other country.
3) pointed at the part the United States had played in toppling Ukrainian leader Viktor Yanukovych: "Our partners in the United States are not trying to hide the fact that they supported those opposed to President Yanukovych."
On the subject of his popularity in Russia, Putin attributed it to the fact that he and other citizens of Russia have one thing in common, their love for their motherland.
Ukraine introduces air traffic sanctions against Russia
On Sept. 25, it was announced that – starting from Oct. 25 – Russian airlines are banned from carrying out flights to Ukraine or via Ukrainian airspace, writes the Kommersant business daily.
The publication points out that Ukrainian President Petro Poroshenko signed the decree introducing sanctions against Russian companies back on Sept. 16, without however spelling them out.
"Kommersant sources in both countries did not rule out that, given the inevitable losses to be sustained by local market players and Moscow's retaliatory steps, Kiev would limit itself to banning just transit flights over Ukraine."
The paper cites Russian airlines as saying that they have not yet received any official notification from Kiev and flights to Ukraine are continuing as normal.
Currently, regular flights to Kiev, Lviv and Odessa operate from Moscow, St Petersburg and Surgut. Once the ban and Russia's retaliatory steps come into effect, airports in Ukraine will sustain direct and indirect losses of over $10 million a day, writes Kommersant, while neglecting to say how the loss of this traffic will affect the finances of Russian airlines.
Left-wing parties stage protest in Chisinau
A correspondent from the Regnum news agency reports from a thousands-strong protest staged by left-wing parties in the Moldovan capital Chisinau. Igor Dodon, leader of the Party of Socialists, listed the protesters' demands: the resignation of President Nicolae Timofti and an early election.
"Today we are starting the liberation of Moldova," declared Dodon.
Regnum points out that not far from the venue of the left-wing rally, another protest, organized by the DA platform (Demnitate si adevar, Dignity and Truth), has entered its third week already. The two opposition camps are pursuing different goals: DA calls for stepping up "European integration," while the left urges closer ties with Russia and integration with the Customs Union.
All rights reserved by Rossiyskaya Gazeta.