Press Digest: Russian authorities foil ISIS terrorist attack in Moscow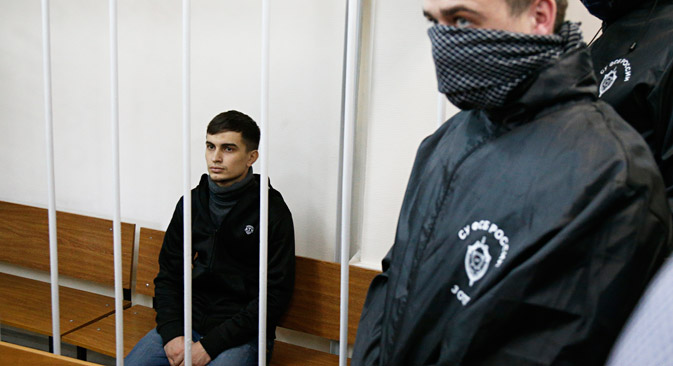 Aslan Baisultanov, a man suspected of plotting a terrorist attack in Moscow, sits in a defendants' cage as two intelligence officials with their faces covered, stand in a court room in Moscow, Oct. 13, 2015. Source: AP
AP
RBTH presents a selection of views from leading Russian media on international events, featuring reports on the alleged foiling of an ISIS terrorist attack in Moscow, the effect of Russian oil contracts with China on global prices, and attempts by a German delegate to the NATO Parliamentary Assembly to make amendments in favour of Russia to a resolution condemning Moscow's "military intervention" in Ukraine.
Islamic State already trying to fight in Russia
The centrist daily Nezavisimaya Gazeta reports that a terrorist act planned by Islamic State (ISIS) militants in Syria was foiled in Moscow on Oct. 11.
Russia's security service, the FSB, says that it had "established an address in Moscow to which 6 to 11 people would periodically come. Some of them had received combat training in the Islamic State camps in Syria and came to Russia long before the start of the Russian military operation in that country."
Meanwhile, one of the factions of the Free Syrian Army, which is fighting Syrian President Bashar al-Assad, announced on Oct. 12 that it intends to infiltrate the ranks of the government forces and "weaken Russia with all possible means," for example, "carrying out suicide bombings within the infiltrated forces."
According to Alexei Malashenko, a member of the Scientific Council of the Moscow Carnegie Center, the danger of terrorist acts today has increased.
"It is a fact that there will be terrorist acts. How and where, we'll have to wait. Also, it is possible that they will take place not only in Russia but also in Europe."
Russia and Iran may be holding back growth in oil prices
According to Western analysts, new oil contracts between Russia and China may keep a growth in oil prices in check until the beginning of 2017.
Citing a report prepared by the international division of the Argus Media consulting firm, the Izvestia centrist newspaper writes that despite the slowdown in the Chinese economy, oil exports to the Asian-Pacific region will grow. In the opinion of company analysts, Russia will be one of the drivers of import growth in the Pacific Rim countries, but this will substantially reduce the growth rate of oil prices.
"We are seeing a growth of supplies to China from Russia and you can't say that this will have a positive effect on world prices," said Senior Vice President of Argus Asia Jim Nicholson.
According to estimates, Russia will have a negative influence on prices for another year. Moreover, in March-April 2016 Iran will increase its oil supplies. If Iran renews its oil supplies to Europe, the cost of a barrel of Brent will increase by only 5-6 percent, from the current $52 to a maximum of $55.
"Russia is beginning to play a big role on Asian markets. If, as investors expect, the last sanctions against Iran are lifted in the upcoming six to 12 months and the European markets are inundated with Iranian oil, it is possible to predict that Iran and Russia will exercise more influence on world prices than even the U.S. and the OPEC countries," said Nicholson.
Is Germany siding with Russia on Ukraine issue?
The Svobodnaya Pressa online publication reports that on Oct. 12 the NATO Parliamentary Assembly adopted a resolution on Ukraine condemning "Russia's military intervention" and calling for the strengthening of sanctions against Russia. However, the adopted resolution has exposed a series of disagreements among the member countries.
Ukrainian delegate Mustafa Nayyem wrote on his Facebook page that 14 amendments were proposed during the discussions of the document, half of which were made by Karl Lamers, a member of Germany's ruling party CDU. Nayyem called five of Lamers' proposals "separatist" and another two "blatantly pro-Russian and anti-Ukrainian."
In particular, Lamers had proposed to remove the point calling for pressure to be put on Russia. Instead he suggested "putting pressure on both sides until the Minsk agreements are implemented."
Nayyem said that Lamers is "not some mediocre deputy from the Bundestag, but the Deputy Chairman of the Defense Committee of the German Parliament and Merkel's ally in the Christian Democratic Union Party of Germany."
As a result, the German delegation's amendments were not accepted. In particular, parliamentarians from the U.S., France, Poland and Ukraine criticized them harshly.
"There are rumors in diplomatic circles that say that Germany and France's 2016 budgets are being prepared with the consideration that the anti-Russian sanctions will not be extended. That is, Russia will again return to being Germany and France's partner. But first the situation in the Middle East must somehow be regulated," said Director of the Ukrainian Policy Foundation Konstantin Bondarenko.
All rights reserved by Rossiyskaya Gazeta.