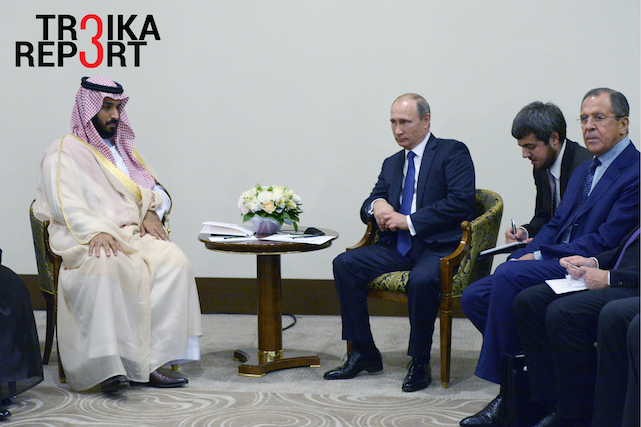 The Defense Minister of Saudi Arabia, Prince Mohammed bin Salman, President Vladimir Putin (left to right), Russian Foreign Minister Sergei Lavrov (right) during the meeting in Sochi, October 11, 2015. Source: Alexei Nikolsky/TASS
It was a sensational turnaround: Saudi Arabia and Russia have been at odds over Syria since the uprising against President Bashar al-Assad first began four years ago and nothing has changed since then; with the exception of a suspicion that the two nations are conducting a proxy war on the Syrian battlefield.
Given the consistent financial and logistical support rendered by Saudi Arabia to certain militant groups of the anti-Assad opposition, the trip by the son of the Saudi king, allegedly viewed as heir apparent, was a daring enterprise in itself.
The delicate diplomatic mission came after Sheikh Salman had brought a delegation of businesspeople to the St. Petersburg International Economic Forum (SPIEF) in June this year to talk about doing trade and looking for investment opportunities.
This time, apart from probing Moscow's resolution in backing the ruler of Damascus, Sheikh Salman sought the answer to the crucial question for the desert kingdom: What are the limits to cooperation between Russia and Saudi's arch-rival, Iran? In fact, channels of communications remain open, and the apprehension of Riyadh that it was being pushed into a corner by the new re-alignment in the region has seemingly been alleviated.
"We expressed our concerns that these operations could be regarded as an alliance between Iran and Russia," revealed Saudi Foreign Minister Adel Al-Jubeir. "But in the conversation, our Russian friends explained to us that the main aim is the fight with ISIS and terrorism," he concluded.
The meeting between Putin and Sheikh Salman, according to Russian Foreign Minister Sergei Lavrov, also produced a verbal agreement to pursue "common goals in Syria," to be read as combating terrorism and achieving national reconciliation.
A post factum comment made by Lavrov sounded unexpectedly optimistic. He claimed that Moscow and Riyadh shared the goal of "ensuring the triumph of national reconciliation in Syria so that all Syrians, regardless of their nationality or religion, will feel masters of their land."
This upbeat assessment could be misleading, since until now the two countries have differing interpretations of what is meant by "all Syrians."
Nevertheless, the positive outcome of the meeting in Sochi cannot be discounted because now everyone has started talking about a political solution. As Lavrov pointed out, Russia is calling on "all external players who can influence political processes in Syria to promote the launch of a nationwide dialogue in Syria as soon as possible."
To mitigate Saudi concerns that Russian air strikes are targeting mostly anti-Assad rebels, Moscow has offered to establish close cooperation between military command centers and security services in order, as Lavrov said, "to eliminate any doubts that the targets of the Russian Air Force are ISIS militants, the al-Nusra Front, and other terrorist organizations."
On some sticking points Moscow and Riyadh have found common ground. The Saudis, as Al-Jubeir made clear, accept the concept of preserving the territorial integrity of Syria and admit that government institutions, including the armed forces, should be kept intact to ensure a future for the country.
The main unsettled issue remains the fate of Bashar Al-Assad: Saudi Arabia insists that he must step down to free the stage for a transition of power in Syria. How relevant is the survival for the time being of the 'Bull of Damascus"? Is the fate of al-Assad part of the regional power play or part of the geopolitical grand game?
Yevgeny Satanovsky, president of the Moscow-based Institute of Middle East Studies, made the following comment for Troika Report:
"The Saudis' interest in ruining Assad's regime could bring us to the genocide of millions of people, and millions will be turned into refugees. This is what Russia must prevent. In Syria there are thousands and thousands of terrorists who are supported by Riyadh. Saudi Arabia is the major enemy of Assad's regime, even bigger than Qatar or Turkey. Before Russia's involvement there were illusions that local players could do in the region whatever they wanted, either in Afghanistan, or in Chechnya inside Russia, or in Libya, or in Iraq, or in Syria.
"This was a mistake. We came back. And we intend to do what we think is right to do with the terrorists in the region. This has come as a challenge to the Saudi leadership: What to do? This is the reason why Saudi supreme leaders keep coming to Russia, and talking to the Russian president, and rediscovering the world."
One thing is clear: Bashar Al-Assad is a formidable stumbling block. Prominent historian Professor Georgy Mirsky, one of the leading experts on the Middle East in Russia, is certain that neither side can abandon its rigid stance. Moscow cannot dump Assad because it would be tantamount to admitting that it has been supporting the wrong person for four years. Riyadh is fixed on toppling Assad for the sake of its long-borne plans to install a Sunni ruler in Damascus.
Nevertheless, the frank discussion held in Sochi by President Putin and Sheikh Salman was useful within the logic of trying to avoid misunderstanding, without claiming to have found understanding. At least, both sides are in tune when it comes to ISIS, whose spiritual warlords have pledged to destroy the House of Saud, which they view as an infidel and corrupt dynasty.
The other potential driver of a rapprochement between Moscow and Riyadh could be economic interaction and trade, and multi-billion investment projects, for instance, building nuclear power plants — one of Russia's few but indisputable specializations.
Since the Middle East is undergoing one of the most dramatic upheavals in its history, marked by the reconfiguration and realignment of its major players, at this point nothing can be excluded. One day, "going eastward" for Russia might mean positive engagement in joint enterprises with Riyadh – its competitor on the global oil market and enemy of its present ally, Syria.
The opinion of the writers may not necessarily reflect the position of RBTH or its staff.
All rights reserved by Rossiyskaya Gazeta.