No common ground for Russia and U.S. on ISIS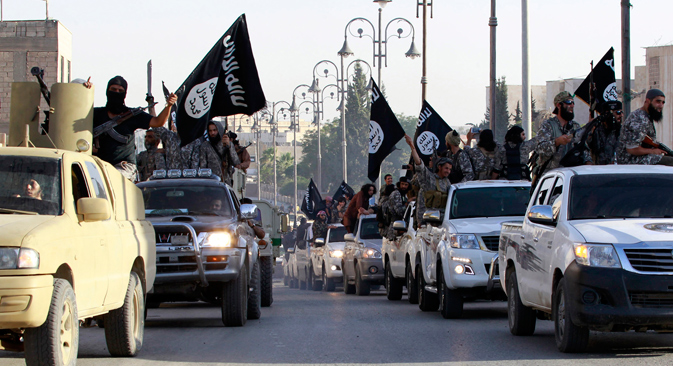 ISIS fighters parade through the Syrian city of Raqqa, considered the capital of the movement. Source: Reuters
Three weeks after Russia began bombing runs in Syria, American and Russian officials continue their disagreement about the goals of the campaign.
On Sept. 30, Russia's air force began bombing targets in Syria. Since that day, Russian planes have made hundreds of sorties dropping bombs on targets Russia's Defense Ministry maintains are ISIS-related. American officials have expressed doubts, however. Speaking to reporters on Oct. 13, Pentagon spokesman U.S. Army Col. Steve Warren called the Russian airstrikes "reckless and indiscriminate," adding that the U.S. believes "only a fraction" of Russian airstrikes have targeted ISIS.
The aims of Russia's mission in Syria are as big a question for the United States as its targets. "If anyone had a tiny amount of hope after Vladimir Putin's meeting with Barack Obama in New York that Russian-American relations would somehow improve, it is now safe to say that this has been erased," said Georgy Bovt, a political analyst and member of the Russian Council for Foreign and Defense Policy. According to Bovt, even on the issue of fighting ISIS, where it should be easy to find common ground, the U.S. and Russia have instead found ways to disagree.
At a U.N. conference on counterterrorism the same day that strikes began, U.S. Secretary of State John Kerry said "We have … made clear that we would have grave concerns should Russia strike areas where ISIL and al Qaeda-affiliated targets are not operating. Strikes of that kind would question Russia's real intentions fighting ISIL or protecting the Assad regime."
Russia does not deny its support for Assad, but says that striking all anti-government groups is part of its strategy for stopping the momentum of the Islamic State. "Russia's goal is to reduce the threat of ISIS by supporting the war effort of the legitimate government of Syria," Nikita Mendkovich, an expert at the Russian Council on International Affairs, told RBTH.
Proxy war?
Speaking on CNN on Oct. 1, U.S. Sen. John McCain (R-Arizona) called the actions in Syria a "proxy war" between the U.S. and Russia, with the sides in the conflict fighting with weapons provided by foreign partners as was done during the Cold War.
Russian experts say that there are Russian-made weapons being used by Syrian government forces, but this should come as no surprise considering that Syria has long been a major client of Russian arms manufacturers.
"The Russian technology there is mostly the legacy of the Soviet era," said Alexander Khramchikhin, deputy director of the Institute of Political and Military Analysis in Moscow. "This is what the Syrian army has had for many years."
And it's no secret that American military technology is being used by the opposition in Syria. "The Americans supply light weapons to the so-called moderate opposition. The problem is that in the end, some of it gets in the hands of ISIS," said Dmitry Kornev, editor in chief of web portal Military Russia.
Sergei Karaganov, chairman of Russia's Council on Foreign and Defense Policy, said that calling the conflict a proxy war based on what weapons were being used is "nonsense," considering that there are a myriad of groups fighting with a variety of weapons. "There are plenty of different weapons in Syria!" he exclaimed.
Keep calm and fight ISIS
Russian experts say that Russia and the U.S. should focus on their common goals in Syria, not their differences on how these goals should be fulfilled. "In the Syrian conflict, there are a lot of players. But we [Moscow and Washington] have one common aim — to destroy Islamic militarism," said Karaganov.
Political leaders, however, seem content to continue posturing. At the investment forum Russia Calling! on Oct. 13, Russian President Vladimir Putin said "At the military level, we asked them [the U.S.] to give us the information regarding the targets that they believe are 100 percent belonging to terrorists, and what we received as an answer was that they weren't going to do that," Putin said. "The first thing we hear right now is that they're not ready to cooperate with us and that we're attacking the wrong targets."
Three days later, at a press conference announcing a communication agreement between the U.S. and Russian militaries to avoid running into each other in Syria, President Barack Obama said, "we've arrived at an understanding and some channels for communication. Where we will continue to differ is in the basic set of principles and strategies we're pursuing inside of Syria."
How these differences in principles and strategies will affect the power of ISIS remains to be seen.
For the moment, according to Robert Legvold, professor emeritus of political science at Columbia University, "Syria is a four-dimensional civil war that we all are losing — except for ISIS."
All rights reserved by Rossiyskaya Gazeta.