Foreign Ministry: Russia maintaining contacts with Free Syrian Army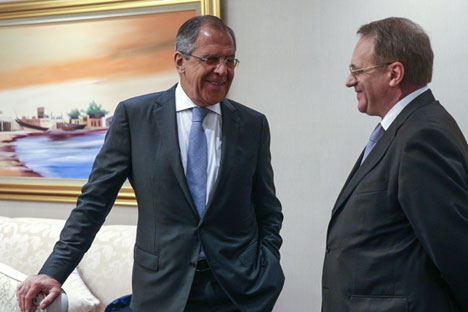 Russian Foreign Minister Sergei Lavrov (left) with his deputy, Mikhail Bogdanov
RIA Novosti
Several representatives of the opposition grouping have visited Moscow recently.
Representatives of the Free Syrian Army (FSA) - a grouping in Syria opposed to Syrian President Bashar al-Assad - have been to Moscow, and contacts are being maintained with them, says Russia's presidential special representative for the Middle East.
"Some are arriving, some are leaving, all of them are saying that they are representatives of the Free Syrian Army," Deputy Foreign Minister Mikhail Bogdanov told reporters.
According to Boris Dolgov, a senior researcher with the Center for Arab and Islamic Studies at the Institute of Oriental Studies, meetings with the Syrian opposition are needed, and this is certainly a positive step.
However, this does not mean that the entire FSA is ready to establish contacts with both the Russian side and Assad's Syrian army for the destruction of the Islamic State (ISIS) radical militant group.
"The opposition FSA is largely degraded. Yes, it has a structure consisting of the main command and a number of groups led by rebel commanders, but these commanders often operate autonomously," said Dolgov.
He therefore argues that the FSA is not an army in the full sense of the word; its representatives may arrive in Moscow and negotiate about something, but that does not mean that the entire coalition will keep to these agreements.

All rights reserved by Rossiyskaya Gazeta.