Diplomat: Buildup of NATO's presence near Russian borders has no prospects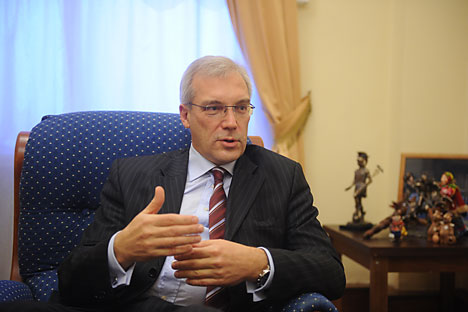 Alexander Grushko
Grigoriy Sisoev / RIA Novosti
NATO tries "to put the limits of Russia's stamina to a test," Grushko said
By building up its military presence near Russia's borders, NATO seems to be trying "to put the limits of Russia's stamina to a test," but this road leads to nowhere, Russian Permanent Representative at NATO Alexander Grushko said in commenting on reports by some Western media outlets that the alliance is considering options for further expanding its military presence at Russia's doorstep.
"It seems like the idea behind the creeping increase in NATO's military presence on our frontiers is to put the limits of Russia's stamina to a test. Obviously, the attempt to project military power on our country under false pretext that there's a need to deter Russia's 'aggressive intentions' is a path to nowhere," Grushko said in a commentary circulated by the Russian mission to NATO.
"Our security will be safeguarded in any case, and we have a variety of choices to effectively do it," he said.
"Provocative is already the mere idea to further broaden NATO military activities on Russia's frontiers - irrespective of its forms and parameters," Grushko said.
"Moreover, as we are looking at the situation in a holistic way we note with concern not only the attempts to augment the so called continuous rotational (in fact - permanent) presence of NATO forces on the eastern flank, but also to push military infrastructure (including C2 network and BMD assets) closer to our borders," Grushko said.
"The plans to create pre-positioning sites for heavy military equipment in Eastern Europe is yet another alarming factor," he said.
"All these actions in aggregate lead to the corrosion of obligations to exercise military restraint in the region (as they are enshrined in Russia-NATO Founding Act of 1997)," he said.
"From political point of view these military activities are aimed at creating a new 'iron curtain' in Europe that contradicts the very idea of developing new security architecture conducive to indivisible security for all," the statement says.
"NATO military planning generates confrontational approaches to security issues that in our view should belong to the past," Grushko said.
"It is true that there is no agreed definition of Substantial Combat Forces (SCS). NATO rejected our proposals in this regard, and didn't show any sign of interest to engage in a meaningful expert consultation," he said.
"If and when NATO is ready to come back to pragmatic military dialogue that was frozen on April 1, 2014, the issue of SCS could become a part of the agenda," the diplomat said.
All rights reserved by Rossiyskaya Gazeta.