London's ping pong diplomacy: red carpet for China, red card for Russia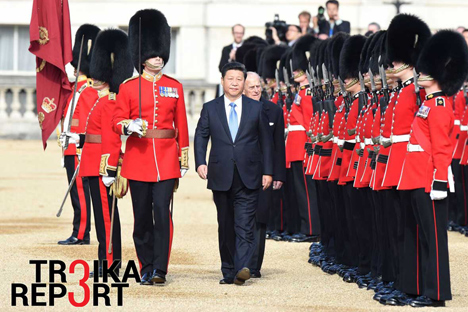 Chinese President Xi Jinping inspects the guard of honour during the official welcome ceremony at Buckingham Palace in central London, Britain, 20 October 2015.
EPA
The red carpet rolled out by the British government for Chinese President Xi Jinping, whose three-day visit this week was marked by a lavish state banquet in his honor hosted by the Queen and a two-night stay at Buckingham Palace, contrasted with the almost complete estrangement between London and Moscow.
Trade talks between the Chinese and the British culminated in several landmark deals, in particular, the agreement with the China General Nuclear Power Corporation for a nuclear plant at Hinkley Point, Somerset, worth some 6 billion pounds ($9.2 billion). The City of London, the world's leading financial hub with the biggest foreign exchange market, was especially keen in engaging with the Chinese because it has emerged as the largest renminbi trading center outside of Asia. With around a third of British GDP generated in the finance sector, China has the status of a super VIP-client.
British-Russian relations, however, are in stark contrast to London's flirtation with China, and are currently at their lowest ebb since the height of the Cold War. Russian ambassador to the UK Alexander Yakovenko passed a stern verdict on bilateral relations between London and Moscow in an interview with The Times. Here are a few excerpts: "Practically all political contacts were abruptly broken off at Britain's initiative;" "At the ministerial level there is also stagnation;" "Forums for the discussion of trade and economic co-operation where we discussed mutual interests are frozen, science ties are effectively cut off, the only sphere we have left today is culture," and so on.
Western officials and experts often compare Russia and China to Asia-style autocracies. So why has Her Majesty's government now abruptly abandoned any mention of human rights violations in China, which were vociferously played up during the protests in Hong Kong last year? Why is there a deliberate distinction between China and Russia?
Alexander Lomanov, chief research fellow at the Moscow-based Institute of Far Eastern Studies, provided this comment for Troika Report:
"Something similar happened back in the 1970s when superficially both the Soviet Union and China were treated as Communist regimes posing a threat to Western democracies. Then suddenly the American leadership deiced to form a joint front against the Soviet Union. It was decided that Chinese autocracy was much friendlier than the Soviet autocracy. The same trend can be traced today when the West is scared by the perspective of a growing and strengthening Sino-Russian alliance. The desire is to bring China into the Western fold and turn it into a counter-balance to Russia."
"On the other hand, this comparison is superficial. In the 1970s China was destitute and poor; now it is one of the biggest and richest economies in the world."
"So, we have Russia with less than $2 trillion of annual GDP, and we have China with its GDP approaching $10 trillion. China is already an important lynchpin of international trade and global economy. It may sound cynical, but it looks like that if your GDP is less than $2 trillion you can be shunned and neglected, but if your GDP is close to $10 trillion there is no way you can be subject to isolation."
— Do you mean to say that the high-profile flirting with President Xi in the UK was not only about landing lucrative contracts but also about trying to disengage China from Russia?
Read also in this TROIKA:
Why Moscow is in no hurry to mediate Israeli-Palestinian conflict
"Both motives are there. What's more, I don't believe in the 100 percent independence of the British foreign policy, because it is too much dependent on the United States."
"It is evident that the West is unhappy with China's economic and political independence. China did not support Western sanctions against Russia. There is and there will be a growing temptation to promise China better financial terms and conditions, to promise cooperation, more trade and investment, in exchange for changes in China-Russia relations. Maybe the West would be eager to play the same game from the 1970s. Who knows?"
— If this is the case of a smart conspiracy, as you imply, does it really pose a threat to the privileged relations enjoyed by Russia vis-a-vis China?
"There is absolutely no immediate threat. However, it is remarkable that right now in China a debate is going on the benefits of the TPP, the Trans-Pacific Partnership, which was originally rejected. Voices are being heard saying that the TPP is not very different from the World Trade Organization (WTO). China used to be reluctant to join the WTO, but now it is a strong actor within this organization. Now some are saying that China should join the TPP. It will not happen in a year or two, but if it happens, in a decade or so, it will make Russia too weak to play in the same league."
Yet it is not entirely clear what London's motives are. It could be just mere coincidence that UK and Europe on the whole have started courting Beijing in a more assertive manner since the gradual rapprochement between Russia and China.
The process has accelerated since the interaction between Moscow and Beijing acquired new dimensions by addressing the issues of reshaping global finances, linking economic expansion roadmaps in Eurasia, and the sharing of military intelligence and plans for joint production in hi-tech areas.
If this line of logic is observed, then the UK's soft handling of China is largely limited to the goal of obtaining financial and commercial preferences, and capitalizing on the slightly diminished yet still strong growth of the world's second-largest economy.
Nevertheless, it is hardly conceivable that economy is completely detached from geopolitics. This makes it all too likely that when Cameron's government "goes eastward," it is following the same pattern of behavior as the U.S. did back in the times of "ping pong diplomacy" aimed at pitting China against Russia. But maybe this is just another oversimplified conspiracy theory?
More

inspiring

stories in your box!
All rights reserved by Rossiyskaya Gazeta.