Lavrov speaks with Kerry on sidelines of Vienna negotiations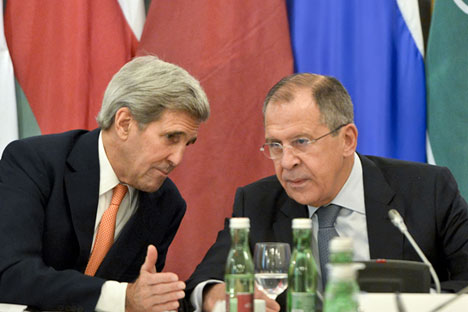 US Secretary of State John Kerry and Russian Foreign Minister Sergei Lavrov speak with each other during an international conference on Syria at the Hotel Imperial in Vienna, Austria, Oct. 30, 2015.
EPA
19 delegations meet to discuss Syrian settlement in Austrian capital.
Russian Foreign Minister Sergei Lavrov had a brief talk with U.S. Secretary of State John Kerry during the interval of the multilateral meeting on Syria in Vienna, Russian Foreign Ministry spokesperson Maria Zakharova has said.
"The interval during which Lavrov briefly spoke to a number of his counterparts, including Kerry, is over now, and the multilateral meeting continues," Zakharova wrote on her Facebook page.
During the interval of the meeting in the Austrian capital, Lavrov also spoke with UN special envoy for Syria Staffan de Mistura and Italy's foreign minister. Lavrov also had a meeting with his Egyptian counterpart Sameh Shoukry.
The meeting is being attended by 19 delegations, including those from Russia, the United States, Saudi Arabia, Turkey, Iran, the UAE, Qatar, Jordan, Germany, France, Egypt, Italy, the UK, Iraq and Lebanon.
After the first round of the meeting, a representative of Iraq's delegation, Ibrahim al-Jaafari, told reporters that "the task of looking for a political solution to the Syrian crisis is more relevant today than ever before."
"We ought to formulate a common platform for the inter-Syrian dialogue and help establish contact between the opposition and representatives of Damascus in order to present a united front in the fight against the terrorist threat," the Iraqi diplomat said.
The multi-party negotiations on Syria in Vienna are addressing a political settlement in Syria rather than the future of Syrian leader Bashar al-Assad, and only the people of Syria can decide on the future of their president, Russian presidential spokesman Dmitry Peskov said ahead of the meeting.
"It's the only thing that can be said definitely, it's probably the main thing on which all international activities aimed at searching for various options of this settlement are based," he said.
However, a source in one of the Western delegations told Interfax that the key issue of the negotiations on Syria that are being held in Vienna is in fact the fate of Assad in the political process of the settlement of the Syrian crisis.
"They are now discussing the future of al-Assad in the political process," the source said, adding that "Saudi Arabia is standing its ground: They believe that al-Assad should be outside of this process."
All rights reserved by Rossiyskaya Gazeta.