Putin orders suspension of flights to Egypt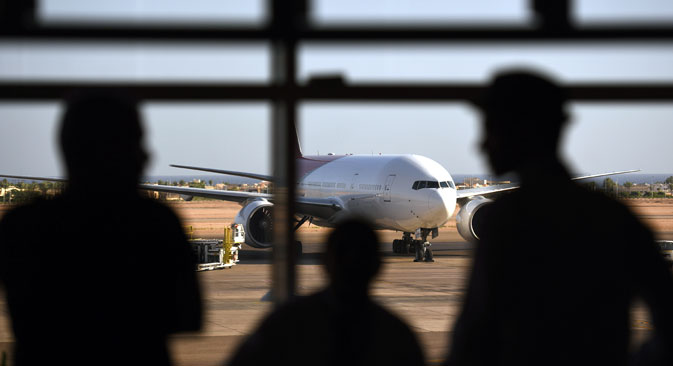 Tourists look out at a Russian plane on the tarmac of the airport in Egypt's Red Sea resort of Sharm el-Sheikh on November 6, 2015.
AFP / East News
President accepts FSB recommendation to halt flights temporarily.
Russian President Vladimir Putin has agreed with Federal Security Service chief's recommendation to suspend air links with Egypt until the causes of the A321 plane crash have been identified, Dmitry Peskov, the presidential press secretary told reporters on Nov. 6.
He said that Alexander Bortnikov, director of the FSB, the country's federal security service had briefed the president on these recommendations after a meeting of the International Aviation Committee.
"The head of state agreed," Peskov said. "Putin has instructed the government to look into the mechanisms of implementing these recommendations and ensure the safe return home of Russian citizens."
Also, Putin asked Egypt to establish cooperation for ensuring the safety of air links, he added.
"It is necessary to clarify that the Russian president meant a suspension of air communication with Egypt until the level of safety of air communication is established jointly with its Egyptian partners," Peskov said.
Peskov pointed out that President Putin had instructed the government earlier in the day to work out a plan to ensure the safe return of citizens to Russian soil.
As for when the evacuation of Russians from Egypt will begin, Peskov said the matter is being discussed by the government.
Bortnikov had earlier suggested that Russian flights to Egypt be suspended until the exact causes of the A321 plane crash were known.
"I consider it expedient to suspend all Russian flights to Egypt until we know the true causes of the incident. This primarily concerns tourist routes," he said.
He also said it is necessary to actively cooperate with the Egyptian authorities in continuing the joint inquiry into the crash.
Closing Egypt to Russian tourists is a difficult decision for business, but people's lives are more important, said Irina Tyurina, a spokeswoman for the Russian Union of the Tourism Industry.
Egypt remains the most popular travel destination for Russians now
All rights reserved by Rossiyskaya Gazeta.