Russian-U.S. POW commission discusses closer cooperation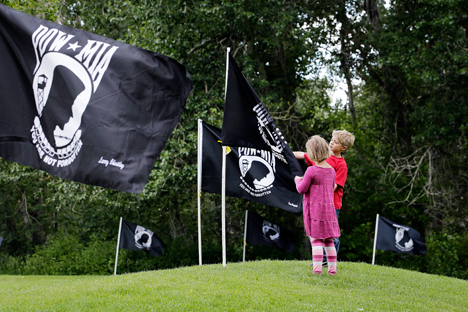 Children look at a POW-MIA flag, Hailey, Idaho, June 21, 2013.
AP
The previous plenum took place in 2005
Members of the Russian-U.S. commission on POWs and missing persons met in Moscow to discuss issues relating to the development of the information exchange system, the Russian Defense Ministry's press service and information department has reported.
"Robert Foglesong and Valery Vostrotin, co-chairmen of the commission, discussed in the meeting issues related to the development of Russian-U.S. humanitarian cooperation, the system of information exchange and interaction between the sides on the organization of an archive search in the archive establishments of Russia and the U.S., and also interaction in search events," the Defense Ministry said in a report obtained by Interfax-AVN on Nov. 9.
The report states that Russia is represented in the commission by Alexander Kirilin, deputy co-chairman of the commission, Vladimir Popov, the head of the Defense Ministry department on the perpetuation of the memory of the people killed while defending the Fatherland, and his deputy Andrei Taranov, a secretary of the Russian side of the commission.
The meeting also addressed issues related to the organization of the 20th plenum of the Russian-U.S. commission. The previous plenum took place in 2005.
All rights reserved by Rossiyskaya Gazeta.