Press Digest: Kremlin does not back death penalty for terrorists – Peskov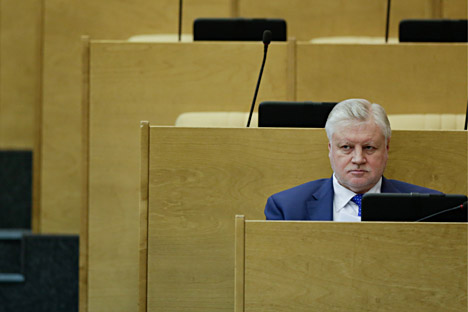 Sergei Mironov has proposed that the death penalty be reinstated for those convicted of terrorism.
Mikhail Japaridze/TASS
RBTH presents a selection of views from leading Russian media on international events, featuring a report on the Russian administration's reaction to a proposal to revive the death penalty for those found guilty of terrorism, as well as news that ISIS may have bought weapons from Ukraine, and the publication of an estimate of the annual earnings of Rosneft President Igor Sechin.
Kremlin not currently in favor of death penalty for terrorists, says Peskov
The daily tabloid Moskovsky Komsomolets reports that Russian presidential press secretary Dmitry Peskov has underlined that there is currently a moratorium on the death penalty in Russia, in response to a proposal by Sergei Mironov, leader of the moderate Duma party A Just Russia, to revive capital punishment for those convicted of terrorism.
Peskov also told journalists that the issue is very complex and that society is engaged in many discussions on the matter. He thus reminded everyone that Russia still has a moratorium on the death penalty and for now this needs to be taken into consideration.
Weapons for ISIS could have been bought in Ukraine
The Kommersant business daily cites Western news agencies and the Kuwait Interior Ministry as saying that Lebanese citizen Osama Muhammad Said Khayat, who was recently detained in Kuwait, admitted that he had bought FN6 transportable anti-aircraft systems in Ukraine. The weapons were allegedly shipped via Turkey to militants from the Islamic State (ISIS) terrorist organization, writes the newspaper.
The ISIS cell was discovered by Kuwait special services on Nov. 19. It is reported that the cell was headed by Lebanese national Osama Muhammad Said Khayat, who was responsible for coordinating the organization in Kuwait, for recruiting militants, for collecting money for the continuation of the Jihad (which in turn was transferred to ISIS supporters' bank accounts in Turkey), as well as supplying arms to the battlefields.
The Associated Press cited the Kuwait Interior Ministry as saying that Khayat made transactions concerning weapons purchases in Ukraine. Agence France Presse clarifies that the matter concerned Chinese FN6 antiaircraft missile systems destined for striking airplanes and helicopters at short range. According to the Kuwait Interior Ministry, they were bought in Ukraine and were then shipped to Syria via Turkey.
On Nov. 20 Ukraine's Defense Ministry denied the allegations of the sale of Chinese FN6 anti-aircraft systems to ISIS, stressing that it did not have such kind of weapons.
Rosneft president's annual salary is $7 million
The Vedomosti business daily reports that Rosneft President Igor Sechin's annual earnings may total over 470 million rubles ($7 million). The calculations were based on information published by the company.
In spring this year Rosneft's board of directors accepted the Standard for Payments and Compensation for Top Management, which went into effect on April 24. According to the document, the dimension of a company president's (monthly) salary ranges between 15 and 20 million rubles ($230-300,000). The document also states that top managers are to be paid 5 percent of the president's salary for participating in the administration of the company, writes Vedomosti.
In 2013 Forbes estimated Sechin's annual salary at $50 million, something that the Rosneft president successfully challenged in court – but without, however, disclosing the real amount.
In the latest issue of Forbes magazine Sechin's annual income is estimated at $17.3 million, but company representative Mikhail Leontyev could not confirm this evaluation.
All rights reserved by Rossiyskaya Gazeta.