3 Russian journalists suffer injuries in Syria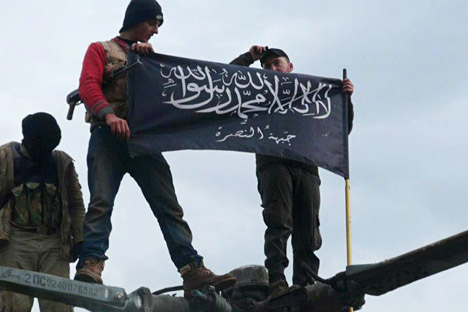 Rebels from Jabhat al-Nusra, also known as the Nusra Front.
AP
Reporters suffered injuries in shelling on the frontline of the Syrian army
Three Russian journalists have suffered light injuries in shelling on the frontline of the Syrian governmental army, a representative of the Russian Defense Ministry told Interfax.
"On November 23, when a group of Russian journalists was driving towards the frontline of the Syrian governmental army near the populated locality of Al-Dagmashliya, the strategic height of Zuayeq, their cars came under fire of a TOW anti-tank grenade launcher. Three Russian journalists suffered light injuries, and one of them was shell-shocked," the ministry representative said.
"The entire group of Russian journalists is back to the Hmeimim airbase; the injured are receiving professional medical aid," the ministry said.
RT correspondent Roman Kosarev is suffering from concussion following an attack on a press vehicle in Syria, the television channel's press service said.
A report posted on the RT website said an anti-tank missile exploded near the press vehicle, and RT correspondent Roman Kosarev was concussed.
According to Kosarev, the missile was fired from the terrorist-held populated locality of Salma.
All rights reserved by Rossiyskaya Gazeta.