Austria's ex-vice chancellor: 'Severing ties with Russia was a mistake'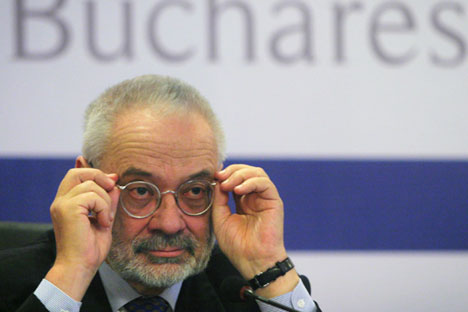 The fight against terrorism could bring Europe and Russia closer together, says former Vice-Chancellor of Austria Dr. Erhard Busek, chairman of the Institute for the Danube and Central Europe. In an interview for Gazeta.ru, he explains why he is afraid of a new war, how he assesses Russian President Vladimir Putin's foreign policy and why he is skeptical about the role played by international institutions.
Do you believe a common fight against terrorism could bring Europe and Russia closer together?
Erhard Busek: The fight against terrorism is possible only in coordination with all those who are capable of it and, of course, we need Russian assistance in it. However, rapprochement alone will not achieve much: What is needed are rules that would resolve the existing problems. It means creating centers of stability in the world. It is a matter not only of foreign policy but also of the economy and social involvement. It should be achieved through creating a coalition of like-minded people.
You once said that if we do not cope with the refugee crisis, there will be a third world war. Why did you come to this conclusion?
E.B.: You should recall how the first two world wars began: Austria declared war on Serbia, then Russia joined in, and it all started. The Second World War began without a declaration of war, but such was Hitler's strategy. Now too we are seeing creeping conflicts on the borders, which create sources of tension. These days, conflicts do not involve armies, we all speak of even greater security but today, when one part of society lives in peace, while the other [lives] in war, this situation can explode at any minute. Those who are behind conflicts like these do not attend conferences on peaceful settlement. Today there are forces that are capable – in a conflict situation – of making use of religion, minorities, business interests: Look at what is happening with Volkswagen, in a way it is a business war that the Americans are waging against Europe.
Sanctions against Russia are also a form of war, in a way.
How would you assess the current state of relations between Europe and the U.S.?
E.B.: When I was growing up, American political figures, governors, ministers visited Europe all the time. Now all this is over, they are interested in the Pacific region. Of course, in terms of the economy and pop culture, the U.S. is still very strong in Europe. I'll admit, I belong to a generation that has always felt very warmly towards Americans, however, the way they are behaving today, which all began under George Bush Jr.'s rule, does not give me much joy. Severing ties with Russia was a mistake.
Would you say that Putin is changing and is once again becoming a realist?
E.B.: He is beginning to understand Russia's limited capabilities: the situation in the economy, in the budget sphere and revenues that the country receives from oil and gas. He is therefore softening the stance on Ukraine, which has been helped by his involvement in the Syrian situation. I think that Ukraine and Russia should arrive at some solution to the problem of Crimea.
In a recent speech, you said that European integration is dead. But what would you say about the EU itself?
E.B.: There are two options: the EU may die, and it would be one alternative. But no-one will tell you what the future of the EU will be like. Will the UK become the 51st state of the U.S., will the EU cease to be a strong union? At the same time, the results achieved by the European Central Bank during the crisis show a strong side of the union.
What do you think about NATO?
E.B.: As regards NATO, we in Austria remember that there was a promise not to expand NATO; it was not signed on paper but that understanding was in place.
As for international organizations in general, I think that today they do not play any role whatsoever. Take the conflict in Ukraine and Crimea, neither the UN Security Council nor the Council of Europe had a role to play there.
Today, we are witnessing a decline of international organizations, and this is not a very good turn of events.
We are seeing double standards: The UN is unable to resolve conflicts, yet everybody gathered in New York in September just to have a chat and take some pictures together.
First published in Russian in Gazeta.ru
All rights reserved by Rossiyskaya Gazeta.