Putin calls Su-24 crash in Syria 'stab in the back'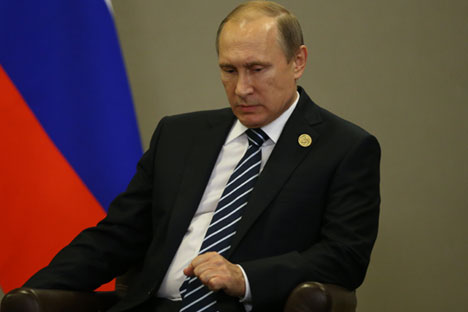 Russian President Vladimir Putin.
Getty Images
President labeled the downing of a Russian jet by the Turkish Air Force a crime.
Russian President Vladimir Putin on Tuesday called the crash of a Russian Sukhoi Su-24 aircraft in Syria a "stab in the back."
"This event goes beyond the boundaries of an ordinary fight against terrorism. Of course, our military are waging a heroic fight against terror, without sparing themselves, without sparing their lives. But today's loss is associated with being stabbed in the back by abettors of terrorism," Putin said at a meeting with King Abdullah II of Jordan in Sochi on Nov. 24.
The King of the Hashemite Kingdom of Jordan Abdullah II Bin Al Hussein, and Russian President Vladimir Putin during talks at the residence "Bocharov Stream", Sochi, Nov. 24. Source: TASS
"We will never tolerate such crimes like the one that was committed today," Putin said.
"Of course, we expect the international community ultimately to find the nerve to consolidate in combating the common evil," Putin said, adding that Moscow also expects active engagement of all Middle Eastern countries.
The Russian military jet posed no threat to Turkey, Russian President said.
"Our pilots and our aircraft posed no threat whatsoever to the Turkish Republic. This thing is obvious. They were conducting anti-ISIS operations in northern Latakia, this is a mountainous area occupied by militants, coming mainly from the Russian Federation," Putin said.
In the incident surrounding the Russian aircraft Turkey has behaved as if it wants to put NATO in the service of ISIS, he said.
"Instead of immediately establishing the necessary contact with us, as far as we know, the Turkish side contacted its NATO partners to discuss this issue and this incident as if it was us who shot down a Turkish plane, and not they ours," Putin said.
"Do they want to put NATO in the service of ISIS?" the president said.
"[Russia] has always treated Turkey not simply like a close neighbor but a friendly state," Putin said. "I don't know who would have needed what was done today, not us, at any rate," the Russian President said.
The crash of the Russian Sukhoi Su-24 plane in Syria will have serious consequences for Russian-Turkish relations, Putin said.
Moscow and Amman also confirmed their commitment for an implacable fight against terrorism. Putin has noted cooperation between the two countries' military and intelligence services.
In his turn, The King Abdullah II bin Al-Hussein of Jordan has stressed the need to join efforts to fight against Islamic State militants, saying the effort should not be confined to just Iraq and Syria.
"We already said on several occasions that a comprehensive approach needs to be worked out in the fight against this threat not only in our regions, but in Africa and Asia as well," the king said.
"Terror attacks occur in Saudi Arabia, and in Beirut, and in Paris, unfortunately," said the King of Jordan.
King Abdullah II also offered condolences over the death of Russians in a terrorist attack on board the A321 plane on Oct. 31 on the Sinai Peninsula and the perishing of a pilot of a Russian warplane hit in Syria on Nov. 24.
All rights reserved by Rossiyskaya Gazeta.