Press Digest: Russia will not destroy Turkish tomatoes, says watchdog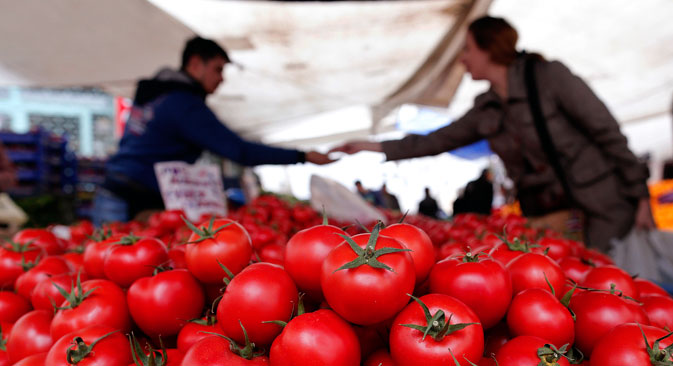 Russia will not destroy Turkish tomatoes.
EPA / Vostock-photo
RBTH presents a selection of views from leading Russian media on international events, featuring reports on the fate awaiting Turkish products that are found at the Russian border from Jan. 1, the inevitability of Moscow having to reach an agreement on gas transit via Ukraine following the failure of the South Stream and Turkish Stream projects, and how Russian companies are cutting corners for New Year parties.
Russia will not destroy Turkish tomatoes and tangerines
The daily broadsheet Izvestia cites the press office of Rosselkhoznadzor, Russia's agricultural watchdog, as saying that Russia will not destroy Turkish products, which will be prohibited from entering the country starting on January 1, 2016. Cargo destined for Russia will be opened on the border.
The watchdog explained that Turkey is not on the list of countries whose products must be burned or crushed. Those countries are the EU member states, Norway, Canada, Australia, the U.S., Lichtenstein, New Zealand, Iceland, Montenegro, Albania and "in special conditions" Ukraine.
On Dec. 1 Rosselkhoznadzor returned to Turkey 108 tons of chicken meat that had been supplied to Kaliningrad, while on Dec. 3 a shipment of Turkish tomatoes weighing 6.6 tons was also denied entry to Russia at the port of Novorossiysk. Since Dec. 1 Rosselkhoznadzor has prevented more than 490 tons of Turkish tomatoes from entering the country.
Professor Alexei Skopin from the Institute of Modern Development is convinced that the Turkish products shipped back can still make it to Russian tables.
"In today's global economy there exist methods of bypassing customs and of making agreements with medical and veterinary services," he said. "The products will be rebranded and Turkish tomatoes will arrive in Russia through Belarus and Azerbaijan, which will only profit from the deals."
Russian gas will not bypass Ukraine
The online newspaper Gazeta.ru reports that after scrapping the South Stream gas pipeline and freezing the Turkish Stream project (both of which were to have supplied Central and Southern Europe with gas through a pipeline under the Black Sea, the latter via a distribution hub in Turkey – RBTH), Russia has no alternative but to continue gas transit through Ukraine. The transit contract with Ukraine ends in 2020 and Gazprom is already prepared to conduct complex negotiations with Kiev.
On Dec. 3 Russian Energy Minister Alexander Novak announced that intergovernmental talks between Russia and Turkey on the Turkish Stream pipeline had been suspended. Head of East European Gas Analysis Mikhail Korchemkin believes that the cancelation of the Turkish Stream project will only be an advantage for Gazprom, as well as for the Russian budget in general. Korchemkin says that the cost incurred would amount to $15-18 billion.
Currently, Nord Stream 2, another Gazprom gas pipeline project that aims to reduce dependence on Ukrainian transit by supplying Germany with gas via the Baltic Sea, is also having problems. The European Commission and a series of EU countries are against the project.
All this makes Ukrainian transit relevant again. However, Deputy Director of the Foundation of National Energy Security Alexei Grivach remarks that political considerations are forcing Russia to exclude Ukraine from the chain of transit countries.
"Ukraine is an unreliable and unpredictable partner and energy supplies through its territory are not safe. Proof is the recent sabotage of the power lines going from Ukraine to Crimea."
No mood for celebrations
The RBK business daily reports on how Russian companies intend to celebrate New Year. Lavish corporate New Year celebrations have long been out of fashion, but this year companies have been forced to tighten their belts even more. There will be no celebrity appearances. The latter will be replaced by "singing managers" and the holiday in general will be used for teambuilding purposes.
RBK surveyed 25 companies from various sectors, including banking, energy, development, tobacco, retail and IT. Of the firms polled, 11 admitted that this year they will celebrate the festivities in the office.
Some companies have decided not to cancel the festivities, but still do not know where the celebration will take place.
"Usually all our December days are sold out in the summer," said Yelena Vetrova, deputy general director of the Roll Hall banquet hall in Moscow. "Last year we were taking reservations in October and this year people are still ordering events. We sense that companies are unsure about the future."
At the end of 2014 Moscow restaurants complained that the number of New Year corporate orders fell by a third. This year representatives of two event agencies and two Moscow restaurants said that in comparison to 2014 orders had declined by another 10-30 percent.
Some of the companies that have decided to celebrate "the difficult year" anyway have reduced their budgets for the holidays – some even by half.
All rights reserved by Rossiyskaya Gazeta.