Press Digest: Black Sea confrontation keeps Russia-Turkey tensions high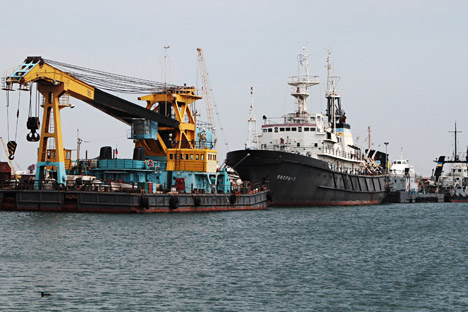 Vessels in the port of Chernomorneftegaz gas producer.
Alexei Pavlishak/TASS
RBTH presents a selection of views from leading Russian media on international events, featuring reports on the latest incident in the Black Sea between Russian and Turkish vessels, the suspension of washing machine production at a St. Petersburg plant due to lack of Turkish components, and Toshiba's departure from the Russian TV market.
Black Sea Fleet ships confront Turkish vessel
Yet another incident involving Russian and Turkish ships took place on Dec. 13, the tabloid daily Moskovsky Komsomolets reports. When a vessel under a Turkish flag tried to hinder the passage of a Russian convoy carrying expensive gas production equipment, writes the newspaper, Black Sea Fleet ships managed to drive away the vessel that was maneuvering dangerously.
"During the operation to relocate the SPBU B-321 drilling rig, an unidentified merchant vessel flying a Turkish flag appeared in the path that the convoy of ships towing the rig was following," says a statement released by the Chernomorneftegaz company, which owns the drilling rig.
"In violation of the international rules for avoiding collisions at sea and universally accepted shipping norms, the Turkish vessel did not give way to the convoy and tried to stop in its path, thus creating a risk of collision. The captain of the Turkish ship did not engage in radio communication with the vessels accompanying the drilling rig, not responding to calls made to him," read the statement.
In order to resolve the situation, a Black Sea Fleet patrol ship and missile boat had to intervene, forcing the Turkish ship to change its course to avoid a possible collision with the Russian convoy.
Tomatoes not only Turkish goods stuck at Russian customs
On Dec. 9, a Bosch-Siemens plant outside St. Petersburg suspended the production of washing machines due to the lack of components that were supposed to be supplied from Turkey, the RBK business daily reports, citing two independent sources familiar with the situation. The plant uses a large number of components from Turkey, but containers bringing them into Russia have been stuck at customs since Nov. 23.
It is worth pointing out that components for white goods are not on the list of products whose supplies to Russia are to be banned under a government decree.
The chairman of the St. Petersburg committee on industrial policy and innovations, Maxim Meiksin, confirmed on Dec. 14 that production has been suspended: "On Dec. 9, the plant making Bosch-Siemens washing machines halted production, and today the plant making refrigerators will see the last shift too," he said.
The managing director of Candy, Anton Kharin, told the paper that components from Turkey were arriving, but with delays.
"If previously we passed customs controls in a matter of a day, now it can take up to a week. The problem is that it is difficult to forecast when the supplies will arrive. As a result, the production process is affected and the company is losing money," he said.
At the same time, Kharin said that Candy had no intention of halting production altogether: "For now, we are hopeful since we are sure that our state does not want to undermine production in Russia."
Toshiba switches off TV production in Russia
Due to high competition and the fluctuations of the ruble, Toshiba is closing down its Russian division selling TV-sets and white goods, Toshiba CIS, reports business daily Kommersant. Instead, the Japanese corporation has decided to focus on b2b (business-to-business) contracts, the head of Toshiba Rus, Hiroaki Tezuka, told the paper.
"We have withdrawn from the Russian consumer market completely. We sold all our goods back in December last year, when there was a big spike in sales," he said. In 2012-2013, Toshiba occupied some 10 percent of the Russian TV market, Tezuka added.
Toshiba Corporation has two companies in Russia: Toshiba Rus and Toshiba CIS. The latter has been in liquidation since June. It was Toshiba CIS that sold kitchen as well as audio and video appliances, explained the head of the PR & New Business department at Toshiba Rus, Vladimir Maximov.
For its part, Toshiba Rus oversees b2b agreements, including the 2-billion-ruble ($28 million) contract to supply mail sorting equipment for the Russian Post sorting center near Moscow's Vnukovo airport, as well as automatic cash processing stations for Russia's biggest retail bank, Sberbank. It also is engaged in cooperation with the Power Machines company to produce high-voltage transformers.
Subscribe and get RBTH best stories every Wednesday
All rights reserved by Rossiyskaya Gazeta.