Montenegro not to cancel visa-free travel regime for Russians if joins NATO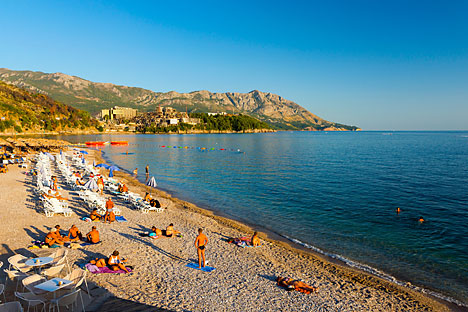 Main Beach, Budva, Montenegro.
Alamy/Legion-Media
Montenegro is expecting to preserve its close relations with Moscow
Montenegro is expecting to preserve its historically close relations with Moscow in case of its accession to NATO; there will be no change in the travel regime, Montenegrin Prime Minister Milo Dukanovic said.
"Russians gladly visit NATO countries: Spain, Italy, France, Greece and others. Our neighbor, Albania, has also become a NATO member, and Russians do not need visas to visit [the country]. Why should Montenegro be any different?" Dukanovic said in an interview published by the newspaper Kommersant on Dec. 15.
A short time ago, Russians were allowed to obtain a Montenegrin residence permit only on the basis of owning real estate. "They are also well aware of the right of foreign citizens to buy land. Montenegro is attractive to Russians not only because of historical relations," the prime minister said.
"A reason for our entry into NATO is greater stability for both citizens of Montenegro and foreign investors and tourists. It is our goal to increase the number of Russian tourists," Dukanovic said.
The prime minister added that the republic's goal of joining the North Atlantic alliance "was perfectly known to Moscow since the first day of Montenegro's independence."
"I am confident that Moscow would not have offered today's reaction if the process of Montenegro's accession had begun several years ago. Alas, relations between Russia and the alliance, Russia and the EU have worsened. And this is very clearly reflected today by the Montenegrin-Russian relations. Yet I believe that it will not take long to bring our relations back to normal," he said.
"Our membership in NATO is not directed against anyone. This means it is not directed against Russia either. We do not have a single reason not to preserve the historically close relations with Moscow. Does anyone really think that Russia has no friends in NATO? I will purposely not mention so as not to overlook someone by chance," Dukanovic said.
The Russian Foreign Ministry said earlier that the decision taken by NATO to begin membership talks with Montenegro was a confrontational step forcing Moscow to react accordingly.
All rights reserved by Rossiyskaya Gazeta.