Press Digest: 'Putin brand' now big factor in Trump's U.S. campaign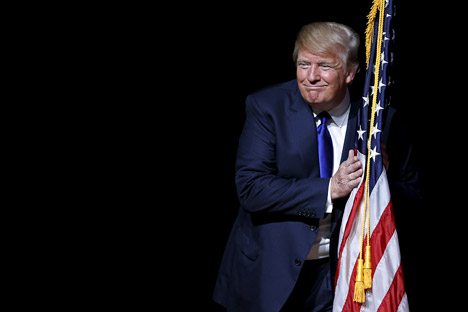 U.S. Republican presidential candidate Donald Trump.
Reuters
RBTH presents a selection of views from leading Russian media on international events, featuring analysis of the growing influence of Russian President Vladimir Putin on the U.S. presidential race, as well as a report on discussions about removing foreign prisoners from Russian jails and an update on the Yukos compensation case.
Putin and Trump beginning the anti-Clinton game
The daily newspaper Vzglyad writes that Russian President Vladimir Putin's name has never been heard so frequently in a U.S. presidential campaign as it is now. But at the same time the current campaign is destroying many stereotypes, including this one.
The "Putin brand" is becoming a significant factor in the presidential fight and now we see how it is being used by the most promising and tenacious candidate, Donald Trump, writes Vzglyad.
In one statement, one of the key assertions of his campaign, Trump said that he would be able to establish good relations with Putin. In fall, when Russia began its campaign in Syria, Trump unambiguously positioned himself in its favor, announcing that Putin was doing the right thing by fighting Islamic State (ISIS).
Moreover, at the beginning of December Trump increased his lead over his competitors and now the polls show his percentage is twice as high as that of his nearest contender.
Now he also has an unexpected ally. During his annual press conference Vladimir Putin said that Trump was talented and that he was definitely the leader in the race. The American tycoon immediately reacted by saying that for him it is a great honor to receive a compliment from such a leader, from a person who commands such respect both domestically and abroad.
Consequently, it appears that Putin is helping Trump by allowing him to be the main anti-establishment candidate concerning foreign policy issues and by reminding him of his own rating in the U.S. In return Trump is scratching Putin's back by exposing "anti-Putin propaganda" and calling for the normalization of relations with Russia, even if only verbally.
Jeb Bush and Hillary Clinton were expected to be the official candidates in the 2016 elections. However, now it seems that stopping Trump will be extremely difficult not only for the Bush clan but also for the entire Republican establishment. But also for the Democratic establishment, since Putin will have many opportunities before next November to send Hillary Clinton a "fervent greeting." And Putin will certainly do so – through the unsystematic and thus so valuable for Russia Donald Trump.
Working group to address issue of foreign prisoners in Russia
The Nezavisimaya Gazeta centrist daily reports that Russian human rights activists are creating a working group that will deal with problems related to foreign citizens in Russian jails. Russia currently has 27,600 foreign inmates.
According to member of the Russian Civic Chamber Vladimir Shaposhnikov, the working group is needed because many prisoners do not have relatives who could help them.
Head of the Migration and Law Integration Center Gavkhar Dzhurayeva intends to convince the authorities to reduce the number of foreigners in Russian prisons. She has already prepared a series of initiatives, among which is a proposal to deport immigrants guilty of committing minor crimes immediately after the verdict.
"Let them serve their sentences at home, at the expense of their countries' budgets and not fill up our jails," said Dzhurayeva. While for those convicted of more serious crimes the deportation system should be facilitated after the sentence has been served, she said.
According to Tamara Flerova, a member of Moscow's public monitoring committee, there have been cases of Russians being forced to convert to Islam. She says that non-profit organizations should have access to prison cells so that "inmates could complain if anyone is forcing radical ideas on them."
Yukos case gathers pace with new asset freezes
The RBK business daily reports that former shareholders of the defunct Russian oil company Yukos, who are trying to recover $50 billion in compensation from Russia after The Hague Arbitration Court's verdict, have been able to freeze payments from the French companies Arianespace and Eutelsat and are also laying claims to the seizure of Russian assets in Air France.
On Dec. 17 a French appellate court denied Russia's appeal to halt the implementation of The Hague's Arbitration Court's decisions, thus allowing the Gibraltar-registered company GML (which represents the former Yukos shareholders) to continue with the seizure of Russian state assets.
Explaining the decision, a GML representative said that Russia considers "the arrests (of its assets) in Arianespace and Eutelsat illegal and that the actions aimed at freezing Russian property in Air France are dishonest." The document does not specify which assets have been arrested.
A GML representative confirmed that "Yukos's majority shareholders are involved in juridical procedures with Arianespace and Eutelsat related to assets belonging to the Russian Federation."
He did not comment on the proceedings with Air France. Concerning the airline, GML could have tried seizing its payments for flying over Siberia ("the trans-Siberian royalties").
All rights reserved by Rossiyskaya Gazeta.