Press Digest: New Ukrainian law allows retaliatory sanctions against Russia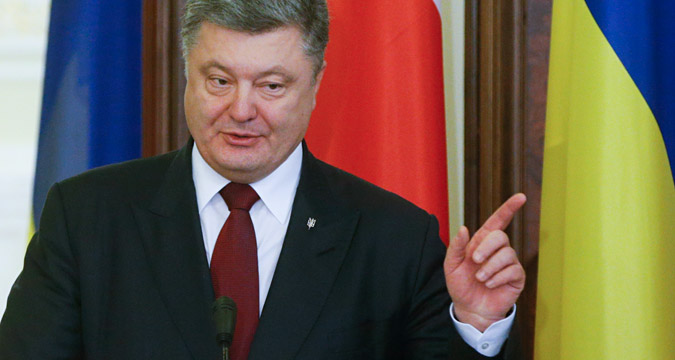 Ukraine's President Petro Poroshenko, Kiev, Dec. 15, 2015.
Reuters
RBTH presents a selection of views from leading Russian media on international events, featuring reports on a new law signed by Ukrainian President Petro Poroshenko allowing Ukraine to impose sanctions against Russia, the failure of French President Francois Hollande's attempts to establish an anti-ISIS coalition that includes Russia, and the sale by Finnish media publisher Sanoma of its last Russian assets
Poroshenko signs law to make sanctions against Russia possible
The Kommersant business daily writes that Ukrainian President Petro Poroshenko has signed a law on amending the On Foreign Economic Activity Law, thanks to which the Ukrainian government can now use certain economic measures against an "aggressor state."
This means that the Ukrainian government has received the right to use economic countersanctions in relation to Russia, which has already announced sanctions on Ukrainian food imports from Jan. 1.
Ukraine's Economy Ministry has already suggested banning the import of several Russian products starting on Jan. 10. According to a list of Russian goods published on the ministry's site, the restrictions concern baked goods, flour confectionery, chocolates, meat, fish, coffee, black tea, baby food, filtered cigarettes, beer, vodka and other goods.
At a press conference on Dec. 30 Ukrainian Prime Minister Arseniy Yatsenyuk said that Ukraine would be willing to avoid introducing equivalent trade sanctions if Moscow cancels its product embargo in relation to Kiev and implements the agreement with Ukraine on the Free Trade Zone within the framework of the CIS.
Hollande diplomacy fails to make Russia part of coalition against ISIS
The Nezavisimaya Gazeta newspaper writes that French President Francois Hollande's shuttle diplomacy has only coordinated Russia and the West's activities in Syria, but did has not resulted in Moscow becoming a part of the coalition.
After the terrorist acts in Paris on Nov. 13 Hollande called on the global community to form a "big united coalition" against the Islamic State (ISIS) jihadist organization, which was responsible for the attacks. With this objective in mind he held talks in Paris with government leaders from the UK, Germany and Italy, and also visited Washington and Moscow, where he presented his initiative to presidents Barack Obama and Vladimir Putin. However, these efforts have so far been in vain.
Russia is speaking not about joining the coalition, but about coordinating actions on equal terms. Moscow believes that for any coalition to be valid it is necessary to support it with international law, with the UN Security Council's decision.
"It is unclear why when the U.S. was forming the coalition, it obtained Iraq's agreement but did not ask Syria for similar agreement and did not come to the UN Security Council, where it could have doubtlessly been possible to come to a legal agreement that would not have created any political difficulties for anyone," said Russian Foreign Minister Sergei Lavrov.
Washington has its own issues with Moscow. The U.S. government believes that Russia's tactics in Syria are so different from the tactics of the U.S. and its allies, that it is practically impossible to conduct joint operations.
Finnish media publishing house Sanoma sells its last assets in Russia
The Vedomosti business daily reports that a Russian investor consortium headed by the Inventure Partners firm has signed a deal with the Finnish publisher Sanoma Corporation to buy all of its Russian assets. Inventure Partners' Managing Partner Sergei Azatyan has confirmed the deal.
The consortium bought 50 percent of Sanoma's shares in the Dutch company Hearst Independent Media Publishing (HIMP) and 100 percent of its shares in Mandadori, which published Grazia magazine.
HIMP is the sole owner of Fashion Press, which in Russia publishes the Cosmopolitan, Domashny Ochag, Esquire, Populyarnaya Mekhanika, Robb Report and Harper's Bazaar magazines.
Sanoma announced that it would be leaving the Russian market almost two years ago. Earlier, businessman Demyan Kudryavtsev bought a part of its assets (including English-language newspaper The Moscow Times and 33 percent of the Vedomosti publisher's shares, which belonged to the Finnish company). For a long time Sanoma had been negotiating with Hearst, but when the partners agreed that an American corporation would buy the remaining half of HIMP, the Russian government blocked the deal.
Last year the State Duma introduced amendments to the Mass Media Law, according to which foreign companies or individuals cannot possess or control more than 20 percent of Russian mass media companies. This only increased Sanoma's desire to sell its Russian assets.
All rights reserved by Rossiyskaya Gazeta.