Turkey made offer to Russia to stop operations in Syria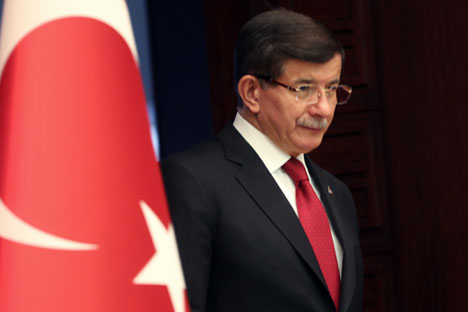 Prime Minister of Turkey Ahmet Davutoglu.
TASS
Prime Minister Davutoglu argues that "dirty game" is being played.
The Turkish Prime Minister accused Russia of supposedly striking at civilian targets in Syria, the newspaper Vzglyad reports.
"Some countries have hampered Turkey's air operations (in Syria)," said Ahmet Davutoglu, the prime minister of Turkey. "The Russian Aerospace Forces bomb civilians, hospitals and schools under the pretext of its fight with ISIS. It would be better if they hit ISIS in the airspace of Syria or let them leave and we'll fight (ISIS) by ourselves."
The prime minister also added that, "a dirty game is underway," in Syria reports RIA Novosti in reference to a report on CNN Turk.
On January 11 a number of Western media organizations, with reference to the UK-based Syrian Observatory for Human Rights, said that a school was allegedly destroyed and about 10 children killed during Russian air strikes in the area near Aleppo.
The Russian Foreign Ministry criticized the Syrian Observatory for Human Rights. It noted that the organization consists of just two employees and cast doubt on their level of competence and the reliability of the information they release.
Russian Foreign Ministry spokeswoman Maria Zakharova said that a strong anti-Russian campaign has developed in global media since the start of Russian Aerospace operations in Syria.
First published in Russian in Vzglyad.
All rights reserved by Rossiyskaya Gazeta.