China will not fight in Syria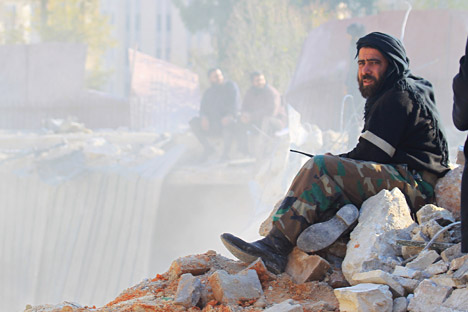 A member of a local security force, in charge of policing the area sits on rubble while he oversees the search for survivors at a site hit yesterday by what activists said were airstrikes carried out by the Russian air force in Idlib city, Syria, Dec. 21, 2015
Reuters
China's interests in Syria are of an economic nature and its participation in hostilities is unlikely, Russian experts believe.
The Washington Times recently reported that China could join Russia in its fight against ISIS in Syria.
According to the news outlet, Beijing is very concerned about the growing number of militants of Chinese-origin that have joined the Islamic State. "The real question is – whose side will they be on," one defense official familiar with the internal discussion of the Chinese role in the fight against ISIS told the newspaper.
However, Russian military experts believe China's participation is unlikely. They note that China has enormous interests in Syria, in which Beijing has invested tens of billions of dollars. Additionally, China is very interested in maintaining good relations with Iran, Russia's partner in the coalition against ISIS.
However, the Chinese also have close economic ties with a number of other regional players such as Saudi Arabia and Qatar. All of this likely will make China proceed with caution.
Tigers are fighting, while China looks on
China's participation in military operations against ISIS is unlikely according to Andrei Ostrovsky, an expert on China and the deputy director of the Institute of Far Eastern Studies at the Russian Academy of Sciences.
"China has its own interests there, but China's main military doctrine is the so-called doctrine of defense sufficiency – not to interfere in foreign affairs," Ostrovsky said in an interview with the news website Vzglyad.
"The military policy of China is to engage in military action when the interests of the country are harmed within the borders of China," he continued. "ISIS, as it is known, is far from China's territory, so China is unlikely to send their troops there in compliance with its defense doctrine."
China's participation in the fight against ISIS may only be propagandistic, Ostrovsky added, and will be limited to cooperation with international organizations.
The Uighur problem, which they talk about in the United States, is exaggerated too much, Ostrovsky said.
"It is overemphasized," he says. "Yes, such a problem does exist, and there are a number of Uighurs that have sided with ISIS. But about the same number of the Russian citizens are also on its side, as far as I know."
"China is acting solely in terms of rationality, and its main concept in this context is that of the wise monkey Sun Wukong (Ed. a figure from classical Chinese literature) that sits on a mountain, while tigers are fighting in the valley," the expert concluded. "And China will never get into a fight, if it is not directly challenged."
Alexei Maslov, a specialist on China and the head of the Department of Oriental Studies at Moscow's Higher School of Economics, also does not expect China to engage in military action. He recalled that China has never in its history taken part in military operations beyond its borders.
The economy comes in first place
Maslov predicts that China will also seek to obtain maximum economic benefit from the Syrian crisis.
"Here we must remember that just a few days before the New Year, the Chinese met with Bashar al-Assad's representatives and offered them a huge investment, almost $6 billion," says Maslov. "After ISIS is finished either by the United States or Russia, China will come to Syria as a major investor and try to take over oil and other resources of this country. Politically, China will strive to coordinate their actions with all parties – both with Russia and the United States."
First published in Russian in Vzglyad
All rights reserved by Rossiyskaya Gazeta.