Saudi Arabia asks Russia to reduce oil production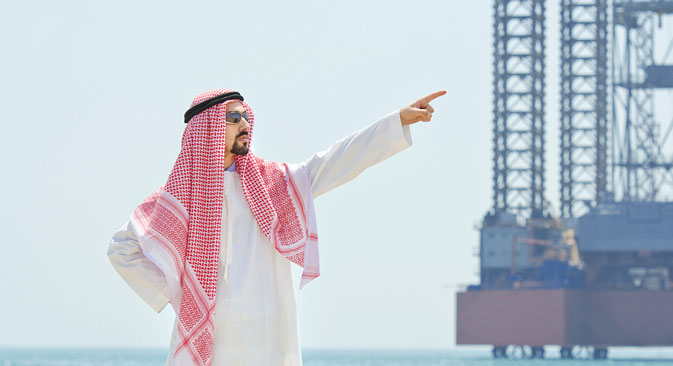 The Saudis did not conceal that its main goal for speculating on a decrease in production was squeezing out projects with high production costs from the market.
Shutterstock / Legion-Media
Saudi Arabia has suggested Russia cut its oil production by five percent –about 500,000 barrels per day – a source familiar with ongoing negotiations among the oil-producing countries told Gazeta.ru. Presently, the parties are discussing various possible ways of reducing supply in the world market, the source pointed out. However, Russian companies do not intend to reduce production just yet, while the Saudis will not be able to achieve a significant supply reduction in the world market with Russia alone, experts say.
On January 28, 2016 representatives of Russian oil companies and Alexander Novak, Russia's Minister of Energy, discussed the proposal made by Saudi Arabia to consider the possibility of output.
Russia is not yet ready to cut output
Currently, Russia produces about 10.1 million barrels of oil per day. OPEC predicted in mid-January that the average daily production of the Russian Federation would amount to 10.74 million barrels of oil in 2016.
Russia's largest oil company Rosneft does yet plan to reduce its production. Mikhail Leontyev, Rosneft's spokesperson, told Gazeta.ru that the company, on the contrary, intends to increase production – primarily from deposits that are able to give a quick economic boost – in order to maximize cash flow.
Curiously, Saudi Arabia itself is in no hurry to cut oil production. Khalid A. al-Falih, the head of Saudi Aramco, the country's national oil company, said earlier this week that the prices would be offset by demand. Earlier, Aramco representatives said that the oil quotes would rise because of the withdrawal of producers with higher costs from the market.
In mid-January data appeared, which showed that Saudi Arabia's oil exports had grown in November by 4.8 percent to 7.719 million barrels per day.
Squeezing out rivals
The Saudis did not conceal that its main goal for speculating on a decrease in production was squeezing out projects with high production costs from the market. First and foremost, the discussions were aimed at shale oil in the U.S., but also included Russia.
The struggle for market niches is underway and likely to continue. Given that the U.S. has begun exporting oil exports and the increase in supplies from Iran after the lifting of sanctions, this struggle can only intensify.
Mikhail Krylov, head of the analytical department at Golden Hills – Kapital AM investment company, said that just the news about the negotiations on possible output cuts could lead to an increase in oil prices.
Thus, reports about the Russian oil companies discussing possible output cuts with the Ministry of Energy have raised oil quotes, which increased from $31.1 per barrel in late afternoon trading on Wednesday to $33.3 on Thursday.
But in order to make a serious attempt at maintaining prices, Saudi Arabia must also cut production.
"The reduction in production in Russia and Saudi Arabia (on the condition that both sides will reduce it – Gazeta.ru) would reduce global production by more than one percent," Krylov said. "This will more than offset the excess in supply and could even cause a shortage of oil in the world market."
First published in Russian in Gazeta.ru
All rights reserved by Rossiyskaya Gazeta.