Moscow demands apology from Seoul for North Korea rocket delivery claims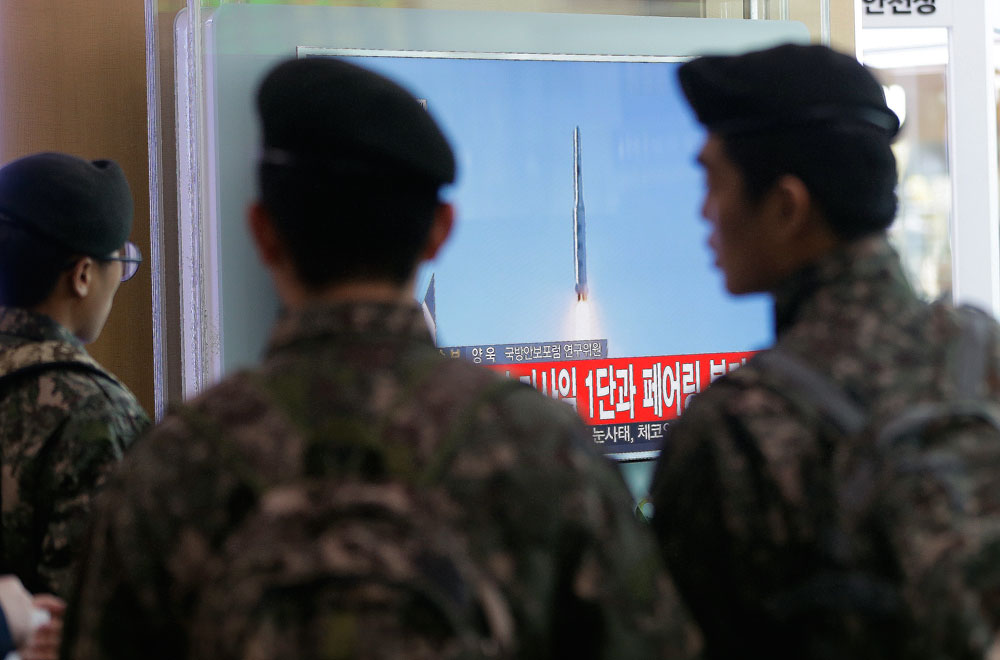 South Korean army soldiers watch a TV news program with a file footage about North Korea's rocket launch at Seoul Railway Station in Seoul, South Korea.
AP
The Russian authorities have dismissed allegations by the head of South Korea's intelligence agency that Russia supplied some technology for a rocket, which put a North Korean satellite into orbit.
The Russian Foreign Ministry has demanded an apology from South Korea for accusing Russia of supplying rocket technology to North Korea.
After North Korea put a satellite with a long-range missile into orbit on Feb. 7, the head of the National Intelligence Service (NIS) of South Korea, Lee byung-Ho, told a closed-door briefing that according to his information, Russia could have supplied Pyongyang with missile technology.
"In NIS's opinion, North Korea, of course, did something on its own, but important technology was most likely given by Russia," Yonhap quoted an anonymous South Korean lawmaker as saying.
Deputy Prime Minister Dmitry Rogozin, who oversees Russia's military-industrial complex, called these claims ridiculous. The spokesman for the Roscosmos State Corporation, Igor Burenkov, also said in an interview with Kommersant that Seoul's information is not consistent with the facts.
Disregard for the international community
Moscow said that it strictly adheres to non-proliferation of missile technology, and condemned the launch.
The Russian Foreign Ministry rebuked Pyongyang for "not heeding the calls of the international community and once again demonstrating a defiant disregard for international law."
North Korea says the launch was part of the country's space program, claiming that the satellite Kwangmyongsong 4, or Shining Star 4, had scientific equipment on board.
Washington and its main allies in the region, Seoul and Tokyo, insist that North Korea tested a prototype of an intercontinental ballistic missile.
According to Japanese experts, the launch showed the increased capabilities of North Korean missiles. Now they are capable of covering a distance of up to 13,000 km. This is sufficient to reach the United States.
A North Korean humanitarian collapse
Having condemned the North Korean launch, Russia, along with other members of the UN Security Council, began to work on a resolution imposing new sanctions against North Korea.
Russia's Permanent Representative to the UN, Vitaly Churkin, said that Moscow supports the idea of tightening the sanctions regime. At the same time, he noted that the adoption of a new resolution "should not lead to some kind of humanitarian collapse in North Korean, on account of economic reasons."
Churkin also said that the UN Security Council's document should not contain even a hint of possible military action against North Korea. He called for "a very careful approach to unilateral action." It is not difficult to assume that such statements are targeted at the United States.
The same is true for the Russian diplomat's remark that "there are far-reaching geo-strategic plans of the known states" around the North Korea. This is most likely to be a reference to a statement made on Feb. 7 by representatives of the United States and South Korea about the beginning of negotiations on the deployment of the U.S.'s Terminal High Altitude Area Defense (THAAD) missile defense systems on South Korean soil.
THAAD
The deployment of the U.S. defense systems in South Korea may soon become a reality, says Pyotr Topychkanov, an associate at the Carnegie Moscow Center's Nonproliferation Program.
He notes that the deployment of several THAAD batteries, aimed at intercepting single missiles from North Korea, cannot pose any immediate threat to Russia's defense capabilities.
THAAD Test. Source: YouTube/ LockheedMartinVideos
However, Topychankov emphasizes that Russia is genuinely concerned about the deployment of missile defense elements in South Korea as a part of "the U.S. global missile defense infrastructure, whose segments are already present both in Asia-Pacific and Europe."
In view of its further development, the U.S. missile defense system as a global system has the potential to interfere with Russia's ability to use its missile force against a potential enemy, Topychkanov says.
All rights reserved by Rossiyskaya Gazeta.