Emboldened Assad defies Moscow's diplomatic efforts over truce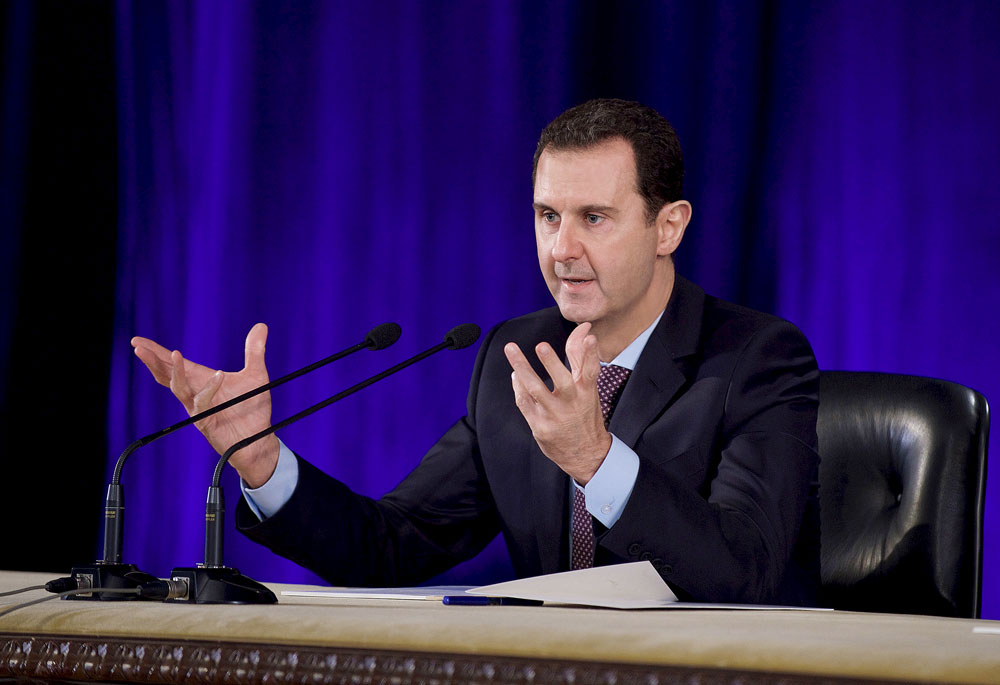 Syria's President Bashar al-Assad.
Reuters
Syrian President Bashar al-Assad has put a peaceful settlement in Syria in doubt by insisting that government forces will continue to fight on. Damascus' new signals contradict the agreements on a ceasefire reached by world powers with Moscow's participation in Geneva and Munich.
The peaceful settlement in Syria is once again under threat. After the recent successes attained by Syrian government forces with Russian air support, President Bashar al-Assad has announced that he is determined to fight until he is victorious, thus practically rejecting the ceasefire agreements reached with Moscow's participation during recent talks in Geneva and Munich.
During a meeting with Syria's leading lawyers Assad stated that there is an absence of conditions for implementing a ceasefire.
"They [the international mediators] say that they want to reach a peaceful settlement within a week. But who is capable of implementing the necessary conditions and requirements for this? No one," said the Syrian leader.
Assad was thus implying that the International Syria Support Group, whose members discussed the possibility of a settlement last week in Munich, was preparing an unrealistic initiative. Moscow, along with Washington, had played a key role in the negotiations.
However, the Syrian leader was quick to curb the enthusiasm born after the latest efforts of Russian-American diplomacy. He made it clear that even if a settlement is announced, "each side will continue using weapons," reiterating the idea he had previously voiced in an interview with the AFP news agency about the necessity of fighting until victory is attained.
In another statement made on Feb. 15, Assad called on everyone to follow the Syrian constitution in order to achieve a political settlement, insisting that there was no sense in talks about changing it.
Diverging positions
Bashar Assad's latest statements prove that Moscow and Damascus' positions on key issues concerning Syria's regulation seriously diverge. Moscow is calling on Damascus to accept the political solution within the framework of the Geneva process, while Damascus prefers to use force combined with "local truces."
In the opinion of many experts interviewed by Kommersant, Bashar Assad's chosen course not only hinders Russia from converting its military successes in Syria into political dividends, but also threatens to further aggravate Russia's relations with the West and the Arabic world.
"By practically dismantling the Geneva accords, Bashar Assad is putting Russia and Iran in a difficult position. There is a moment of truth in the Syrian regulation when the external players must put pressure on their clients participating in the conflict locally," explained Andrei Kortunov, director of the Russian Council on International Affairs.
In Kortunov's view, despite the recent successes of the Syrian army, Damascus' military potential obviously does not have enough to maintain its current positions, let alone emerge victorious from the war.
"President Assad's actions are an example of how the tail starts wagging the dog. He is trying to convince Moscow that whoever comes after him, Assad will have no respect for Russia," said Alexei Malashenko from the Moscow Carnegie Center.
In his words, the Syrian leader believes that so long as he is in power Russia will maintain its strategic interests in the region, yet in the case of his downfall Russia will lose those positions.
Other experts insist that Damascus is trying to dictate its conditions to Moscow, using the pretext that the stakes in the Syrian conflict are very high. They point to the situation in Syria as an example of how great powers, by getting involved in local conflicts on the sides of their client states, often become hostages to the conflict.
According to Alexei Arbatov, a researcher at the Russian Academy of Sciences, "in the course of such operations "it is very important not to overlook the political process in the relations between the patron and the client." He pointed to the Soviet experience in Afghanistan and the American experience in Vietnam as evidence of this.
"It often happens that the stakes of the big power are so high that its clients try to speculate on them," he said.
First published in Russian in Kommersant.
Subscribe and get RBTH best stories every Wednesday
All rights reserved by Rossiyskaya Gazeta.