How will Russia respond to the deployment of U.S. weaponry on its borders?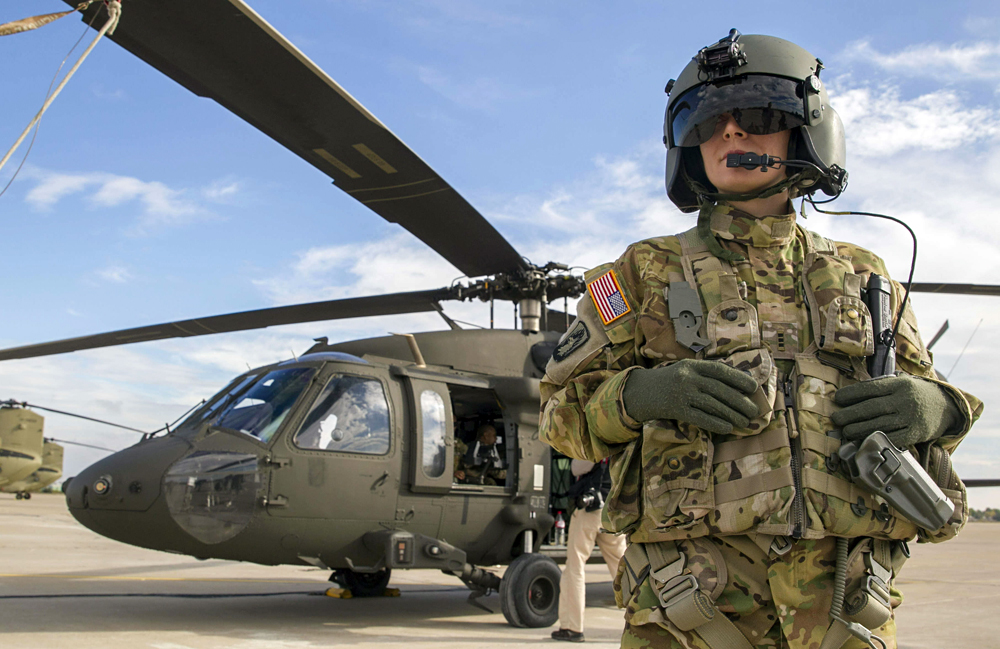 A U.S. Army Sikorsky UH-60 'Black Hawk' helicopter pilot waits in front of the helicopter at the air base in Zaragoza, northeastern Spain, October 27, 2015, during a NATO exercise 'Trident Juncture 2015'.
EPA
Russian experts believe that as a response to the decision by the United States to position heavy weaponry in Eastern Europe, Moscow will deploy its offensive potential on the borders with the Baltic states.
The U.S. Defense Ministry intends to increase its presence in Eastern Europe by deploying 250 units of armored vehicles and 4,200 servicemen in the region to "take measures if something happens." The Pentagon wants to ease the concerns of its Eastern European NATO allies, who are worried about a lack of U.S. participation in maintaining their defense capacity.
U.S. Deputy Defense Minister Robert Work said in an interview with The Wall Street Journal that the Pentagon plans to position additional forces on NATO's eastern borders on a regular basis. The reinforcements will include tanks, Bradley fighting vehicles, Paladin self-propelled howitzers and over 1,750 more military vehicles. According to Work, "there will be a division's worth of stuff to fight if something happens."
"If push came to shove, they'd be able to come together as a cohesive unit that has trained together, with all their organic equipment, and fight. That's a whole lot better than what we have right now," he added.
The newest American arms will be deployed in Estonia, Lithuania, Latvia, Poland, Bulgaria and Romania.
According to observers interviewed by the Kommersant business daily, the implementation of this plan will force Moscow to deploy its forces on its borders with the Baltic states, including units capable of destroying American hardware in the event of an attack.
Poland and the Baltic states welcome the new plan
If the plan is implemented, the U.S. will deploy heavy weaponry in Eastern Europe that will supply from 3,000 to 5,000 servicemen (the same amount of technology was deployed in Kuwait after Iraq's military invasion in 1990), wrote Kommersant.
According to a high-ranking source in the Pentagon, the total amount of American technology that may be positioned in the former Soviet republics and Eastern Bloc countries under the name European Activity Set is about 1,200 units, including 250 M1-A2 tanks, Bradley armored vehicles and armored howitzers.
Polish Defense Minister Antoni Macierewicz has said that talks about deploying American depots for heavy weaponry in Poland are already in progress.
"The U.S. is preparing a network of various activities in which it is extremely important to deploy heavy weaponry in Poland and other countries," said Macierewicz.
A serious danger for Russia's security?
In turn, a high-ranking source in the Russian Defense Ministry has called America's plans to deploy its heavy weaponry in Eastern Europe "a serious destabilizing factor."
"Such steps cannot but engender dangers since America intends to de facto deploy a springboard for a substantial military contingent near our borders," explained the source.
"We believe that this is our partners' first step to reconsidering the positions of the NATO-Russia Act."
The 1997 NATO-Russia Founding Act prohibits the alliance from deploying "substantial military forces" on the alliance's eastern flank on a permanent basis.
Furthermore, Moscow and NATO understand the numbers that constitute "substantial military forces" differently.
For example, Russia considers "substantial" America's rotational deployment in Bulgaria and Romania of its armed forces units consisting of 2,000-6,000 servicemen. In Washington's view, the brigade does not fall into the category of "substantial."
In 2010 Moscow invited NATO to find a common denominator, but the sides could not reach an agreement.
According to Vladimir Yevseyev, director of the Center for Social-Political Research at the Russian Academy of Sciences, the deployment near the Russian border of American heavy weaponry "will present a serious danger for Russia's security."
Yevseyev believes that Moscow will respond to Washington's plans by deploying its offensive potential on the borders with the Baltic states.
"In the end the Baltic states will not feel safer, but on the contrary will become hostages to the U.S.-Russian confrontation," he warned.
Based on materials from Kommersant.
All rights reserved by Rossiyskaya Gazeta.