Turkey arrests alleged killer of Russian Su-24 pilot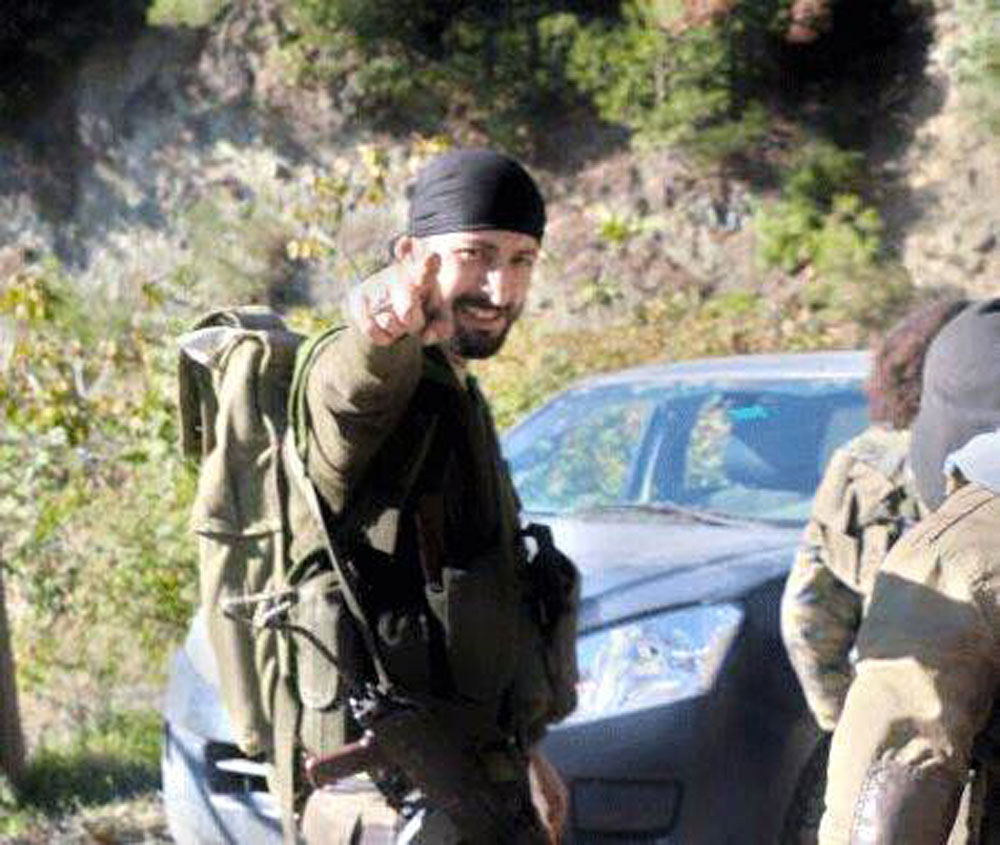 Russia media are reporting the detainment of the militant responsible for the death of Russian Su-24 pilot Oleg Peshkov on Nov. 24 after his plane was shot down by the Turkish air force. If Turkey decides to take serious action there may be a possibility of rapprochement between Moscow and Ankara.
Alparslan Chelik, the Turkish citizen and militant allegedly responsible for killing Russian Su-24 pilot Oleg Peshkov in November 2015, has been arrested in a cafe in the Turkish city of Izmir.
According to the Turkish newspaper Hurriyet, he was detained together with 14 of his brothers-in-arms on March 31. Their weapons and ammunition were confiscated. For now the militants are being accused of the possession of illegal arms.
Earlier, in an interview with several Turkish mass media institutions, Chelik himself confirmed that he had shot Peshkov in November last year and said that he was not afraid of "Russia's revenge."
Chelik is a member of the Gray Wolves organization, the youth wing of the Turkish Nationalist Movement Party, which promotes the idea of all Turkish nations uniting on the basis of blood, instead of religious, kinship. He was fighting in Syria as leader of a Turkmen unit opposed to Syrian rule.
Alparslan Chelik. Source: Facebook.com
Some sources say that Chelik is the son of one of the party's managers. "It seems that up to now Chelik has had no intention of hiding and has even taken pleasure in speaking to the press," writes Gazeta.ru.
The militant has been active on his Twitter account, posting many photographs from the battlefield and links to articles in mass media publications discussing him.
The moment that wrecked Turkish-Russian relations
Peshkov was shot in the air as he was descending with his parachute on Nov. 24. The pilot had catapulted from his Su-24, which had been shot down by a Turkish F-16 along the Syrian border with Turkey.
While Ankara claims that the Russian plane had illegally entered Turkey's airspace from Syria, Russian President Vladimir Putin called the destruction of the Su-24 a "stab in the back" and has since refused to meet with Turkish President Recep Tayyip Erdogan.
In an interview with Gazeta.ru, former Russian Ambassador to Turkey Pyotr Stegny said that Chelik's detainment is a "step in the right direction."
Meanwhile. Vladimir Akhmedov, a senior collaborator at the Russian Academy of Sciences' Institute of Middle East Studies, notes that since the incident occurred Russia's position in Syria has greatly strengthened and Turkey's position has weakened, which is why now it is in Ankara's interests to re-establish relations with Moscow.
It is still not clear what Chelik can be accused of, but Moscow is unlikely to be satisfied with anything less than murder charges.
Chelik's arrest gives Ankara a chance to reconcile with Moscow
If Ankara chooses to punish Chelik, including for the killing of the Russian pilot, then he will practically become an "icon of Turkish nationalism," according to Alexander Vasilyev, collaborator at the Russian Academy of Sciences' Institute of Middle East Studies, in an interview with the Vzlyad newspaper.
"The radical nationalistic movements in Turkey are very strong today. If this happens Erdogan will be in a shaky position," he said.
According to Andrei Klimov, deputy director of the Federation Council Committee on International Affairs, Moscow immediately named three very simple conditions following the killing of Peshkov.
"Turkey must apologize, compensate the damage and punish the culprits. That is why the punishment of this person can now serve as a signal that Ankara intends to reduce the tension in our relations," he explained.
Extradition a possibility
Roman Khudyakov, a member of the State Duma Committee on International Affairs, has written to the Russian Prosecutor General and the head of the Investigative Committee with the request to have Turkey hand over Chelik to Russia.
In Khudyakov's view, if the Turkish government wishes to renew relations with Russia even in the slightest degree, they will agree to extradite Chelik to Russia.
"If Turkey refuses this logical measure, then we will clearly understand that the country's government is not interested in cooperation with us," said Khudyakov.
After Chelik's detainment Erdogan made an unexpected statement, declaring that "Turkey's regional problems make the reestablishment of cooperation with Russia a necessity."
All rights reserved by Rossiyskaya Gazeta.