Russia and Iran taking a close look at each other's strategy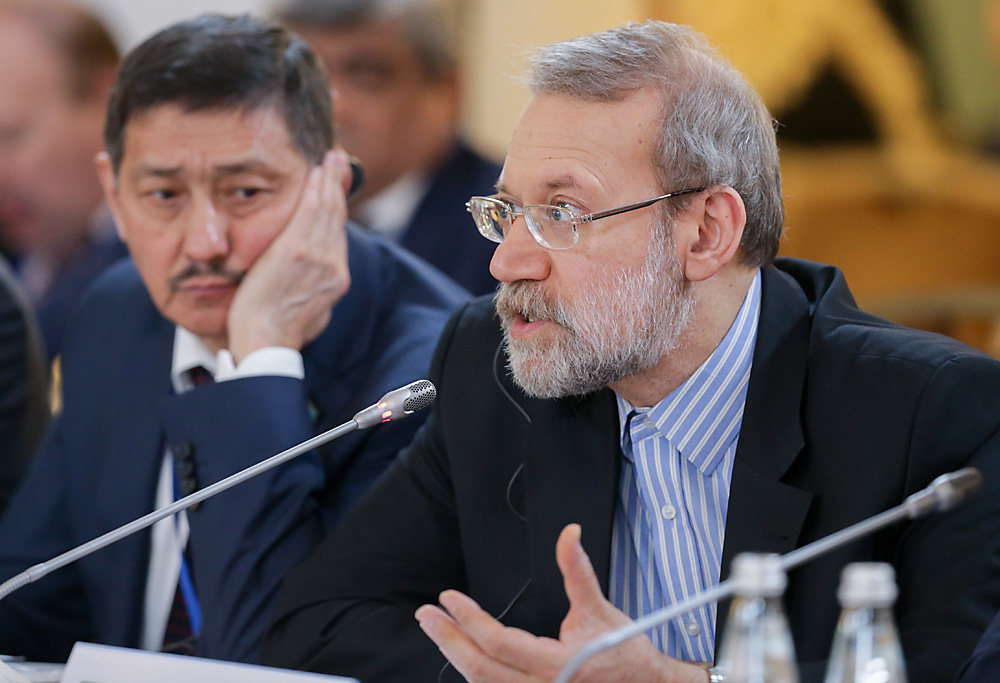 Ali Larijani: "Our countries are cooperating in the regulation of crises."
Anna Isakova/TASS
After sanctions were lifted from Tehran, Russia activated its contacts with Iranian officials. Iranian Parliamentary Speaker Ali Larijani's recent visit to Moscow ended on April 20, while from April 26-28 the Russian capital will host Iran's Minister of Defense Hossein Dehghan. Nevertheless, despite the outward appearance of a honeymoon, Russia and Iran's approaches to a series of issues increasingly diverge.
The Iranian speaker appeals to Moscow and Eurasia
Larijani ended his first visit to Moscow after the lifting of sanctions amidst somewhat unusual circumstances. The chief objective of his trip was to participate in the first conference of parliamentary speakers from Eurasian countries.
"We see crises in Syria, Iraq, Libya, Yemen," Larijani said. "The question is who created all these problems with terrorism? An important factor is America's use of terrorists."
He was addressing colleagues from 19 countries, many of whom have partnerships with Washington.
Obviously not prepared for the Moscow conference of Eurasian parliamentary speakers to turn into an anti-American forum, the Chairman of the National Assembly of South Korea Chung Ui-hwa was forced to call on everyone to "refrain from discussing sensitive issues in order to bring everyone's positions closer."
At the press conference after the event Larijani continued criticizing external forces, commenting on the failure of the recent talks in Doha among oil-producing nations.
"The question related to the fall in oil prices is an intrigue behind which everyone knows who stands," he said.
In such a way Larijani was suggesting that it is not Iran who is to blame for the situation in the oil market after having refused to freeze oil production, but instead its frequent adversary, Saudi Arabia. Heavily criticizing the U.S. and its regional allies, he also stressed the importance of Russian-Iranian dialogue.
"Last year about 10 of our ministers came to Russia and 10 Russian ministers visited Iran," he said. "Our countries are cooperating in the regulation of crises."
Next week the Iranian Minister of Defense Hossein Dehghan will visit Moscow to participate in an international security conference.
Allies with reservations
However, despite assurances from officials, recently Moscow and Tehran have discovered several areas of mutual dissatisfaction.
The first area of conflict is Syria. For Russia it is important not to get bogged down in the war and to complete its military operations on time and help establish its reputation as a peacekeeper.
However, Tehran does not intend to go anywhere. For Iran the Syrian conflict is one of the fronts of the geopolitical battle with the U.S., Saudi Arabia and other Sunni powers.
"The contradictions between the two countries have still not surfaced since they have common tactical objectives that are determined by the necessity of regulating the situation in Syria," says Grigory Kosach, professor of history, political science and law at the Russian State University for the Humanities. "Nevertheless, these contradictions exist and will only grow."
For the Iranians President Bashar al-Assad's regime is the only force that can be in power in Damascus.
"In turn, Russia has frequently made it clear that for Moscow the most important thing is to preserve the stability and integrity of the Syrian government, but it is the people that will decide who will be in power," says Kosach.
One decision that the Syrian government made without consulting Russia was to hold parliamentary elections on April 13. Sources close to the Kremlin did not hide that this "initiative" was not perceived with much enthusiasm in Moscow. However, in Tehran the elections were welcomed.
Another irritant in Moscow and Tehran's relations was the different approaches to oil prices on the world market. Experts in Moscow believe that Tehran's uncompromising position was one of the reasons for the failure of the recent talks in Doha among oil producers.
And finally, as had been expected, after the lifting of the sanctions Russian business lost its monopoly in the Iranian market, which is now flooded by European and American companies. Tehran is not giving any privileges to its Russian allies. Past achievements do not count and market competition seems to have started anew from a clean slate.
Subscribe to get the hand picked best stories every week
All rights reserved by Rossiyskaya Gazeta.