Russia to invest $960 million in rebuilding Syria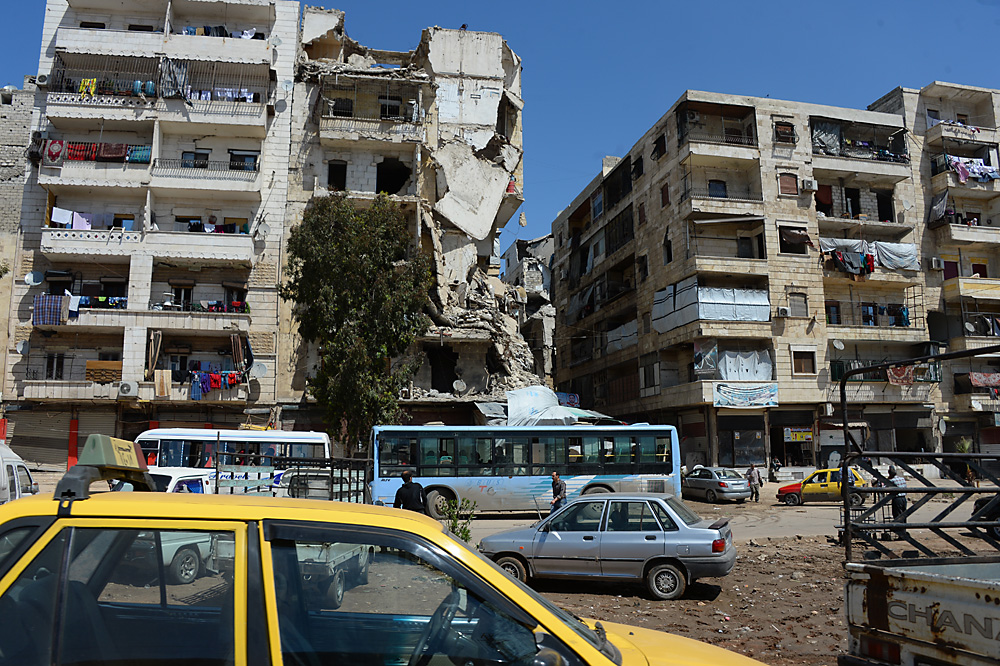 Local citizens continue to live in destroyed buildings in the Salah ad-Din District in Aleppo.
Mikhail Voskresenskiy/RIA Novosti
Oil and electricity sectors will be the first to be restored.
Syrian Prime Minister Wael Al-Halqi has announced that his country and Russia have signed an agreement on the restoration of infrastructure in the war-torn country in a deal said to be worth 850 million euros ($960 million).
The most urgent task is to restore Syria's electricity supply and oil industry.
"The Russian side has responded to the idea to restore the infrastructure, as a result of which a lot of deals have been signed with the Russian side, including agreements in the amount of 600 million euros and 250 million euros," said Al-Halqi in an interview with the RIA Novosti news agency.
The main objective is to restore the destroyed power grids, oil production and refinery plants. At present, according to Al-Halqi, "More than 60 percent of the plants are not working and need fuel to start the operation," though the country's power grid is not completely destroyed.
"There is a network connecting the north (from Qamishli) and south (to Deraa)," he said. "Electricity is still being provided. However, the production of electricity is based on fuel, and the oil sector has suffered even more from terrorism than the electricity sector."
The country's refinery facilities, which have remained under the control of the government, are stretched to the limit, said Al-Halqi, explaining that the country needs 35,000 tons of oil a day.
"Today, we are refining these volumes to use them 24 hours a day for a month, so that this process is not interrupted," he said.
Damascus also intends to resume the normal operations of the country's financial institutions, which will require the lifting of a number of sanctions imposed as early as the outset of the civil war in the country in 2011-2012.
"Given that Syria was not isolated from the world and maintained very serious financial ties with most countries, and also enjoyed a sound financial reputation, we plan to begin the process of lifting the unjust sanctions on Syria's financial transactions with the outside world," said Al-Halqi.
First published in Russian in RIA Novosti.
Subscribe to get the hand picked best stories every week
All rights reserved by Rossiyskaya Gazeta.