Is Nadia Savchenko Putin's secret weapon?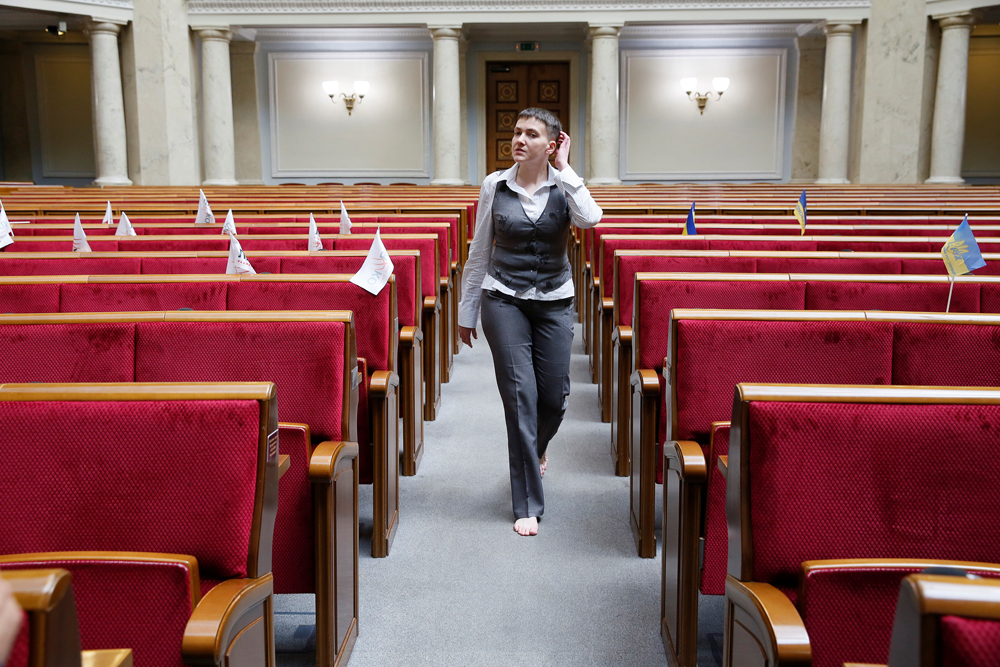 Ukrainian servicewoman Nadiya Savchenko walks barefoot as she visits the parliament in Kiev, Ukraine, May 27, 2016.
Reuters
Savchenko, who recently returned to Kiev after two years in a Russian prison, has been accused of promoting Kremlin interests in Ukraine. According to Russian experts, these accusations are related to the fact that part of the Ukrainian establishment sees the pilot as a potential rival and seeks to discredit her.
The eccentric pilot, who returned to Ukraine in late May in a prisoner exchange, has again attracted attention. After her trip to Donbass as a Ukrainian MP (she was elected to the Ukrainian parliament, the Rada, when she was still in Russian captivity), she suddenly spoke about the necessity of direct talks with the leaders of the breakaway republics in eastern Ukraine.
According to media reports, the pilot's statement caused "shock" with most Ukrainian politicians. They always claimed that direct negotiations with "terrorists," as Kiev calls the Donbass rebels, were out of the question. It is Moscow that has consistently been calling for direct dialogue between Kiev and Donbass.
For a number of Ukrainian politicians, officials and political analysts, such a proposal from Savchenko is a good reason to see the "hand of the Kremlin" in her activities. Artyom Shevchenko, spokesman for the Ukrainian Interior Ministry, attributed the pilot's words to the possible influence of Russian special services on Savchenko, while she was in prison.
According to Ukrainian political analyst Oleksandr Paliy, the Russian authorities could have extracted promises from Savchenko to voice such proposals, making them a condition of her release.
Some Ukrainian politicians sensed that Savchenko was already mouthing discretely pro-Kremlin statements even before her intervention on Donbass. They did not like her sharply negative comments on the activities of Ukrainian MPs in particular, whom she called "lazy school students."
"I think Savchenko is a factor that nothing can be done about anymore, and I believe that Putin slipped us a revolt in Ukraine," Verkhovna Rada member Vadim Rabinovich said even before her "shocking" statement about the talks in Ukraine.
'Conspiracy theory'
In Russia, attempts to present Savchenko as a Russian agent are considered mildly absurd. Viktor Militaryov, an expert of non-governmental think tank National Strategy Council, called the accusations against Savchenko a "crazy conspiracy theory."
It was now customary in Ukraine to see the "hand of Moscow" in almost any event, he said.
According to Pavel Svyatenkov of the independent Institute of National Strategy, the very fact that Savchenko spent nearly two years in a Russian prison should free her from suspicion of working for the Russian authorities.
Russian political scientist Stanislav Belkovsky, a Kremlin critic, also denies there is any Russian trace in Savchenko's statements. "...This type of politician - and I've seen a lot of politicians in my time - can only pursue their own interests over others," he noted. "For that reason, she is not a Russian spy, no matter how much her individual statements coincide with those desirable to Vladimir Putin."
Warning shot
However, what appear to be absurd accusations against Savchenko have a very specific purpose, Russian observers believe. They attribute it to the new role Savchenko has taken on since returning to Ukraine.
As Svyatenkov notes, the statements made by the pilot about the need to negotiate with Donetsk and Lugansk indicate that Savchenko is now seeking to establish her identity as a politician.
Her statements can be seen as staking a claim to become a major figure in Ukrainian politics in the future. "What she proposes is an alternative to Poroshenkos's government, but not in any way a return to the policies of Yanukovych," Svyatenkov says. "As such, she is quite dangerous for the current Kiev government."
According to Vladimir Yevseyev from the Institute of CIS countries, Savchenko is now a "strong irritant for the Ukrainian authorities. They needed her in prison, but do not need her at liberty."
Against this background, the accusations of having links with the Kremlin is a kind of warning to Savchenko from the Ukrainian political establishment, Russian experts believe.
"Statements about the 'hand of the Kremlin' is an attempt to cut [Savchenko] down to size so that she would not go too far. In such a manner, they prompt her not to meddle in some areas," Yevseyev says.
Subscribe to get the hand picked best stories every week
All rights reserved by Rossiyskaya Gazeta.