What Russia will do if Ukraine joins the NATO mission in the Black Sea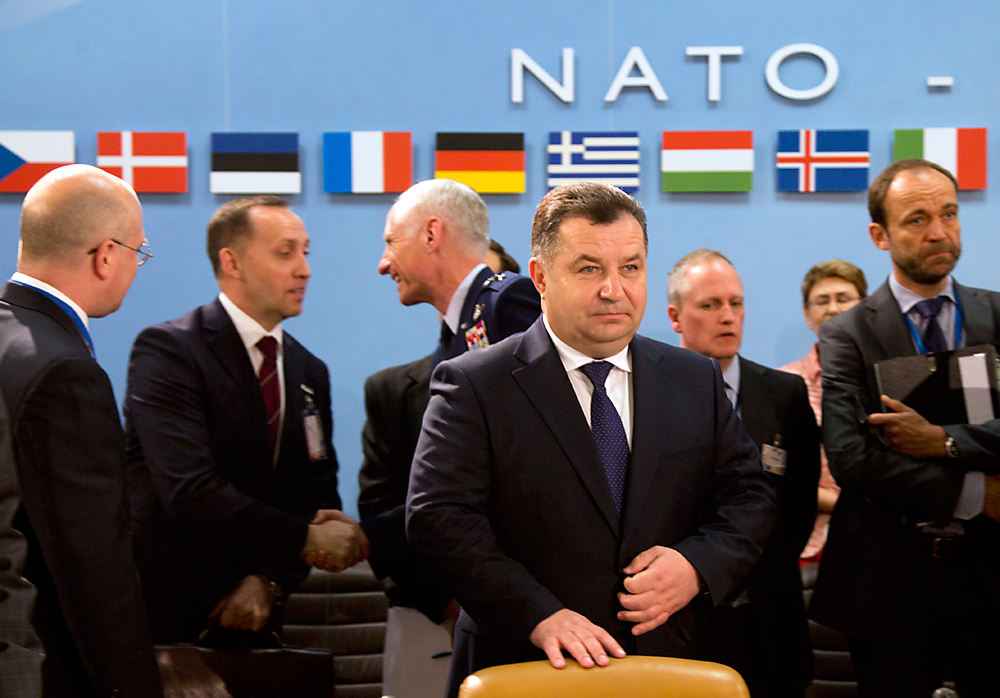 Ukraine's Defense Minister Stepan Poltorak, center, waits for the start of a meeting of the NATO-Ukraine Commission at NATO headquarters in Brussels, June 15, 2016.
AP
Kiev has expressed its desire to join the NATO mission in the Black Sea. The Russian Foreign Ministry says if it goes ahead Moscow will take "appropriate measures." What exactly can Russia do?
In the course of the two-day NATO summit on June 14 and 15 in Warsaw Ukrainian Defense Minister Stepan Poltorak presented his roadmap" for reforming the country's defense sector, which by 2020 should align the Ukrainian army with NATO standards. As a result several NATO countries rushed to say that they would allot additional aid to Kiev, as well as provide comprehensive support for the government's policies.
Ukraine said that one of its plans in the near future was to join the NATO patrol mission in the Black Sea with Turkey, Romania and Bulgaria (all these countries, as well as Russia, border the Black Sea).
This announcement has left Moscow worried. The Russian Foreign Ministry hurried to say that Russia has a "very serious and cautious" approach to its southern neighbor's new idea.
"We are carefully following this discussion and hope that it will not lead to increased risks in the region. We reserve the right to take appropriate countermeasures," RIA Novosti quoted Deputy Foreign Minister Grigory Karasin as saying.
Ukrainian fleet
Ukraine has been talking about its desire to join NATO and integrate into the common European home for a long time. The country is trying to take advantage of any opportunity to participate in the bloc's military maneuvers in order to show its dedication.
However, due to the lack of financing and proper servicing of ships, in the last 25 years the Ukrainian fleet has not been in the best condition.
"The Ukrainian fleet is not as powerful as it was before and requires large financial investments and modernization. It has individual vessels that still present certain military prowess. But essentially Kiev only has the Hetman Sahaydachniy flagship, the only ship that can participate in such maneuvers. The rest are just small patrol cutters," says Dmitri Safonov, a military commentator at Izvestia.
He likens NATO and Russian naval maneuvers in the Black Sea to "swimming in a small puddle where vessels are constantly knocking each other around."
Saber rattling
TASS military expert and retired colonel Victor Litovkin, believes Russia will not do anything drastic and unpremeditated, while the military infrastructure on the Crimean peninsula will continue to be modernized.
"A series of measures was adopted to strengthen the security of Russian borders in this area and currently Russian Defense Minister Sergei Shoigu is personally inspecting the military infrastructure on the peninsula," he said.
Litovkin remarked that Russia has modernized its fighter aircraft in Crimea and supplied the region with Su-30SM generation 4+ planes that can launch anti-ship missiles. Also, coastal missile systems with Bal and Bastion winged missiles have been moved to the peninsula. These missiles can strike targets as they leave the Bosphorus, the strait between the Black Sea and Mediterranean that Turkey controls.
"Russia is also deploying new generation radar stations that are capable of controlling the region's water, underwater and air situations. Russia is carrying out a large-scale modernization project of its Black Sea Fleet. The fleet has recently been joined by a new submarine equipped with Calibre winged missiles, which have an operational reach of 2,500 km [1,550 miles]," added Litovkin.
If there is an emergency, Russia can also send Crimea its strategic Tu-22M3 long-distance bombers, he added.
Subscribe to get the hand picked best stories every week
All rights reserved by Rossiyskaya Gazeta.