Was one of the Istanbul terrorists a Russian citizen?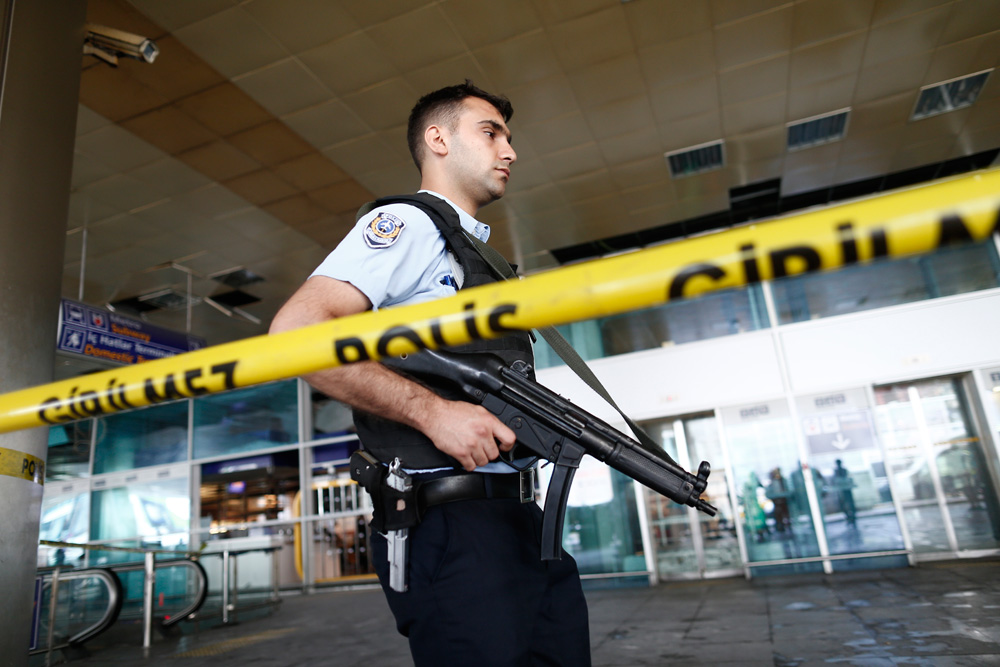 An armed Turkish policeman patrols behind a police line after multiple suicide bomb attacks at Ataturk international airport in Istanbul, June 29, 2016.
EPA
The Turkish authorities say one of the terrorists who participated in the Istanbul attack was of Russian origin. Russian law enforcement agencies deny this claim.
Russian law enforcement agencies have denied reports in the Turkish media that one of the participants in the terrorist attack at Istanbul's Ataturk airport in which at least 42 were killed and over 230 more injured was Russian.
Turkish Interior Minister Efkan Ala said on June 30 that Turkish police have been able to identify the terrorists who carried out the bombing on June 28.
According to the Turkish authorities, the three suicide bombers were nationals of three countries – Kyrgyzstan, Uzbekistan and Russia – who could have fought in Syria for the Islamic State militant organization (ISIS).
Who is Osman Vadinov?
According to the Turkish security services, the alleged Russian suicide bomber was Osman Vadinov, a Chechen from Russia's Republic of Dagestan.
On May 25, Vadinov came to Turkey from the Syrian city of Raqqa, the Islamic State group's de facto capital. In Istanbul, he lived in the Fatih district in a rented apartment with two other suicide bombers. He had previously visited Turkey in 2015 with the aim of recruiting new ISIS members.
However, Russian law enforcement agencies have denied the information about Vadinov's Chechen origin.
"A man named Osman Vadinov has never lived in Chechnya," a source in law enforcement agencies in the North Caucasus Federal District told Russia's Interfax news agency. "Moreover, this is not a Chechen name and surname."
Who is Ahmet Chatayev?
Vadinov is not the only "Russian national" whose name has surfaced in the Turkish media in connection with the recent attack in Istanbul.
The Turkish pro-government newspaper Yeni Şafak, citing a source in the Turkish security service, named another Russian national from Chechnya as a possible organizer of the terrorist attack.
This is Akhmet Chatayev, a former member of the Caucasus Emirate organization, which is banned in Russia. In 2014, after the death of Caucasus Emirate leader Doku Umarov, he joined Islamic State.
The web portal Kavkaz Uzel ("Caucasus Hub") reported that Chatayev has been wanted since 2003 by Russia's law enforcement agencies, which described him as Umarov's representative in Europe.
In 2012, Chatayev was detained by the Georgian military during a special operation in the Lopota Gorge in Georgia, but in January 2013 a Tbilisi court acquitted him. In 2014, it emerged that Chatayev was in Turkey.
How many Russians are fighting in Syria for ISIS?
It is difficult to say exactly how many citizens of the Russian Federation are fighting for ISIS since precise data is not available. In September 2015, Interior Minister Vladimir Kolokoltsev cited an official figure of 1,800. These are basically Russian Muslims from the North Caucasus and the Volga region, with the majority of Russians who leave to fight in Syria for ISIS hailing from Dagestan.
In December 2015, the head of Dagestan, Ramazan Abdulatipov, said that 643 natives of the republic were fighting in the ranks of ISIS. According to him, the departure of the residents of Dagestan to join ISIS is region's main problem.
In June 2015, Caucasus Emirate fighters swore allegiance to Islamic State leader Abu Bakr al Baghdadi, since which the number of Russians in the ranks of ISIS has increased.
Subscribe to get the hand picked best stories every week
All rights reserved by Rossiyskaya Gazeta.